Six Nations: Scott Johnson questions Scotland's high penalty-count
Scotland head coach Scott Johnson has questioned the heavy penalty-count against his side throughout the Six Nations.
Last Updated: 09/03/14 9:42am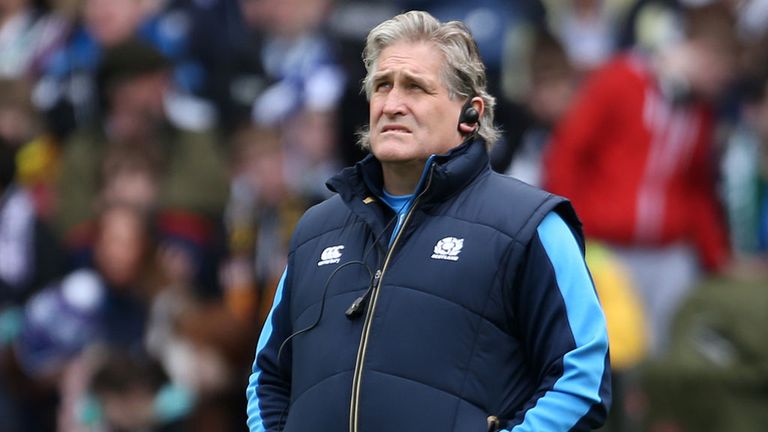 Speaking after the Scots' last-gasp 19-17 defeat by France on Saturday, the Australian admitted there would be "one or two conversations" behind the scenes.
The contest was decided by a last-minute Jean-Marc Doussain penalty, while in the entire match there were 13 infringements made by Scotland as opposed to five by the French.
Indeed, Scotland sit top of the penalty-count for the entire tournament, their indiscipline proving especially damaging this week.
Johnson, declaring himself "gutted" after the last-gasp defeat, complained that the well-documented differences in the law interpretations of elite referees are costing his side.
"Last week, we went into half time nine-two down on the penalty count, this week ten-two down," said a frustrated Johnson.
"We've got look at ourselves first and foremost; I'm not into ragging out referees.
"But when the competition's as close as it is, I find that swing in penalties, especially the fifty-fifty calls can be tough to justify.
Conversations
"There might be a couple of conversations going on outside the rugby pitch.
"The last penalty was probably deserved; it was just one of those things. I was disappointed with the one before that, that let France get back down to our 22 on 76 minutes. We had the ball and we should have controlled that.
"We're trying to get uniformity across our legislations. But the differences between each individual referee - I know they're working hard, I know they've got a job to do, but they're just too different. We're coaching depending on who's refereeing; I've got a huge list on each referee.
"We accept that we're the largest part of that, but it's just frustrating when we don't seem to be getting any crumbs coming our way.
"The fact is, in a competition as close as this, we're leading the game, and we're down ten to two on penalty count. I smell something there. That doesn't sit well."
Deserved
Scotland now travel to Wales next week, while France are still in with a chance of claiming their second championship in four years when they host Ireland in Paris.
His side may have left it late but France coach Philippe Saint-Andre was happy, saying: "Sometimes just to win is nice.
"After four games we have won three games and lost one. Now we can have a final match against Ireland at the Stade de France with a title at stake.
"I must congratulate Scotland - they were fantastic. But my team carried out for the full 80 minutes and we got the win we deserved."