Six Nations: Jim Hamilton insists Scotland can win Six Nations title soon
Veteran lock Jim Hamilton insists Scotland can win the Six Nations before he retires.
Last Updated: 10/03/14 4:49pm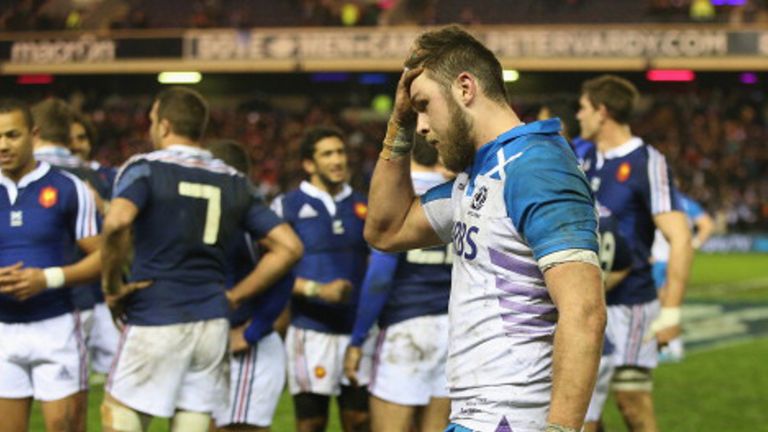 The Scots last won the title in 1999 when it was still the Five Nations. This year they beat Italy and only narrowly lost to France at Murrayfield on Saturday. But they were well beaten by Ireland and England, with Sir Clive Woodward labelling them the worst Scotland side ever after they lost 20-0 to the Auld Enemy in February.
Against France, they came within 90 seconds of victory only to give away their 50th penalty of the campaign - more than any other team.
Jean-Marc Doussain kicked the three-pointer to seal a 19-17 victory for Les Bleus.
Montpellier star Hamilton, 31, admits time is running out for him to claim a Six Nations winner's medal, but he believes it is possible.
He said: "We've had to go to some dark places, especially after that England game. We know we didn't play well. It was a shocking day at the office. We have had to believe in what we are doing to come out of those places and the coaches certainly believe in where we are going.
"We've isolated ourselves in the squad so that we can stick together and make sure we keep everything in-house, pulling in the same direction.
Right direction
"You can see in certain aspects of the France game that we are definitely going in the right direction.
"Maybe a lot of supporters are getting sick of hearing that but as players we want that consistency and we want to win games.
"Me personally, I am getting on a bit now and my ambition before I finish playing is to win a championship. I wouldn't keep coming back, leaving my two kids and wife at home away in France, if I didn't believe in this squad that we have.
"I genuinely believe that we are getting closer to that point where we can challenge. I know it's all ifs, buts and maybes and that people have heard it all before.
"But if we keep putting in performances like we did against France and keep believing in what we are doing, there are a lot of young players in this squad who can take us there."
However, Hamilton admits that their disciplinary issues must improve vastly if they are to contend for the title in the next few years.
Disciplinary issues
"No-one ever agrees with the ref if you lose. If you win, you say he's done a alright job," he continued.
"It's not about bagging the ref. They are their own people. They are not going to have the same views on all of the permutations of the game. Some will see a scrum go down and let us carry on, others will ping it.
"We have got to adapt to that. It's the same for both sides and I'm not going to say the ref is the reason for us not winning.
"We were comfortable against France at times and we have only got ourselves to blame."
Scotland now face a daunting trip to Wales on Saturday and Hamilton says his side can shake off the disappointment of last weekend's defeat to win in Cardiff.
He said: "Going down to Wales will be tough. They are the reigning champions, a fantastic team. The Millennium Stadium is an unbelievable place to play in.
"But we are going down there with the mindset of winning the game. That's all we can do. We are disappointed with result on Saturday but will go to Wales and give it our best shot."