Graham Rowntree says England are keen to promote players playing in England
Forwards coach Graham Rowntree says England will continue to overlook players at overseas clubs.
Last Updated: 08/04/14 10:40pm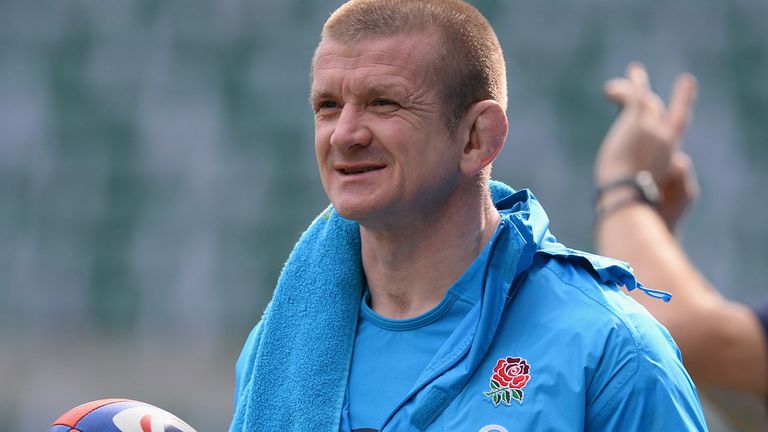 The stocky 28-year-old, who is out of contract at the end of this season, was named man of the match in Sunday's 29-14 Heineken Cup quarter-final victory over Leinster.
But he is unable to challenge for Chris Robshaw's place as England's first choice openside due to Twickenham's policy of only selecting players based at foreign clubs in exceptional circumstances.
Rowntree insists head coach Stuart Lancaster will not be changing his mind anytime soon, but believes the squad will still be strong enough to win the World Cup next year.
"Our stance is quite clear - we want to promote those guys playing in England for obvious reasons," said the forwards coach.
"While they are playing well, we're quite content with that. It's Steffon's decision completely and I'm comfortable with our stance.
"We've got a wider group that is good enough to win the World Cup. And we're showing that we're going the right way towards doing that."
Composition of pack
Rowntree has already calculated the various permutations for the composition of his pack for the first Test of the looming tour to New Zealand on June 7.
The staging of the Aviva Premiership final at Twickenham seven days earlier will dictate who is available for the series opener in Auckland.
Rowntree is confident that England, who finished runners-up in the recent Six Nations for a third successive season, will field a formidable pack.
"What will be will be. They're not great cards that we've been dealt, but we'll get on with it," Rowntree said.
"One thing we've shown over the last couple of years is that we'll throw guys in there if we feel they're good enough, regardless of age.
"The situation with the first Test is a major, major plus for us. We can have a look at a good group of players.
"Over the last four months the group has expanded because people have come in and taken their chance.
"We had a perceived under-strength team that was nearly good enough to win the Six Nations.
"We're confident now more than ever in the group of players that we have."
Emulate win
Rowntree played in only one of two England teams to have won in New Zealand, starting the 15-13 victory in Wellington in 2003.
"It was a famous victory. We dug in that night. We were a bit fortuitous that they missed a few chances. Hopefully we'll be able to emulate that again.
"We'll have to be on top of our game. We've shown significant strides in how we're playing, none more so than in terms of our attacking shape and all-court running game.
"Along with every other facet of the game, that will have to be at 100 per cent when we go over there.
"You have to go over there with confidence and we'll do that more than ever with the group of players we have. We have a young, confident squad with nothing to lose."