Benji Marshall requests immediate release from Super Rugby to rejoin NRL
Last Updated: 21/04/14 11:57am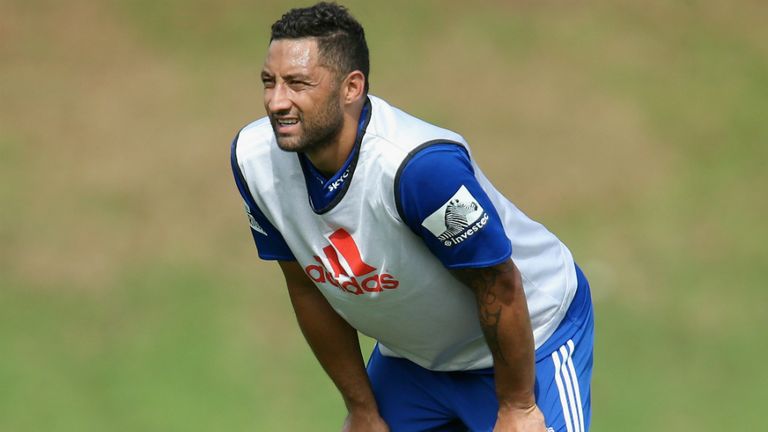 Benji Marshall's venture into rugby union is set to end after just one Super Rugby start as he seeks an immediate release from his contract to return to the NRL.
The former New Zealand rugby league captain has struggled to adapt to union with the Auckland-based franchise the Blues and is about to make a dramatic return to the 13-man code.
Marshall has made five appearances as a replacement and played just one full match since joining the Blues from NRL club West Tigers at the start of the season.
A lack of game time sparked speculation that he was frustrated at the Blues, but Marshall claimed he was determined to succeed in rugby union and accepted that it would take time to learn the new code.
It just hasn't worked out, it is disappointing...This has all happened over the last 36 hours.
Martin Tauber
However, following a weekend with Blues head coach Sir John Kirwan, the 29-year-old requested that his manger Martin Tauber opens negotiations with NRL clubs that may be interested in acquiring his services.
"It just hasn't worked out, it is disappointing," Tauber told News Corp.
"He's not had the game time he'd like. This has all happened over the last 36 hours."
In a brief statement, the Blues confirmed Marshall is in talks with the club over his future, but claimed no further announcements would be made until a decision is finalised.
"The Blues and NZ Rugby can confirm they have received a request from Benji Marshall to be released early from his contract," the club statement read.
"All parties are currently in discussions regarding this request and need to work through a formal process before making any further comment."
When quizzed as to whether Marshall would be returning to Sydney, Tauber said no discussions have begun with NRL clubs to date.
"It might be Queensland or it might be New South Wales, it depends who is interested in him," added Tauber.
Marshall is currently residing in Auckland with his family, but will be well aware of the June 30 deadline for NRL clubs to register new players.
In the 11 seasons after joining the Tigers as a schoolboy in 2003, Marshall played 201 NRL matches and also featured in 25 Tests for New Zealand including a 2008 World Cup victory.