Heineken Cup: Toulon No 8 Steffon Armitage named European Player of the Year
Last Updated: 26/05/14 5:04pm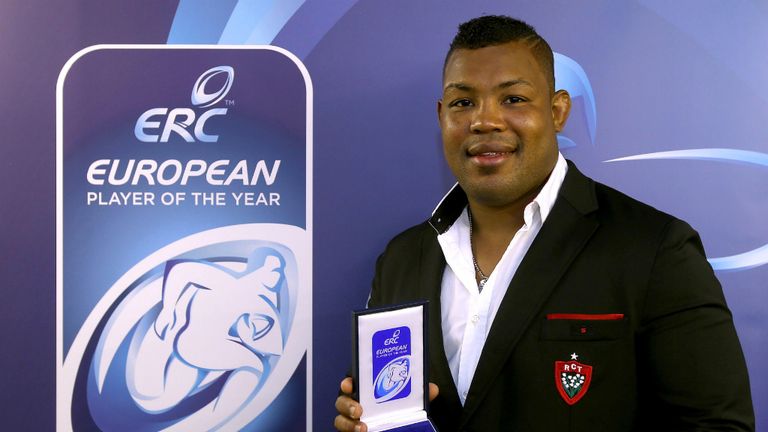 Back-row Steffon Armitage was named ERC European Player of the Year on Monday just days after helping Toulon win the Heineken Cup.
Armitage played an influential role throughout the French club's campaign, including a fourth man-of-the-match award in their 23-6 final triumph over Saracens at the Millennium Stadium on Saturday.
Toulon became only the third side to defend the Heineken Cup title and Armitage's contributions were vital, with the dynamic No 8 forcing more turnovers than any other player in the competition, as well as featuring in the top ten in the carries, tackles and defenders beaten statistics.
This is a great honour, and with us winning another Heineken Cup as well, everything has come together at the right time.
Steffon Armitage
Armitage takes the European Player of the Year crown from Toulon team-mate and captain Jonny Wilkinson, who was also shortlisted, as well as Saracens trio Chris Ashton, Schalk Brits and Jacques Burger.
"This is a great honour, and with us winning another Heineken Cup as well, everything has come together at the right time," Armitage said.
"There are a lot of big names at Toulon, but we're like one big family and without my teammates, this individual award wouldn't have been possible.
"Also, to follow in the footsteps of Jonny Wilkinson as a winner is really special."
Armitage now joins an illustrious list of players who have won the highest individual accolade in northern hemisphere rugby. Wilkinson, who became only the fourth captain to lift the Heineken Cup more than once, was last year's winner and previously, the award went to Leinster duo Rob Kearney and Sean O'Brien, with Ronan O'Gara of Munster winning the inaugural award in 2010.
The 28-year-old won the last of his five caps in 2010 but such has been the back-row forward's form this season that, ahead of next year's World Cup in England, there have been several calls for Armitage to be brought back onto the international scene.
England coach Stuart Lancaster, speaking Monday after naming a squad for the upcoming tour of New Zealand that didn't include the Toulon star, refused to rule Armitage out of the 2015 World Cup.
                  
"I think it (the ban on overseas players) is a good rule and it's one I support as national coach," said Lancaster before news of Armitage's award was announced.

"That said, there are still exceptional circumstances that allow us to select an overseas player, so who's to say that this time next year if he's still playing as well, that the door might not be open?"