Second row Donncha O'Callaghan thrilled to play for Barbarians
Munster and Ireland lock Donncha O'Callaghan is relishing the prospect of making his Barbarians debut on Sunday.
Last Updated: 30/05/14 2:35pm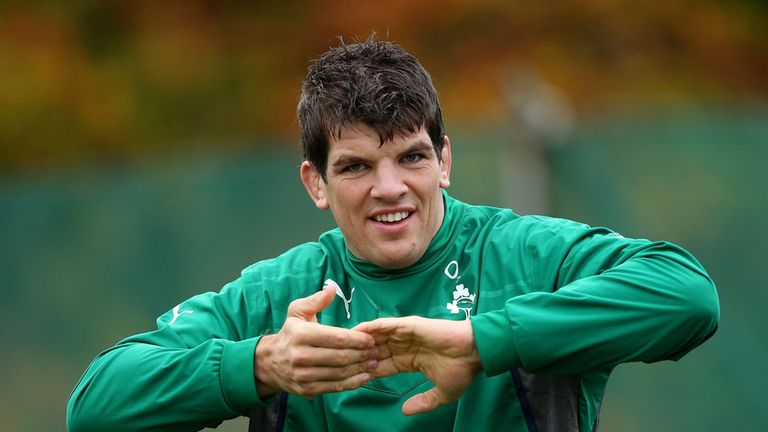 The British & Irish Lion's older brother Ultan played for the Baa-Baas against the Combined Services in 2002 - and O'Callaghan, 35, revealed how much his selection will mean to his family.
"We were a rugby-mad house growing up," said O'Callaghan, after winning selection in a line-up boasting more than 700 caps.
"We had the 101 Greatest Tries video, and I remember after about three months you couldn't watch the 1973 try against New Zealand any more because the tape was so worn, from just rewinding over and over.
"Growing up with three older brothers, when we played rugby in the garden it was always the Baa-Baas versus Ireland, because no one ever wanted to be Scotland or England!
"Even back then you threw the ball around when you did it. That's the tradition. When rugby's getting so professional it's so heartening to see the amateur values that we have to hold onto.
"I'm delighted: I was ready to swim over when I got the call. My brother beat me to it, but the family pride when he was selected was amazing.
Good enough
"I watched him play over the years and always thought he was good enough to be knocking on the door for more honours with Munster and Ireland, but it never came.
"So for him to get the Barbarians call was great. It's an honour to be thought good enough even to be in the room with players of this calibre frankly.
"The big thing is trying to win the respect of the dressing room when put alongside world superstars. The onus is on us playing now: we have to really put value on it in our time when we get a shot.
"It's an incredible club when you think about it: the Barbarians have more wins over New Zealand than Ireland. That pressure gives me sweaty palms straight away."
Having amassed 94 caps for Ireland, O'Callaghan is showing no signs of letting his advancing years stop him from playing at the top.
He added: "I'm as competitive as ever, I love it, I bounce out of the bed to Munster in the mornings, it means an awful lot to me. If I wasn't enjoying it I would gladly step away.
"Munster means so much to me it's easy to go in every day. I've two more years on my contract and I want Munster to have success and win trophies in that time."