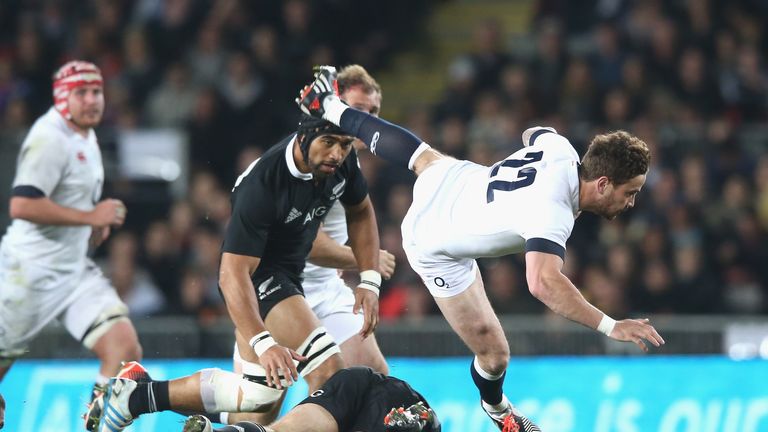 Danny Cipriani admits he is surprised to be starting England's game against the Crusaders ahead of in-form Northampton fly-half Stephen Myler on Tuesday.
The Sale Sharks stand-off will form a half-back pairing with Myler's Franklin's Gardens scrum-half Lee Dickson in the midweek fixture in Christchurch.
It is a significant vote of confidence by manager Stuart Lancaster in Cipriani, who keeps out Myler despite him playing a crucial role in Saints' double-trophy winning campaign and starting the New Zealand tour as second choice behind Owen Farrell.
Cipriani won his eighth cap as a substitute in the first Test defeat at Eden Park when Aviva Premiership finalists Myler and Farrell were unavailable, but did not expect to be involved at the AMI Stadium on Tuesday.
"I thought it was down to how you'd trained and how you went from the beginning of the camp and I didn't expect to get a start in any games really," he said.
"I was just here to learn and make sure I kept up with the play book as quickly as possible and then put my hand up and say this is what I can do.
"I'm not even honestly looking to try to advance myself in the pecking order.
Honour
"It's a 24-hour job and you have to keep learning the whole time, especially when you are new in the squad. It's good the way that the boys integrated everyone."
New Zealand have already established an unassailable 2-0 lead in the Test series, but Cipriani insists head coach Stuart Lancaster is presiding over a harmonious camp nonetheless.
"Someone mentioned to me when I was doing an interview that in past England regimes there were cliques or whatever. I've never experienced that here at all," he said.
"I don't think Stuart would allow that with the culture he's developing.
"It's been easy for all the new boys, for myself and everyone coming back into the squad. It's just about putting my hand up and saying this is what I can do.
"We've all thoroughly enjoyed playing together. We're putting on an England shirt and there's no greater honour, whether we're playing against the Crusaders or the All Blacks.
"I'm just excited to be here and being in the England kit now is a good feeling."
Watch England take on New Zealand live on Sky Sports 1 HD from 8am on Saturday