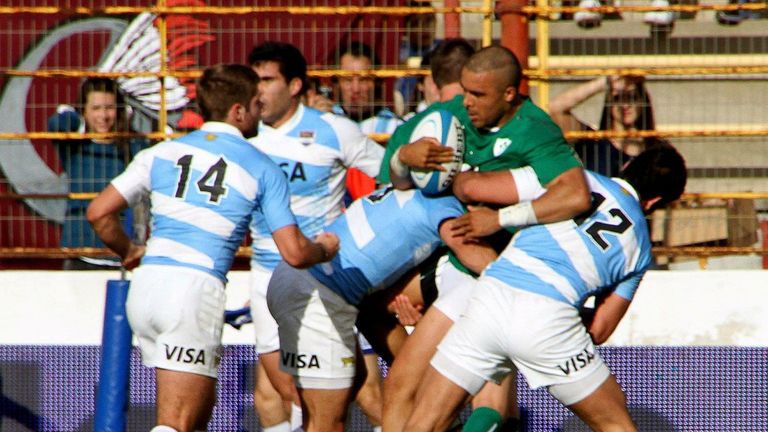 Defence coach Matt Taylor says Scotland will not underestimate an under-strength Argentina team in Friday's international.
The Pumas will be missing all of their big-name players – nearly all of whom play in Europe -  in Crodoba, with those picked coming from their domestic league.
Scotland though struggled to beat Canada last weekend, and they will be taking nothing for granted after the same XV caused Ireland problems last week.
"I can only gauge on what I have seen, but they look very dangerous," Taylor said after watching the tape of much the same side giving Ireland a scare last weekend.
"They are particularly strong on kick returns, they scored some good tries and they made a lot of line breaks. Our kicking game and our kick chase will be really important. They are also very dangerous attacking from the scrum
"They have a really good player in their number nine, Martin Landajo. He is an excellent player and is the catalyst for everything they do.
"Their back three are also very dangerous. Their winger scored a good try at the weekend against Ireland."
Scotland had to scrap to beat the Canadians, who made 11 clean breaks and a number of half breaks.
What really hurt Taylor, though, was that so many of the problems were Scotland mistakes rather than the result of Canadian pressure.
Unforced errors
"We are disappointed with the number of unforced errors," he said.
"If we can cut out only half, we would be a good side. At the moment our skill execution has been letting us down so we need to be at our best there. It is a really important game, after all. It is a Test match, a really important game for us and we are determined to get the result."
I can only gauge on what I have seen, but they look very dangerous.
Matt Taylor
There will be wholesale changes to the Scotland team, which will be announced on Wednesday as only six of the team which started in Toronto flew to Argentina.
Of those who have stayed with the squad, Keiran Low and Blair Cowan, both flankers, will have to head back to the UK after playing in the Argentina game, instead of travelling on to South Africa for the final match of the summer tour.
The duo play for London Irish and the Aviva Premiership have barred their players taking part in matches after this coming weekend - which will create a major selection problem for the final game in Port Elizabeth.
David Denton meanwhile has been ruled out of Scotland's summer tour as the back-row forward continues his recovery from a concussion he sustained over a month ago.
The 24-year-old was set to earn his 23rd cap for the senior national team when Scotland take on Argentina on Friday.
However, he will miss the clash in Cordoba as well as South Africa match as he has not fully recovered from the head injury he suffered in Edinburgh's defeat to Leinster on the final day of the RaboDirect Pro12 season.
Scotland team doctor James Robson said: "As we've always said we regard the welfare of our players as our principal priority and David has not recovered sufficiently to be considered for the intensity of Test match rugby  against Argentina and South Africa."