Aviva Premiership: Exeter Chiefs captain Dean Mumm to miss start of season
Last Updated: 13/07/14 1:04pm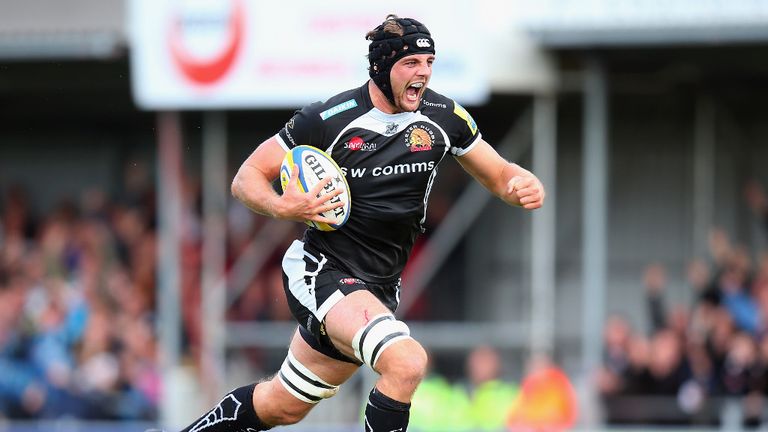 Exeter Chiefs captain Dean Mumm will miss the start of the Aviva Premiership season after having shoulder surgery.
The 30-year-old lock suffered the injury last season and it has not recovered as the Chiefs had hoped, dealing them with a massive setback before the campaign even gets underway.
Mumm, who won 33 Australia caps before making the move to England, took over the club captaincy last season and signed a new two-year contract just before Christmas.
Coach Rob Baxter told the club's official website: "Dean finished the season with a little bit of a shoulder issue.
"He came back and played the last two games of the campaign against Harlequins and Newcastle, but he came off against Newcastle with a bit of a problem with the shoulder.
"It was felt a bit of rest and rehab would sort the problem out, but it became obvious, once we got back into the start of pre-season, that the issue hadn't really improved with a block of rest, so we investigated it a bit further.
The fact we have managed to get on with things now, we are hopeful he won't miss too much of the season.
Rob Baxter
"They had an exploratory look in there, and found one or two bits and pieces that needed tidying up and sewing back together, so he has had a shoulder operation to repair some ligament damage.
"The fact we have managed to get on with things now, we are hopeful he won't miss too much of the season.
"He is probably unlikely to feature in the first game of the season, but we are hopeful he will be back fully fit relatively quickly and it will not be a half-a-season job. Hopefully he will able to play for us sometime in that first block of six Premiership games."
Options
Baxter said the blow would not necessarily mean him searching for a replacement as he is happy with the options he has in-house already, which include recent signings Ryan Caldwell and Mitch Lees.
"Looking at the squad as it stands, Ryan is training really well, Mitch looks really good and I have been really impressed with those two guys coming in,' he added.
"Will Carrick-Smith is also starting to look like a big, strong man who knows what his body is doing. "He has had a little bit of a tough time because he has just been growing non-stop, but he is training really, really well. 
"We have got those guys almost as new signings to replace guys who didn't really play very much last season in Tommy Hayes and James Hanks with their injury issues, and we feel pretty comfortable.
"Damian Welch is fully fit now and has come back from his ankle operation and is training full on, and he had a big season for us last year.
"If you start to look at the combinations we have got with Damian, Don Armand, Will, Mitch and Ryan, who are all training well, and we know Dean will be coming back into the mix at some stage early in the season, I am not too fretful about it."