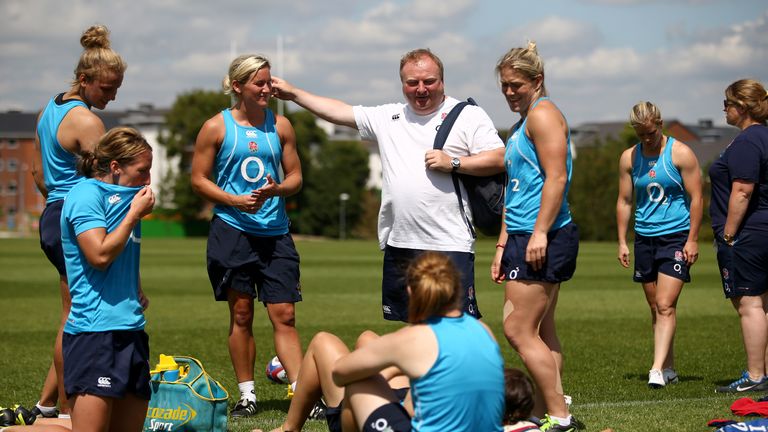 England's women will draw on the pain of three near misses when they take to the field for the Rugby World Cup in France, says back-rower Alexandra Matthews.
New Zealand have beaten England in the final of the last three tournaments and the younger members of the squad, including Matthews, say they want to take the final step of winning the tournament for the sake of the more experienced players.
"Just going to a World Cup is absolutely amazing," Matthews told Sky Sports News.
"It would be fantastic to win it but winning it for the older girls would mean a lot because for a lot of them it's their last chance."
At 27 years old, centre Rachael Burford may not be playing in her final World Cup but she is one of five members of Gary Street's squad to have the experience of two tournaments behind her already.
Burford said the sacrifices made by the squad, who are not full-time professionals, would make a World Cup victory all the sweeter.
"A lot of us have put our whole lives on hold for our rugby careers and it would just mean everything to us," said Burford.
"It would really lift the country and hopefully the women's game and rugby will just grow and absolutely thrive on the success we get over there - if we can do that it will be fantastic.
Olympic gold medallist rower Katherine Grainger has offered her advice on peaking at the right time as part of the team's preparations.
"She explained that feeling of knowing you've achieved the greatest honour in your sport," said winger Lydia Thompson.
"To be able to stand there and say 'I'm a World Cup winner' would be incredible."
England, who have received the backing of everyone from Prime Minister David Cameron to singer Paloma Faith as part of a pre-tournament campaign to raise awareness, kick off their campaign against Samoa on August 1, with the final on August 17.