England women's rugby team featured in Sky documentary ahead of France World Cup
Last Updated: 25/07/14 8:27am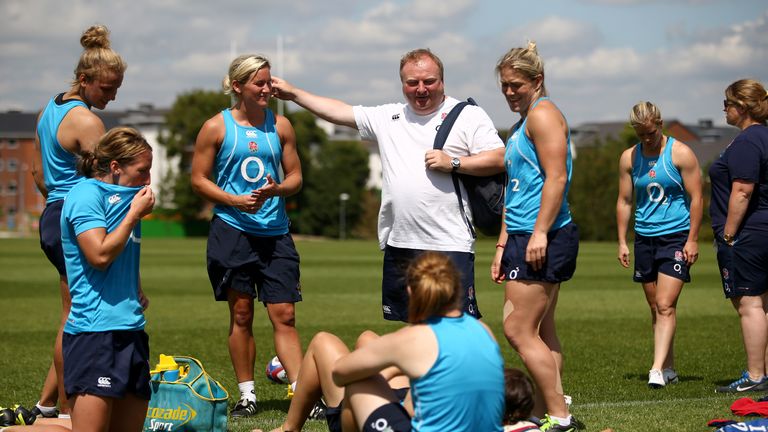 In 2010 England went into the IRB Women's Rugby World Cup hoping to finally lift the trophy that had been denied to them by losing the finals to New Zealand in 2002 and 2006.
A film crew followed the team throughout the tournament, and the preceding Six Nations, capturing the highs and lows of England's journey, and the personal stories of many of the players including captain Catherine Spencer, Maggie Alphonsi, Heather Fisher and Katie McLean, as well as the coaching staff led by Gary Street.
More than 50 tapes worth of material was filmed but for a variety of reasons they were left gathering dust in the years since the tournament.
Early this year the man who shot the footage, documentary maker Mark Craig, approached Sky Sports to see if we were interested in reviving the film to look ahead to the upcoming World Cup in France.  Many of the players in 2010 are still involved and he felt the stories from then would still be relevant today.
We agreed and worked together with Mark, and Julia Hutton at the RFU, to make sure the footage finally saw the light of day. 
English Roses is a powerful, compelling and moving one hour film showing the joy of victory and the agony of defeat.  It tells of players from a variety of backgrounds striving to juggle sport and day jobs, and just how easily one moment of misfortune can shatter years of hard work.
Most of all, the film shows how elite women's rugby is just as tough and demanding as the men's game and how the players and backroom staff are every bit as determined to push themselves to the limit to achieve success.
English Roses premieres on Monday at 7pm on Sky Sports 2.  It will be shown again on the eve of the World Cup on Thursday at 6pm on Sky Sports 2, and then at selected times throughout the tournament.  It will also be available On Demand.