Women's World Cup: Alison Miller says Ireland knew they could beat New Zealnd
Last Updated: 06/08/14 4:29pm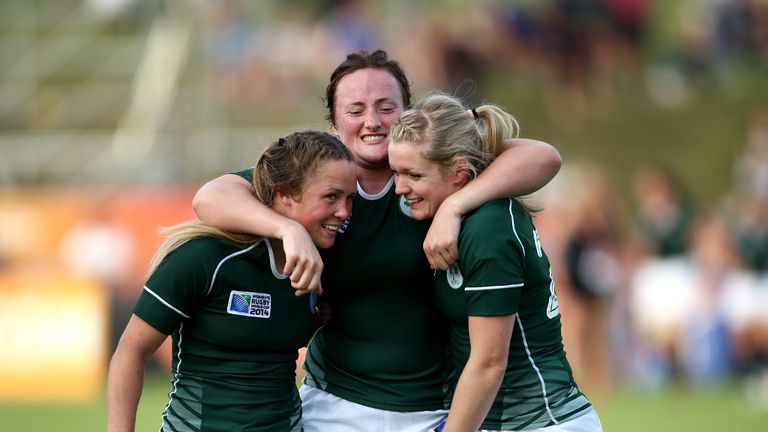 Ireland's Alison Miller insists the squad never doubted they could beat New Zealand after their surprise 17-14 win over the All Blacks in the Women's Rugby World Cup on Tuesday.
Ireland came from behind to register one of the biggest shocks in Rugby World Cup history in their first ever match against four-time world champions New Zealand.
New Zealand had not been beaten in the tournament since 1991 and Miller, who scored one of Ireland's two tries in the game, praised her team-mates for executing their gameplan to perfection.
"We'd never played New Zealand before but we were confident within the camp that we could win if we played to our strengths and stuck to the gameplan," Miller told Sky Sports News.
"So we were confident within our own selves that we could beat them and it was great that we carried it out because we always knew that we could.
"There's a really good really positive vibe around the camp. It's always a really good feeling when you achieve something you know you can achieve and actually go out and do it.
"There are a lot of teams that could potentially win this tournament which is great and I suppose it's great to see the likes of ourselves and other teams that may not previously have been contenders step up to the mark over the last few years."
Despite topping Pool B, Miller says her team-mates are not getting ahead of themselves with a weekend match-up against Kazakhstan in the offing.
"We can't look past the game against Kazakhstan – that's the main focus at the moment," the winger said. "They're a very tough team.
"They're very physical, particularly on the breakdown, so it's matter of concentrating on this game, not looking past it at the moment and then proceeding from there."