Women's Rugby World Cup: Catherine Spencer hails leaders in England squad
By Dev Trehan
Last Updated: 16/08/14 10:33pm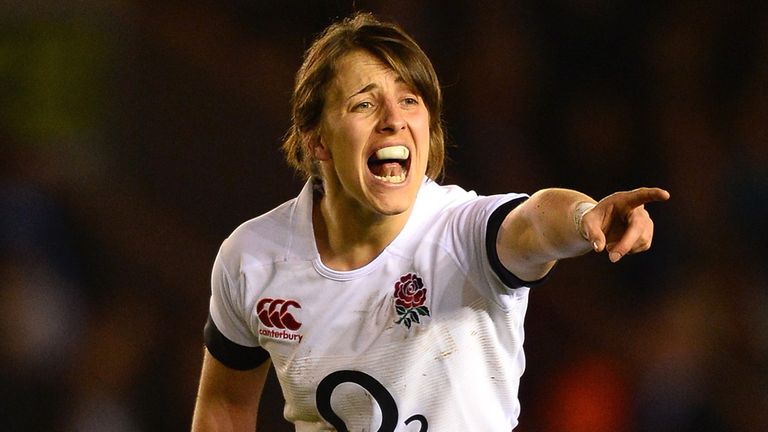 Former England skipper Catherine Spencer admits head coach Gary Street is spoilt for choice when it comes to deciding who will captain the Women's Rugby World Cup finalists.
A 40-7 drubbing of Ireland on Wednesday secured England's passage to Sunday's final where they meet Canada, who edged host nation France 18-16 in the other semi-final.
England only managed a 13-13 draw against Canada when the sides met in the tournament's pool stages - the second consecutive match where Sarah Hunter deputised for regular skipper Katy Mclean.
And Spencer, who captained England at the last World Cup, insists Street has created a squad containing several players capable of wearing the armband.
"Both Sarah and Katy have built up a lot of leadership skills over the last few years," she told Sky Sports News HQ. "They've both captained the side on a number of occasions, but there are plenty of other strong leaders on the pitch.
"From right at the front - 'Rockstar' Rochelle Clark to Maggie (Alphonsi) in the back row, Tamara Taylor in the second row, the likes of Nollie (Danielle Waterman) at full-back to Emily Scarratt - they are a team full of leaders really.
"Gary Street's philosophy over the last few years has been to build a squad full of experience."
Spencer, who has captained both Hunter and Mclean in the past, believes England's new No 8 has developed into a player of real class and authority.
"When I played alongside Sunter - Sarah Hunter - I used to call her a brick wall," she said. "I'd play No 8 and she'd play No 6 alongside me in the back row and she was just solid, nothing would get past her.
"I really enjoyed playing with her. She was fairly quiet back then but I think she's really come out if her shell since.
"She's now a very experienced captain in her own right and I really rate her in that role. Similar to me when I played No 8, you lead by example. You can take the ball on and I generally quite like the idea of having forwards as captains.
Example
"In the men's game Martin Johnson is a great example - you can follow your leader on the pitch and they just take you forward."
Mclean stepped up to from her role as vice-captain to skipper England after the last World Cup and Spencer believes the 28-year-old has blossomed in that role in recent seasons.
In the men's game Martin Johnson is a great example - you can follow your leader on the pitch and they just take you forward.
Catherine Spencer
"You need two or three years to develop as a leader and as a captain, in the same way you need time to develop your skills.
"When I was captain, Katy was my vice-captain and from speaking to some of the girls she has really developed into that role.
"Playing fly-half you're a natural leader on the pitch anyway. You make lots of key decisions that affect a game.
"Katy's knowledge and reading of the game is also fantastic and I think the players are responding to her really well."
England: 15 D Waterman, 14 K Merchant, 13 E Scarratt, 12 R Burford, 11 K Wilson, 10 K Mclean (c), 9 N Hunt; 1 R Clark, 2 V Fleetwood, 3 S Hemming, 4 T Taylor, 5 J McGilchrist, 6 M Packer, 7 M Alphonsi, 8 S Hunter.
Replacements: 16 E Croker, 17 L Keates, 18 R Essex, 19 A Matthews, 20 L Mason, 21 C Large, 22 C Allan.
Canada: 15 J Zussman, 14 M Harvey, 13 M Marchak, 12 A Burk, 11 J Dovanne, 10 E Belchos 9 E Alarie; 1 M-P Pinault-Reid, 2 Donaldson, 3 H Leith, 4 L Blackwood, 5 M Samson, 6 J Murphy, 7 K Paquin, 8 K Russell (c)
Replacements: 16 L Russell, 17 O DeMerchant, 18 M-J Kirby, 19 T Beukeboom, 20 K Mack, 21 J Sugawara, 22. B Waters.
Watch England against Canada in the Women's Rugby World Cup final live on Sky Sports 4HD on Sunday from 5:30pm