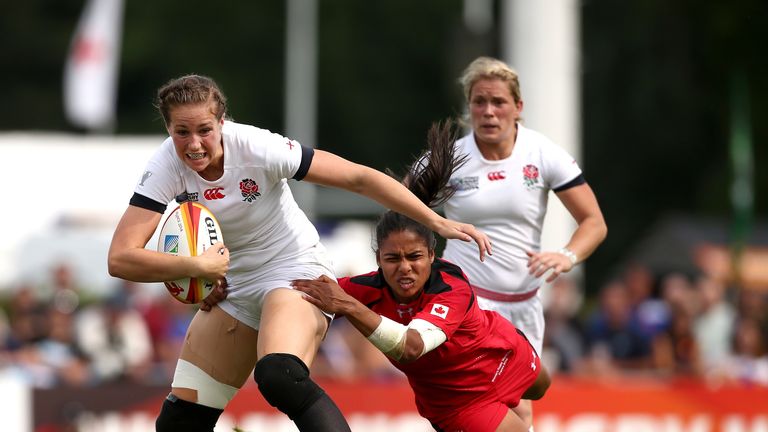 England coach Gary Street has announced two changes to the starting line-up for Sunday's Women's Rugby World Cup final against Canada in Paris.
Lichfield scrum-half Natasha Hunt and Wasps flanker Marlie Packer are both recalled following a 40-7 semi-final victory over Ireland three days ago.
England are through to their fourth successive World Cup final, having lost the last three to New Zealand.
It will be their second meeting in the current tournament with Canada following a 13-13 draw during the pool stages, a result that proved enough to send both teams through to the semi-finals.
Canada went on to cause a shock in the last-four clash with hosts France, and England star Emily Scarratt feels it will be another tough game between the sides.
"I understand why people are saying that we are favourites, but I feel we are going into this game as equals," Scarratt said.
"We both came through our group to win our semi-finals and it's going to be a real test on Sunday.
"Favourites or no favourites, we have to go out and perform and use the skills that our players have got.
"I think our execution can make the difference. If we execute our skills properly, build a platform and keep our heads clear then I believe we can win."
England: D Waterman (Bristol); K Merchant (Worcester), E Scarratt (Lichfield), R Burford (Thurrock), K Wilson (Bristol); K McLean (Darlington Mowden Park Sharks, capt), N Hunt (Lichfield); R Clark (Worcester), V Fleetwood (Lichfield), S Hemming (Bristol), T Taylor (Darlington Mowden Park Sharks), J McGilchrist (Wasps), M Packer (Wasps), M Alphonsi (Saracens), S Hunter (Lichfield).
Replacements: E Croker (Richmond), L Keates (Worcester), R Essex (Richmond), A Matthews (Richmond), L Mason (Wasps), C Large (Worcester), C Allan (Richmond)
Watch the final live on Sky Sports 4 this afternoon, with coverage from 5.30pm.