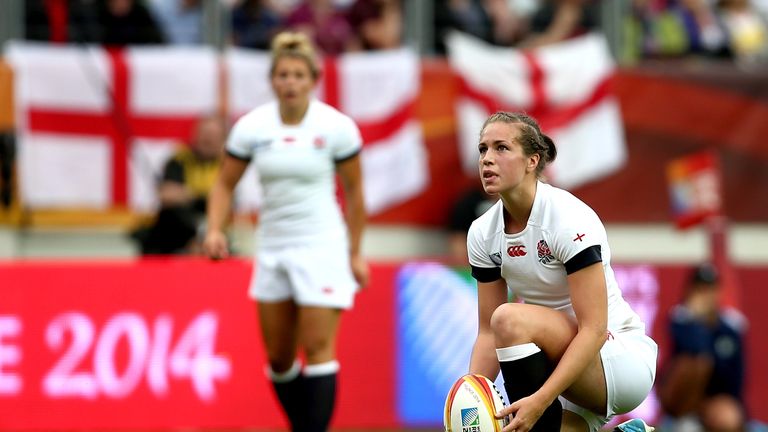 The RFU has agreed professional contracts with 20 members of the England Women's Sevens squad for the upcoming season.
The announcement comes on the back of England's superb World Cup final victory over Canada in the longer format of the game.
A total of 12 players from that successful side have been handed deals, with England competing on the IRB Sevens World Series circuit and seeking qualification for Great Britain for the 2016 Olympic Games in Rio.
The women will train five days a week at Twickenham Stadium and Surrey Sports Park in Guildford from September – with head coach Simon Middleton and the RFU's head of women's performance Nicola Ponsford spearheading the programme.
The 20-strong squad will also be available to player for the full England squad as well as for their clubs in the Premiership.
Excited
Ponsford said: "We are really excited by the opportunity and feel that this will enable us to compete on a global level.
"The inclusion of Sevens in the Olympics has meant that a significant number of sides we are competing against have been full time for a year or more.
"We have been planning to do this for some time but we needed to make sure that we could focus on the 2014 Rugby World Cup while also ensuring we had the building blocks in place to guarantee that a full time programme is effective.
"With two years to go until the Olympics we felt this was the right time to move forward.
"We will carefully consider the amount of time we need to have with both 15s and Sevens players over this period to ensure that we are in the best place to not only retain the 2017 Rugby World Cup but challenge effectively in Sevens also.
"Both of these goals are of the utmost importance. We need to ensure that the foundations are in place through the RFU Player Pathway, the domestic game and international programme to ensure a long-term sustainable and successful game for both 15s and Sevens rugby."
England's World Cup-winning captain Katy Mclean added: "This is fantastic news for the sport and exactly what we need as an England squad to continue to be at the top of our sport on a global scale. I am extremely excited about this new challenge and where this full time programme can take us as an England team."
England Women's Sevens squad: Claire Allan (Richmond), Natasha Brennan (Richmond), Rachael Burford (Thurrock), Abigail Chamberlain (Richmond), Heather Fisher (Worcester), Francesca Matthews (Richmond), Sarah McKenna (Saracens), Katy Mclean (Darlington Mowden Park Sharks), Marlie Packer (Wasps), Emily Scarratt (Lichfield), Michaela Staniford (Wasps), Danielle Waterman (Bristol), Joanne Watmore (Richmond), Amy Wilson-Hardy (Bristol), Natasha Hunt (Lichfield), Alexandra Matthews (Richmond), Katherine Merchant (Worcester), Leanne Riley (Saracens), Emily Scott (Thurrock), Kay Wilson (Bristol)