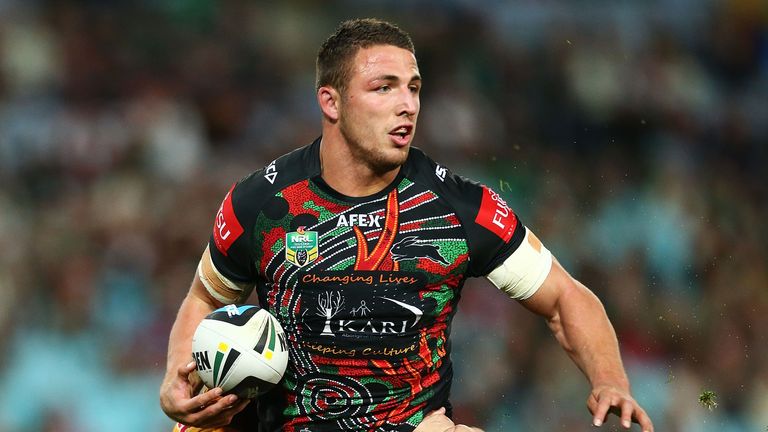 Bath head coach Mike Ford believes Sam Burgess' future in rugby union is in the back-row.
Burgess, 25, will switch codes from league to union in October when he swaps NRL side South Sydney Rabbitohs for the Aviva Premiership outfit.
The England rugby league World Cup star will begin his Bath career in the centres – the position the England rugby union team feel he is best suited to as a potential candidate for Stuart Lancaster's 2015 World Cup squad.
But Ford feels the former Bradford Bulls player may ultimately be better suited a different role in the sport.
"We've got a plan for him now, but there's so many variables," said Ford. "Clearly we'll probably look at him in the centres first and foremost, let him learn the game from afar really.
"We've got a plan for him in the centres to start with, but my gut feeling is he will end up in the pack.
"Whether that will be Christmas, whether it will be Christmas 2015 who knows? He's here for a long time so we're not too worried about that.
"But if he's doing 60 plays a game in the NRL then you don't really want him playing on the wing do you, in rugby union.
Qualities
"It's important that when Sam comes we get the best out of Sam and what he can do, and what his qualities are.
"So we're going to try to get those qualities out more often than not."
Bath's aim to convert Burgess into a loose forward initially raised potential tensions between them and the Rugby Football Union, but Ford now believes the two are "on the same wavelength".
"They've got nothing to do with him, the RFU have got no say in his development at Bath Rugby," added Ford, whose club rejected any financial assistance from the RFU to buy the player out of his Rabbitohs contract.
"They haven't asked us to play him at centre, but clearly I've spoken to Stuart and we're on the same lines.
"He again wants Sam Burgess to be Sam Burgess. So we're clearly on the same lines.
"He might play at centre and brilliant, and then why would you move him?"