Hartley no fool
Dylan Hartley has been voted the Aviva Premiership Rugby Player of the Month for April.
Last Updated: 13/05/11 5:58am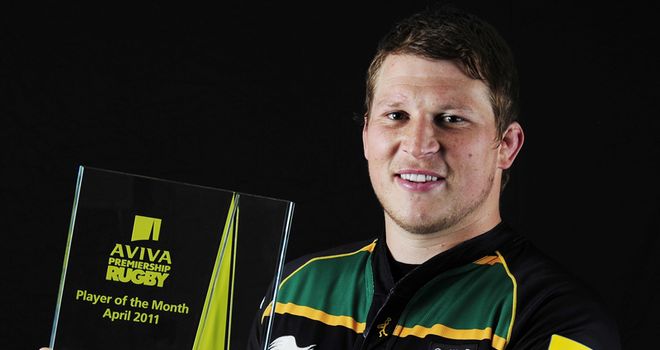 Dylan Hartley has been voted the Aviva Premiership Rugby Player of the Month for April.
The Northampton Saints hooker was chosen as April's Player of the Month by a panel of distinguished rugby media - including writers, broadcasters and photographers.
Rugby World editor Paul Morgan, who chairs the panel, commented: "Jim Mallinder's decision for Dylan to retain the captaincy at the start of the season has certainly paid dividends. He's passionate, hugely motivated and has had his best season for Northampton this year. The players and the fans love him and now people outside of Franklin's Gardens are starting to appreciate his world-class ability."
It is no coincidence that Northampton's return to form has coincided with the return of their inspirational captain. His performances in Aviva Premiership Rugby have largely contributed to him becoming England's first choice hooker and he regarded by many commentators as a strong possibility for being on the plane with England to the Rugby World Cup later this year.
Dylan spoke of the pride he felt for being named April's Player of the Month.
"It's a surprise," he said. "I've never won an award in my life! If you look at any individual who wins an award it's on the back of a team performance. This award is the same thing and it's something that could have been awarded to any of the forwards. Recently we've been doing well up front and I'm pleased to have been a part of it."
Director of rugby Jim Mallinder said: "Dylan has led from the front all season and this award is recognition of that. April was a challenging month for us and we played a lot of games in a short space of time. Throughout that time Dylan's motivation and leadership of the rest of the squad helped us get some good results, and his own performances on the field set a good example for the players to follow."
Heather Smith, head of sponsorship for premiership rugby sponsors Aviva, added: "Dylan seems to have gone from strength to strength since taking on the captaincy of Northampton Saints. He's a true leader on the pitch and his sheer grit and determination to drag his team over the winning line is there for all to see. He is a consistent performer in the Aviva Premiership and a worthy winner of the award."