Haskell mixes it up
James Haskell has credited mixed martial arts for helping him reach the upper echelons of rugby union.
Last Updated: 23/11/11 6:41pm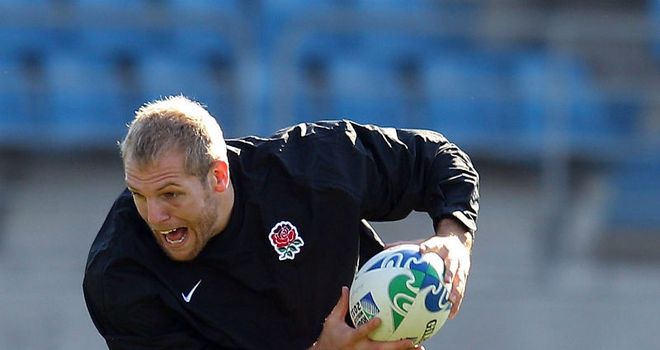 England international James Haskell is preparing for a new challenge with Super 15 side Highlanders and has credited mixed martial arts for helping him reach the upper echelons of rugby union.
UFC fan Haskell believes the fledgling sport has helped him prepare for the gruelling physical demands of professional rugby and will make the move to New Zealand after a brief spell with Japanese side Ricoh Black Rams.
By experiencing different cultures, training methods and opponents, Haskell is mirroring the training patterns of many experienced UFC stars, who vary their preparation for important fights by moving around different training camps to become more versatile competitors.
After playing for the Highlanders, the 26-year-old is set to return to England to play for Wasps next season, where he could resume his training sessions with British UFC star John Hathaway.
Haskell said: "When I'm in London, I train at London Shootfighters with John Hathaway and the other guys down there.
"It's great for my general fitness and helps my performance on the rugby pitch. I love sport and this is one of the best activities out there.
"I've been interested in mixed martial arts for around three years. I have the same physio as the guys at Shootfighters and he got me into it.
"It's a fantastic form of training, it builds strength and endurance and has helped me to manipulate and move people on the rugby pitch. It has definitely benefitted my game."
Credit
The back row forward was one of the few players to emerge with any credit from a troubled Rugby World Cup campaign with England, but he believes that MMA training methods used to prepare the national side will stand them in good stead in the long run.
He added: "A lot of the England boys are big fans of the UFC. [Saracens prop] Matt Stevens became a National Wrestling Champion during his two years away from rugby and has trained with the Gracies.
"Wrestling was a big part of training at the World Cup, we even set up a dojo at our camp, it is fantastic exercise for conditioning.
"When we were out in New Zealand, UFC 135 was on, Jon Jones vs "Rampage" Jackson and we all huddled round to watch it."
Advice
Despite England's disappointing display in New Zealand, Haskell believes that MMA training supplements his rugby regime and would advise aspiring players to follow his lead to evolve their fitness.
He explained: "Your footwork and placement is vital in both sports. It's about how you move and positioning yourself correctly.
"Some of the conditioning is also similar to what I do for rugby; it's about developing a lactic tolerance and training through the pain, whilst ensuring you keep thinking clearly.
"The discipline is also the same, there is no disrespect allowed in rugby or the UFC at all."
The former Stade Francais star is clearly enamoured with the world of UFC, but would he consider a change of career?
"With my rugby commitments, I could only ever be an amateur mixed martial artist but I love the sport and want to improve," he said.
"I'm very competitive and would like to compete but obviously it's very difficult, these guys are incredibly talented and dedicated."