Haskell hails MMA
James Haskell believes former team-mate Josh Lewsey would be suited to a career in mixed martial arts.
Last Updated: 19/02/12 4:57pm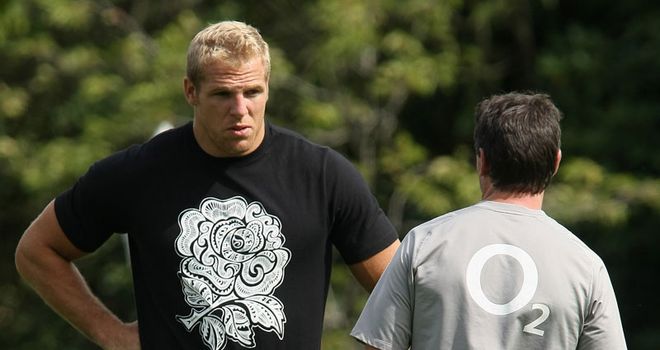 England rugby union international James Haskell believes retired former team-mate Josh Lewsey could be well-suited to a career in mixed martial arts.
Haskell is one of the biggest, both in terms of stature and dedication, fans of the Ultimate Fighting Championship (UFC) and MMA and the Ricoh Black Rams flanker will be on hand to see the UFC in the flesh the world's premier MMA organisation arrives in Tokyo for UFC 144 next week.
Haskell has joined the Japanese Top League side for part of the season and will move onto join Super 15 side Highlanders in New Zealand and has used the fledgling sport to vary his training.
The 26-year-old is keen to credit the sport for improving his fitness and believes a couple of his England team-mates have the right attributes to be successful UFC fighters.
He told skysports.com: "There are a couple of guys who would fit the bill. One person who is now retired who may have been good was Josh Lewsey.
"Matt Stevens became a National Wrestling Champion during his two years away from rugby and has trained with the Gracies.
"Wrestling was a big part of training at the World Cup, we even set up a dojo at our camp, it is fantastic exercise for conditioning."
He continued: "There is the obvious fitness crossover [between rugby and MMA]. I have to go through a lot of contact, but remain able to think clearly and keep a high level of tempo.
"Club rugby is not as physical in Japan, due to the physical size of the Japanese players. But the game is very quick, with not a lot of dead ball. Every team has at least three foreign players who bring that edge."
Training
Haskell trains with British Welterweight John Hathaway and Czech middleweight Karlos Vemola and revealed how a physio session led to him training with both UFC stars.
He added: "A physio I see in London, Kevin Lidlow, looks after a lot of the fighters from [MMA training camp] London Shootfighters.
"He suggested I go down and try some wrestling to help with my fitness and breakdown skills. So i went down and had a great time.
"John Hathaway and Karlos Vermola are both class fighters, so I am always picking bits up.
"But whatever i do is very controlled, so they don't end up smashing me to bits, so i can't do my first job which is to play rugby.
"Their work ethic is incredible. But that also comes from working with great coaches and London Shootfighters.
"There is also the ability to control a person, using a take down as a tackle and landing where you need to, to get back to your feet and go for the ball."
As well as training at one of the UK's premier MMA camps when he is in London, Haskell also finds time to watch the professionals and rates a couple of the larger competitors as two of his favourite fighters.
He concluded: "I think Brock Lesnar was an animal, who for a while took the UFC by storm, his powerful training and aggressive nature really stood out.
"But I think Jon Jones is a pretty special fighter and the future of the UFC."
Frankie Edgar defends his Lightweight title against Ben Henderson at UFC 144 in Tokyo. Bet now.