Heather Fisher fired up: England back row ready for tough Black Ferns series
Living for Sport mentor chats about the latest stage of her comeback
By Oli Burley - @SkySportsOli
Last Updated: 23/11/12 2:01pm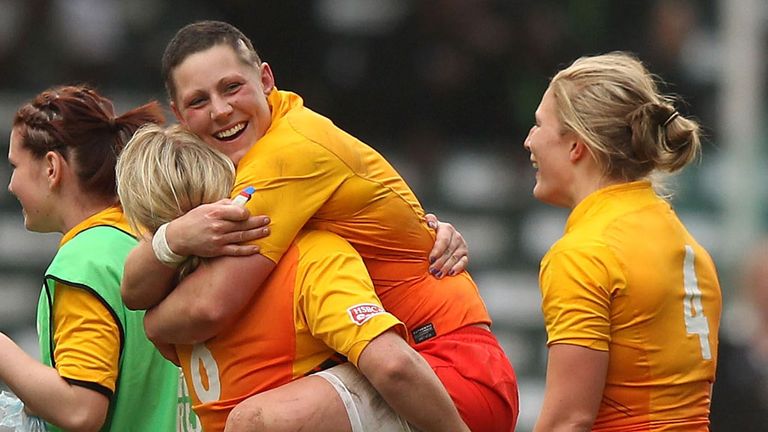 The Worcester back row, who suffered a double fracture in her back while playing last summer, returned to England's XV against France earlier this month after a successful Sevens season that began in Hong Kong in March and the Sky Sports Living for Sport Mentor is more determined than ever to make her mark...
skysports.com: How did it feel when you pulled on England colours for the first time since your injury?
Heather: Hong Kong was a massive step for me. I'd worked so hard to get there, doing five hours of rehab a day, and suddenly I was back on a world stage playing in front of thousands of people on TV. I wasn't quick out of the blocks and I wasn't as strong as I would have liked but it still felt like a huge achievement given that nine months previously I was in a body cast with two fractures in my back. For a while it was touch-and-go as to whether I'd make it, but I got there and running out in an England shirt for the final was an almost overwhelming experience.
skysports.com: Even more so, I imagine, when Jo Watmore scored the match-winning try at the end?
Heather: It was one of the hardest matches that I've ever played in. We didn't have our first break of the game until the ninth minute, so it was back and forth pressure and the most intense period of running that I'd done since sustaining my injury. It was one of those situations where you know you have to keep going, you want to keep going but it becomes incredibly tough.
skysports.com: How well did your body stand up to the test?
Heather: I love Sevens because I find it a real challenge. I don't get nervous about playing, I get nervous about the pain I know I'm going to feel - it's above anything I've experienced playing the game!
For the first time in my life that I understood how a big injury can impact on every part of your body. I had a knock-on effect on my hamstring which meant I couldn't run at more than 60 per cent when the Challenge Cup Sevens at Twickenham came round in May. Somehow I got through that and then we won the Amsterdam Sevens before going to Moscow and becoming European Champions and qualifying for next year's World Cup. We had a really good run, partly because we've had more time together as a squad.
skysports.com: You returned to England's first XV in this month's 23-12 win over France. Was it an emotional day?
Heather: I'd been out of the team for about a year-and-a-half, so in one sense I was just pleased to be there. It's then you realise how much you miss the small things like sitting in the changing rooms chatting to your team-mates or getting advice from the coaches. But nothing rivals pulling on an England shirt and walking out onto the pitch. It's so special. You have to make the most of it because you never know what's round the corner. You have to make the most of every moment.
skysports.com: Did you set yourself any goals for the match?
Heather: I wanted to regain some confidence because I lost a lot when I got injured. I didn't feel much pain in my back when it was broken, so when I started playing again there was this doubt in the back of my mind. I'd be thinking 'I've still got no pain, is everything ok?' I wanted to find my feet and make sure that when I hit someone, I put everything I had into the tackle. It took me until the second half to go in fully because my head wasn't quite there at first. You always go out there to have a great match and I never want to settle for anything less, so I wanted to set myself a standard that I could take into the series against New Zealand and then up my level.
skysports.com: Watching you play it's hard to imagine that you lack confidence...
Heather: I had to deal with a lot of self-confidence issues in my life; I don't know all the answers by any means and sometimes you just have to rely on pure grit and determination to get you to where you want to be. So if there's a hurdle in front of me, it brings out this passion inside me and all I can do is work as hard as I can to get to my destination. It's as simple as that in my head.
skysports.com: How do you convey that message as a Living for Sport mentor?
Heather: No matter how many hurdles you have in front of you, you can get over them if you believe in yourself. It may take a while but if you've got no choice but to overcome them, then that's what you have to do. Belief doesn't just come from you but from the team around you and the people that you're working with; with the right network, whether that's family, friends, team-mates or colleagues, you'll get there.
I've had to overcome a massive barrier after my injury because I thought I was invincible only to find out that I wasn't. When I tell kids this they always laugh at me because who is invincible? But when I step out onto the field I still believe, even today, that I am. You have to have that mind-set, otherwise I don't believe you can put your heart and soul into it.
skysports.com: How much did the squad use the memory of defeat to New Zealand in the 2010 World Cup final for motivation ahead of last year's 2-0 series victory?
Heather: There was a time when England used to look at New Zealand and think 'what are they doing, that we're not doing?' Now I think we look at ourselves and simply think 'what are we doing to make ourselves better? The whole approach has changed, individually and collectively. Losing the World Cup final by three points was an experience that we could take into the next game and improve from it, which we did last year despite having a number of inexperienced players come through the system. A year on and those players have not only given us strength in depth but made everyone in the squad realise that there is pressure on their place.
skysports.com: How tough will this series be?
Heather: New Zealand are going to be strong opponents even though three of their key players have gone over for the Dubai sevens. Their forwards are strong and physical and bearing in mind that they lost two out of three games to us last year, they are not going to sit back and take it. They are naturally gifted rugby players and it's going to be a hard contest but hopefully we will do well and gain invaluable experience ready for the World Cup in 2015.
People don't often get the chance to watch us play but as soon as they do they tend to say 'wow'; I know people have watched us for five minutes and ended up fans for life. We know what we can do - I believe we are a world class, highly-skilled side. We just have to prove that we can perform consistently at that level.
You can watch the third and final Test between England Women and New Zealand Black Ferns on at 5pm on Saturday December 1 on Sky Sports 1 HD.
To find out more about Heather and her work visit the Heather Fisher Academy website or view our Athlete Mentor page. Make sure you stay up-to-date with Sky Sports Living for Sport @SkySportsLFS or SkySportsOli