Beating the Boks
Will Greenwood, Thinus Delport and Stuart Barnes discuss how England can defeat South Africa.
Last Updated: 23/11/12 1:26pm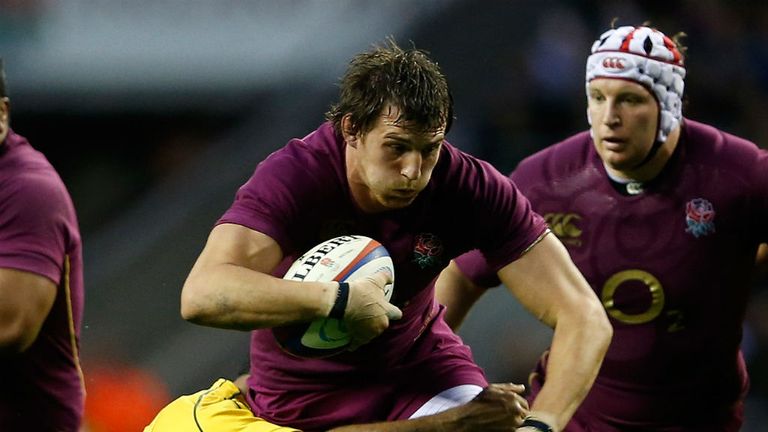 England's woes continue against the big three as they failed to put a weakened Australia to the sword last weekend.
Stuart Lancaster's men failed to make the most of their chances and some poor on-field decision saw them lose 14-20.
England will have to pick themselves up quickly though as the world's number two side South Africa are up next and the Boks are in no mood to give the Twickenham faithful something to cheer about.
England performed well in the final Test in South Africa in the summer earning a 14-14 draw, but can they go one better on Saturday?
Stuart Barnes, Will Greenwood and Thinus Delport discuss what England need to do against the Springboks.
"There is an awful lot of talk that England need to fight fire with fire," said Barnes on the Rugby Club. "That is nonsense. England need to stand up to South Africa but they are not going to win by bashing them up.
"England have picked a more physical team but if they think it is just going to be snorting nostrils in a dragon-like manner then they are going to lose this game.
"They have got to be clever as well - they were not clever against Australia. I call it the avenue of agony - if you play one out against South Africa from a ruck then they will smash you.
"The Aussies stopped a static Chris Robshaw, South Africa won't stop them; they will drive them backwards.
"They need to play the Harlequins way with two out to make sure that the ball gets out to the wider channels and see what is on.
(Toby) Flood needs to get on the front - against South Africa territory is vital. You don't beat them by saying: 'Right where is this green wall we are going to smash it'. You threaten to smash them, you make your tackles but you find space."
Smarter play
Will Greenwood agrees and believes that the inclusion of Tom Wood should help England keep hold of the ball.
"Wood is a very abrasive guy; he is all big elbows and knees," said Greenwood. "He is always looking to where he can get into and make a nuisance of himself.
"With Wood everything is also much closer to the ball and when you think of the impact and the quality of the South African breakdown, if you don't look after the ball like we didn't do against Australia, then you are in a whole heap of trouble.
"You have got to retain possession against the South Africans and move it. As soon as you start kicking it back to them - well they have not lost a lineout in their last two games. When England have the ball they have got to be smarter, they have got to be sharper - but don't try and go through this brick wall, too many teams have tried it."
As well as taking a beating in the press for his decisions, England skipper Robshaw has also been criticised for his role at 7, however, Barnes does not believe the Harlequins man is the problem.
"This is typical of the British media. Robshaw is getting a hammering for turning down kicks at goal and that is being linked to his all-round play.
"Robshaw is a very good player but the breakdown is not just about the 7, it is about the collective. In broken play we have a real problem that we don't know how to put structure in unstructured play."
All about trust
Former Springbok fullback Thinus Delport says that fixing that is all about trust and says that England have got to get some quick ball out to their backs.
"It is all about anticipation and trusting the player next to you - you need to expect him to go for the break and run the right lines in support," explained Delport. "At the breakdown South Africa are doing really well in slowing that area down which gives the defensive line time to form up.
"If you get slow ball against South Africa you are going to be on the back foot. So England need to run those support lines and offload the ball before you go into that contact situation.
"The Springboks hunt in packs, they love their double tackles to drive you back and then you are on the back foot - then you are in trouble."