Michaela Staniford still in shock after claiming the IRB Women's Player of the Year crown
Michaela Staniford admits that collecting the IRB Women's Player of the Year honour has yet to sink in.
By Tony Curtis - Follow me on Twitter: @SkysportsTC
Last Updated: 06/12/12 5:44am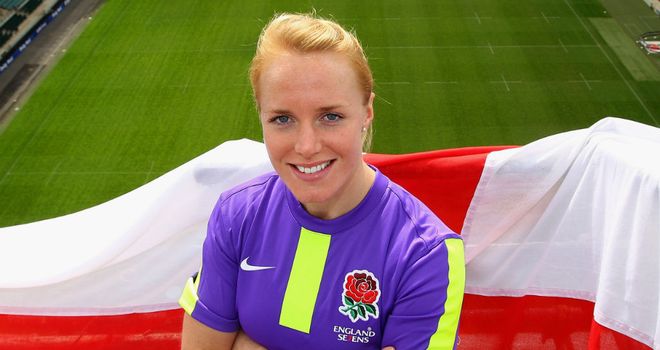 Staniford has enjoyed a sensational year in both the 15-a-side and Sevens formats - with unprecedented success for the England women's side.
A memorable 12 months was capped off at Twickenham on Saturday when England completed a 3-0 series triumph over the world champions New Zealand.
And it was after the match that Staniford was presented with the top award by Bill Beaumont, however the 25-year-old has not had chance to savour the success.
"It has been back to reality as I was back at school on Monday," she told Sky Sports.
"It has not fully sunk in. The kids at school have been running around saying, 'Miss, Miss, you're the best player in the world', but it does not feel like it.
"I assumed when I was asked to hang around after the final whistle that it would be just for an interview as I'd played in all three of the Tests - I'd played all 80 minutes in the first two games and then I was involved in the third - or I thought it could be to do with the Sevens as the girls were in Dubai and we've got a big six months ahead.
"I never thought it would be for something as prestigious as this. It is really hard to comprehend. I know the class of players I have played with or against and they are so very talented.
"For me, I think it must be for an all-round performance."
Phenomenal
Staniford is now hoping for the chance to reflect on her - and England's - achievements over the past 12 months.
"It has been a phenomenal year with the Six Nations, the Hong Kong Sevens, the London Sevens at Twickenham, the Amsterdam Sevens, the Euro-Series Sevens title and then the whitewash against New Zealand.
"It has been staggering. Going back to work is a real dose of reality and I honestly think I need a bit of time off over Christmas to sit back and take everything in that has happened over the past 12 months. As soon as you've completed one thing then you're on to the next within a day or two."
Having enjoyed a such an amazing year, Staniford is now aiming to keep the run going in 2013 - with the Sevens World Cup and a tour to New Zealand.
"January is the start of a massive six months for us which culminates with the Sevens World Cup," she said.
"I haven't got a gold medal yet so hopefully I can get one of those now, whether it is in 2013 or 2014 that is my aim.
"We've then got New Zealand away. Beating them away hasn't been done either so that is another target for us."