Heineken Cup views
See what the Sky Sports experts had to say about some of the latest Heineken Cup matches...
Last Updated: 11/12/12 6:55am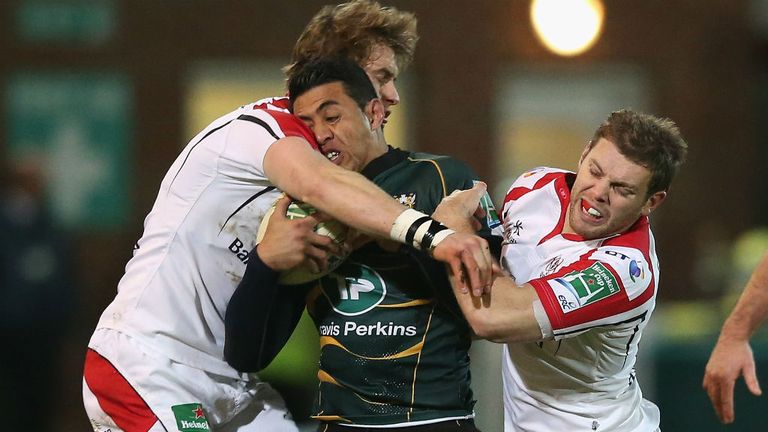 Paul Wallace and Ieuan Evans on Clermont's 15-12 win over Leinster
Wallace: "Leinster got the bonus point which was really imperitive when they were coming down to Clermont. They will be very disappointed because they had opportunities. The line-out mal-functioned on a couple of occassions when they were getting good field position. They'll be disappointed they didn't come away with the win because it was there - and there were a couple of errors in attack, handling errors. All in all it was a really strong performance and I'm impressed with the scrum especially, which really got them back in the game."
Evans: Leinster threw down the gauntlet, they came with a positive mindset and took the game to them. Clermont at times looked as if they were a little rattled. They had a few chances to take the game away from Leinster and they didn't do it. But they just showed enough inner strength to see them over the try line. They're a powerful unit and didn't shirk the challenge."
Paul Wallace and Cardiff's 24-35 defeat to Montpellier
"Montpellier ground out the win. Cardiff down to 14 players made it a tough ask but they were being out-muscled. They'll be a bit disappointed but there were positives in the way Rhys Patchell played, I thought he had outstanding game management. Maybe he didn't run hard enough to bring in the likes of Alex Cuthbert but his all round game management, putting it in the corners, drop goals, everything, it was a very impressive performance."
Will Greenwood and Alan Qunilan on Munster's 15-9 win over Saracens
Greenwood: "I'm not sure who is more disappointed in the end. Cracking game. Farrell and Saracens will rue those missed opportunities, in terms of the points they didn't take, but you just felt at times Munster had them and they'll be hugely frustrated Saracens have walked away from this stadium with that bonus point. It's so, so important."
Qunilan: Munster nearly shot themselves in the foot there. They deserved to win the game. I was a bit surprised with the intensity they brought to the game, but they just lacked that little bit of experience at the end and gave Saracens a lifeline and they didn't take it. It's a win. They'll need to win next week to get out of the group, but it sets it up fantastically."
Tyrone Howe on Northampton's 20-6 defeat to Ulster
"When you're talking about man of the match you could have picked half a dozen Ulster players. Look at Paddy Wallace, Chris Henry...Darren Cave at 13 made every single defensive decision correctly, either drifting, marshalling them out towards touch or coming in and smashing. He was hurting people out there. There was an absolute ruthlessness about the tackles. It will be interesting to see what Northampton do with the 10 shirt in the return match next week. The fly-half position has been an area of concern for quite a few seasons. But Ulster will have to back this up and they'll fancy it."
Will Greenwood on Toulouse's 30-14 win over Ospreys
"There was a huge introduction of power from Toulouse, six men, six forwards on the bench. It was about the 45 minute mark where they threw them on and that first scrum Ospreys couldn't live with it. I thought Ospreys were gutsy but those 12 points they conceded early on hurt them. Kahn Fotuali'i again proved you can be on a winning side or a losing side and still look world class, that's how good he is. Toulouse march on, they look like a very powerful side, but I'm still not convinced they can go and blow other sides away come knock out stages. But they've got so much power it does help."
Alan Quinlan and Scott Quinnell on Toulon's 17-6 win at Sale
Quinlan: "Conditions were really tough. It is hard to win away in the Heineken Cup and maybe they expected it to be a bit easier but Sale were really competitive. Sale will draw positives from that. It was a tough game, both sides cancelled eachother out and Toulon will be happy with the win."
Quinnell: "They'll be delighted with the win. The weather was poor, conditions were poor and they'll be more than happy to get back to the south of France. They made it difficult for themselves, Toulon, and there were a lot of errors in their game. They looked like a side expecting a bonus point, the way they played. They tried to offload out and it didn't quite go for them, but they'll be delighted with the win."
Paul Wallace on Connacht's 22-14 win over Biarritz
Wallace: "What a magnificent win over Biarritz. They were complete underdogs and had four of their key forwards out as well and, you know what it's like in Galway, it's always about what you're like up front and for those young guys to stand up was amazing."