Heineken Cup views
See what the Sky Sports experts had to say about the final round of pool matches in the Heineken Cup...
Last Updated: 20/01/13 5:49pm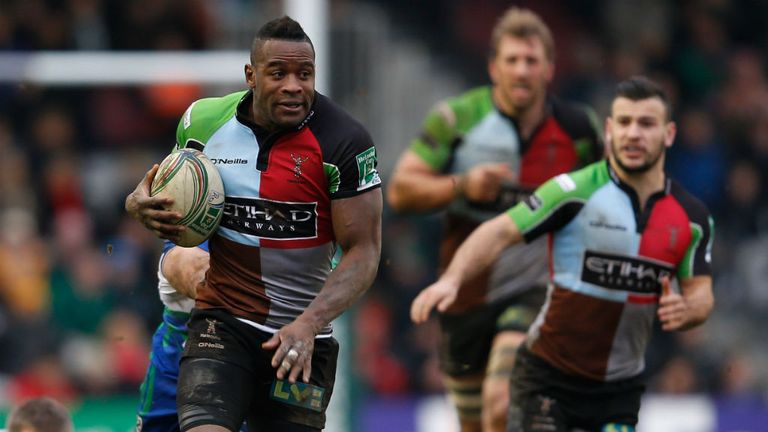 Ieuan Evans and Clive Woodward on Leicester's win against Toulouse
Clive Woodward: "That was absolutely huge. Toulouse could and should have won that game but for sheer grit, determination and attitude - well Leicester's change room will just be awesome. Out of all the sides I think that Leicester will go to Toulon and fancy their chances. It was great game in very trying conditions.
Ieuan Evans: "Toulouse will probably be kicking themselves - but they would probably miss after the way things went. It was a gutsy belligerent performance from Leicester but for all the money that Toulouse possess and spend on players they have still not got a pair of halfbacks. With the power they have upfront and the platform the build, you have got to have halfbacks who can use that properly. They had plenty of opportunity to win that game; you can't miss five shots at goal and expect to win that sort of game - it was always going to come down to the smallest of margins. It is an indication as to how far they have fallen - they still rely heavily on a coach to micromanage from the touchline and then it is self-fulfilling, no one on the field can make a decision because the coach makes all the decisions on the side of the field. You need to let players take charge of their own destiny
Clive Woodward on Saracens 40-7 win against Edinburgh
"I think to come back and score four tries in the second half is brilliant. I am so pleased for Saracens, for Nigel Wray and the whole club - it is a great way to leave Watford. They deserved the win, they kept their calm and the big name players came through. I think Charlie Hodgson steered them through very well and deserved his try in the end. I think Saracens are right up there as contenderw - the key thing for them is playing at home though."
Dean Ryan on Montpellier's 23-3 win over Toulon
"Montpeller will be delighted to come into the quarter-finals. They are a bit of wildcard because they don't have the same energy on the road that they do at home. That first 20-30 minutes today made one of the biggest sides in French rugby and in Northern hemisphere rugby look pretty lightweight. They missed a couple of chances and there was a bonus point on the cards there too. Nobody will be looking forward to meeting them - can they go all the way? Probably not."
Shane Horgan on Ulster's win 9-8 win over Castres
"It was a great result from them but an average performance. They won't be happy with that. What this result shows is that they miss Johan Muller when he is not playing; they miss Tommy Bowe and Dan Tuohy - they do need a full strength side. The experiment at ten did not work that well either, not that Marshall did not perform at nine, but more so because I don't think Pienaar is comfortable playing at 10.
Scott Quinnell on Harlequins beating Biarritz 16-9
"Harlequins have done what they have had to do. You expect them to beat Connacht and Zebre but the big turning point was the second half in Round one against Biarritz. They really showed their quality. It was close going into the break but they came out with a lot of energy and won 40-13.That game ultimately won them the Pool as it took a lot of pressure off. It is yet to be seen if they can go to say Clermont and win but the good thing is that they won't have to see it in the quarter-finals because they know that they are at home. They may not know until possibly the final where they go to Dublin.
Pat Sanderson on Glasgow's 27-20 win over Northampton
"Northampton came to Glasgow knowing that nothing less than four tries and a win would be enough to keep their Heineken Cup dreams alive. They exerted some pressure but the story of the first half has to be Glasgow's heroic defence and it was only a late try from Dominic Waldouk that gave Saints a 10-6 lead. The second half was one of the most exciting halves of rugby we have seen in the Heineken Cup this year. Matawalu kept Glasgow in the hunt and with three minutes remaining the scores were tied at 20-20. Alex Waller's indiscipline led to the sin bin and from the ensuing play, Peter Horne went the distance and scored a fantastic solo effort to give Glasgow victory in injury time and ultimately a victory they will not forget for a very long time."