Australian press
We look at the reaction from the Australian press to Robbie Deans' preliminary Wallabies squad.
Last Updated: 20/05/13 10:07am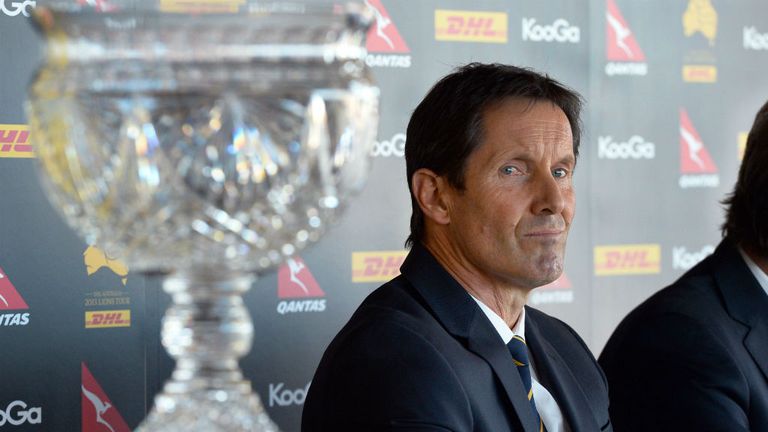 Quade Cooper was a notable omission from the squad, while Waratahs full-back Israel Folau was one of three uncapped players included by the Wallabies chief.
And following the announcement, we look at the reactions to the squad from the Australian press.
Reds coach defends dumped Cooper
Various media have picked up on the omission of the enigmatic Quade Cooper from the Australia squad, with Ewen McKenzie leading the criticisms. McKenzie's quotes to the Australian Associated Press make the majority of papers, with the Reds boss confused over the reasons given by Australia coach Robbie Deans. "Myself, Robbie and Quade had a discussion about Quade and where he defends at the start of last year and we haven't had any discussions since," McKenzie said. "So now he has one match to defend in the front line to make the Lions squad? It's easy to say that now. What's he been saying for the last 13 weeks? It's not like he hasn't been defending in the front line anyway."
Dumping Cooper no shock after 'toxic' call
The Australian columnist Wayne Smith claims no one should be surprised by Quade Cooper's omission following his much publicised clash with Robbie Deans - although he too is surprised by the reasons given by Wallabies boss. He wrote: "Presumably on each of those 38 occasions in the past, Deans was fully aware of his suspect defence, his high turnover rate, his occasional flaky moments. Knowing all of these things, he still picked him, 38 times, until Cooper said the word 'toxic'. Why did Deans select him 38 times? Because he knew that Cooper, for all his shortcomings, is capable of doing things on a rugby field that are next to impossible to defend against." For more click here
'Wallaby selection will influence decision on future'
Uncapped Waratahs full-back Israel Folau insists that being part of the Australia squad to face the Wallabies is a huge honour. The 24-year-old's move to union has been met with some scepticism - with Folau having previously played rugby league and Australian Rules Football. However he claims that his inclusion in the preliminary 25-man squad will have an impact on his future. Speaking to the Sydney Morning Herald, Folau said: "I do understand from the point of view as fans that being part of the game long term and not just, maybe using the game, which is important to know. For me everyone has their opinions but once I hopefully get things settled it will be okay." For more click here
Izzy up to it?
Australia coach Robbie Deans has dismissed criticism of his decision to select Israel Folau in his squad to face the British and Irish Lions. Jake White and Stephen Larkham have been among the dissenting voices after Folau - who is in his first season playing union after spells in league and ARL - was named in the preliminary 25-man squad for the Test series. However Deans has told ABC News that his focus is on picking the best side to win. "It's more about the fact that he's committed to playing rugby union and he's playing rugby union, and he's contracted and available now," Deans said. "There's any number of players who may not be here and available for selection next year, but that's not the point." For more click here
Cummins flies flag for Force
Western Force winger Nick Cummins was one of the stars of Australia's tour to Europe in the autumn however a knee injury meant he has had limited game time so far this season. However the 25-year-old has done enough on his return to action to force his way into the Wallabies squad to face the Lions. Cummins, though, told the West Australian that he heard the news of his call up from his dad Mark. "I went to the beach to get away from it all and absorb some vitamin D and my old man called me," Cummins said. "I've only been back a few games so I'm pretty lucky to have got there. I certainly wasn't banking on it but I was hoping I would get the call." For more click here
Smith could play again - for the Brumbies not Wallabies
The Canberra Times are reporting that George Smith could play again before he returns to Japan - although not for Australia. The veteran flanker had been in line for a recall to the Wallabies set up after impressing during his loan spell at the Brumbies from Suntory. However his hopes of pulling on the green and gold jersey once again were ended by a knee injury suffered against the Waratahs. Smith is now facing eight weeks on the sidelines - ruling his out of a second Lions series. The news is not all bad, though, as Smith could return to action for the Brumbies in time for their clash with the Western Force on July 13. Coach Jake White said. ''All things being equal, we're hoping George will be back for the Force game.'' For more click here
ARU could release Wallabies
The 25-strong Australia squad might head off for their three-week training camp ahead of the three-Test series against the British and Irish Lions on June 2, however there is still a glimmer of hope that the players could still turn out for their Super Rugby clubs. The Rebels take on the Brumbies on June 7, with the Force entertaining the Waratahs two days later - but all four face fielding weakened sides. ARU chief executive Bill Pulver told The Australian: "I know it is going to be an issue. Our main priority is to win the Test matches against the Lions. At the same time, with a holistic Australian rugby hat on, I would also love to see our Super Rugby franchises achieve home finals." For more click here