Our rugby experts share their views on Lions v Western Force
Find out what our experts thought as the Lions beat the Western Force 69-17 at Paterson Stadium in Perth.
Last Updated: 06/06/13 10:28am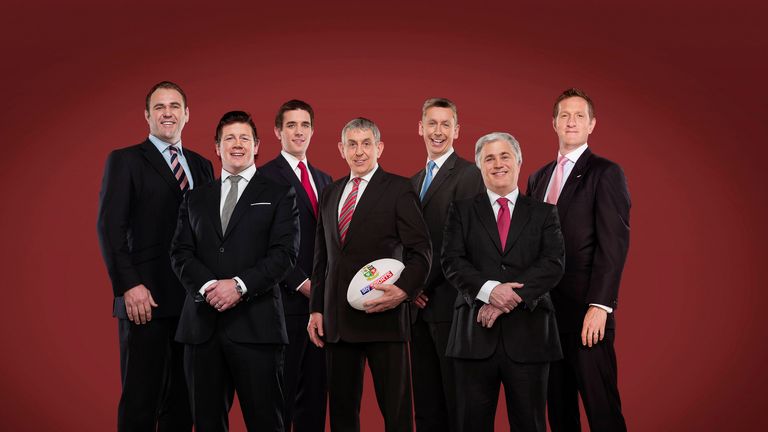 Force coach Michael Foley paid the price for resting his big guns for their Super Rugby clash against the Waratahs in four days time, as the Lions took another positive step on their tour Down Under.
Ian McGeechan
Full-time thoughts: I think the Lions will be fairly pleased. As Gats (Warren Gatland) said before the game, they would have preferred some stiffer opposition, but I think that apart from maybe 15 minutes in the first half where they looked a bit ragged, the second half built well. Their attacking channels looked very strong, and they got powerful runners at the defence very early on. That means they are creating the next running chance and getting the next runner onto the ball. They will also be pleased with the variety they are starting to produce, particularly the threat on the outside channels once they get out there. That will pose major problems for the Australians.
They are getting the front five into strong carrying positions which is freeing the back row up. That means that from any section of the team they know they have got good carries and they know they have players who can play too. They are not playing to just three or four players.
The determination is 'forget about the provinces, it is all about winning the Test series' and every player is focused on how they play to make sure that happens. Pretoria still hurts and there is that determination now to keep control of the environment, to keep control of what the Lions want.
Stuart Barnes
Full-time thoughts: We saw some good patterns emerging there, Sexton using men on the inside and getting the power runners running. Some big conundrums coming up with Sean O'Brien playing so well in this back row combination. The big worry is of course Cian Healy and the big plus from tonight was Mako Vunipola going so well. On the flip side, this was the Western Force but it was not even the strongest Western Force side. It is not Australia and it is not even the Queensland Reds. It is a step on the way for the Lions, nothing to go overboard about and I think that is the way the Lions will look at this match - going okay but still a long way to go. Saturday against the Reds, even without their Wallaby contingent, will be a step up. We will see a lot more on Saturday but so far so good.
Looking at that game and the quality of the performance of Hong Kong, Sexton and O'Driscoll are probably going to have Jamie Roberts there. If Australia don't pick big backs and if Pat McCabe is not there - he is not fashionable - but without a real bosher defensively at 12 , I think the Lions are going to look for holes in that area - it looks like a real area of superiority.
On Sexton and Farrell: Sexton showed today why he is clearly going to be the Test starter. There was a worry that Farrell was so far away in terms of quality that if Sexton got injured it would really hamper them. But Farrell got flat for his try, he had a smile on his face and he seemed more composed. I believe the management have talked to him about temperament so that is a good bonus. But the key story here is Jonny Sexton. When we talk about power, precision and width, so much of it comes of Sexton. He has this ability to get so flat and get people onto him. Those late inside ball, the show and go or the lovely wide ball. His partnership with Brian O'Driscoll is going to be seminal. Because of Sexton's play we saw the Lions Test backline taking shape today.
On the Western Force team: I was hugely disappointed. Western Australia is not one of rugby's strongholds and it really has a great opportunity here. We hear that 30,000 people have bought tickets, would they have bought them had they known it would have been such a weak team? For young lads like Kyle Godwin, the 21-year-old inside centre, he gets a one in 12-year shot at the Lions.
The Western Force play against the Waratahs every season - yes it is a derby - but the Lions are special. I don't think Michael Foley has done it as a snub but I think he has been a little narrow in his focus. He used to coach the Waratahs and he wants to get his own back on them with the Force.
It is a problem for the Lions as well. If you remember four years ago, the Lions got to the first Test and their scrum had smashed just about everything. They were not playing strong South African packs and they went and got a couple of selections wrong in the front row which probably cost them the first Test.
If you are winning by 50-60 points the cream does not always rise to the top. Talented players who may not have the big-match temperament go really well but the guys who have it when the crunch comes are thinking this game is not that important, it is easy - it makes selection very difficult.
Ieuan Evans
Full-time thoughts: To score 42 points and six tries in the second half will please the Lions. I like the way they started to use the big ball-carriers in the right places. Conor Murray learnt from the first half and started to boss his forwards around, and get them into place and use the full width of the pitch. The one area that will be of concern will be defence. They conceded two tries and will be disappointed with that. There are areas to work, especially defence around the fringes - Australia will target that, particularly with the likes of Will Genia. But there were so many plus points to come from this game and a good response from individuals to the challenge put down on the back of the Baa Baas game.
On Jamie Heaslip: he attacks wide open channels and when the Lions got their attacking game plan right they created those little openings for Heaslip to punch his way through. He had very few errors and did the basics well. He is very good on the ball, he does not panic and always looks to offload it.
On Leigh Halfpenny: You don't get that sort of accuracy without training for hours and hours. As a team it gives you so much confidence knowing that if the other side are going to give away penalties then he is going to nail them. 11 from 11, the majority from wide out - he has a heart as big as a lion, he is relentless and that is what you want.
Half-time thoughts: It was a very purposeful start form the Lions, a lot of cohesion and continuity because of that. People were drawing defenders in and committing them - using those big front five ball-carriers to carry around the corner. I would like to see a bit more bossing from Conor Murray, when you have someone like Sexton who attacks the line then you are then asking questions of defenders. They need to maintain their attacking discipline -they lost that at times in the first half. A little over-eagerness which you can expect, but the unity is there.
Paul Wallace
Full time thoughts: It may not have been the strongest Force side but they played for the full 80 minutes - they kept on coming. I thought individually there were amazing performances from the Lions. There were the powerful guys like North and Tuilagi but also the skills of O'Driscoll and O'Brien and Healsip.
On biting allegations: It is very inconclusive at the moment, if there was biting then obviously you cannot do that. I think one of the big issues is what is Sheehan doing, he comes in with his hand, he grabs Healy's collar and shoves his forearm into his mouth area.
On the game:I think it is going to be physical, but do they have the quality to bother this Lions side? I think when the Lions go on tour in future it has to be made sure that the international players of those squads are released. Otherwise you get what happened in South Africa four years ago. You don't get any tough games up to the Test series which is a disadvantage for the Lions - they need tough games to get battle-hardened.
Will Greenwood
On tactics for the Tests: The Australian backline are probably giving away 7-8kgs a man so the Lions must not be afraid to use it. If they want to play a lot of fancy football with a lot of movement then let them - don't hide away from what our strengths are. You do have to add some subtlety but if you are George North - I interviewed him after the game and he is a huge physical specimen - then he must use that. You are not overly concerned if the Australians know what is coming because it is so difficult to stop.
On the Western Force team: It is a strange decision. They do have a derby against the Waratahs on Sunday. Currently the Force lie 14th on the Super Rugby table - there is no relegation and they cannot make the play-offs. The Lions come to town once every 12 years... but it is their decision.
From the Lions perspective it is frustrating and poses a couple of issues. For the players it is less of an issue - the bar was set high against the Barbarians and the guys today will want to get into a good rhythm, a good tempo, feel contact, get their first Lions jersey. They will play what is in front of them. The bigger challenge is for the management. Understanding where they may find the real tests before they get into the first Test match. Speaking to some of the coaches in the changing room, they may find tougher challenges internally - going 15 against 15 amongst themselves.
On Manu Tuilagi: Your modern 12 is your gain line guy. Manu can pass and it's a matter of having that confidence to put it through the hands occasionally which may open up gaps for him later. Having watched the Force train, I think there will be a lot of space in that outside centre channel, that 15 channel. If Manu goes hard gives it to Sexton on the run-around which they use often - then there will be space. Brian O'Driscoll has said he is just going to follow Manua Tuilagi; wait for the cannonball to go through and bounce guys off him.
Rod Kafer
On the Lions: Gatland has size and power in their squad. Australia will look to bring a point of difference, that will be smaller backs with the opportunity to use the ball. I think the thing that will bother Australia is do we have a plan B if things are not working out? How do we combat the size, speed and power of the Lions because it is really impressive.
On the loss of Higginbotham: It is a big blow, he can play that wide rangy game that the Wallabies will want to play. When you have a backrower who has the ability to play in the 15 metre channels on the edge of the line, can offload, pass the ball and distribute the ball it gives you variety. It is a big loss. I think they will bring Hugh McMeniman into the squad. He is not playing against the Lions tonight for the wWestern Force but will play against the Waratahs on Sunday. He is player who is big, tough and can add a harder edge to the Wallabies. Expect to see him in there at some point.
Watch every Lions game live only on Sky Sports. Click here to sign up or upgrade now.