Thinus Delport: Scrum is the key for Springbok success in the Rugby Championship
Thinus Delport says that the Springboks have to master the new scrum laws as quickly as possible.
Last Updated: 15/08/13 3:53pm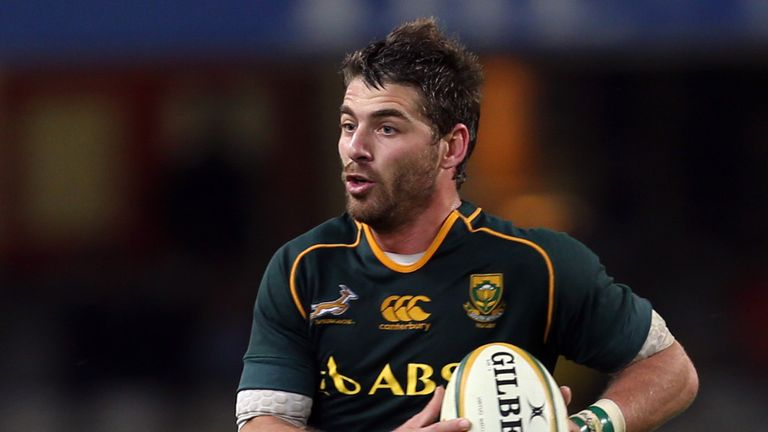 Granted, it was Heyneke Meyer's first season in charge and he did not have much time to develop the players or the style he wanted. They followed up their autumn wins against England, Ireland and Scotland by convincingly winning the Quadrangular Tournament in June against Scotland, Samoa and Italy.
However, with the new scrum changes coming into effect, former Springbok fullback Thinus Delport believes that they have to get to grips with them as soon as possible - especially against Argentina who they host on Saturday.
"We've had a little bit of exposure to the new engagement in the Currie Cup and I think the All Blacks and the Argentinians would have had experience of the new scrummaging game in some competitive games too," Delport told skysports.com
"But just referencing the couple of Currie Cup games we've had, it does look like there aren't so many reset scrums so there's a bit more game time. A lot more is now up to the scrum technique rather than just the big hit to get the drive on.
"It's going to be a real, real test because the Argentinians are well known for their scrummaging powers. These new laws are almost going back to the old school rules of scrumming where you need your pack to scrum well together because it is taking that speed of the hit aspect out of it."
Solid squad
Delport is delighted with the make-up of the Boks squad, although does have some concerns surrounding the match-fitness of some players.
"It's good to see some of the Cheetah guys rewarded for their excellent Super Rugby performances and making the squad," explained Delport, who also played for English Premiership side Worcester.
"A lot of energy is focused on continuity in terms of previous selections especially referencing the June internationals so you know you have to keep that momentum going and then there are always one or two surprise selections.
"I think quite a surprise was for Heyneke Meyer to bring Fourie du Preez into the Bok squad. He hasn't played rugby in four months and to suddenly go from playing rugby in Japan to no rugby and then straight into Championship rugby is a big ask but I'm pretty sure both Fourie and Heyneke are confident he can make the step up.
"The other one is Duane Vermeulen back at No8, we do have a bit of an injury crisis with Pierre Spies going down so it's good to see Duane back. I think the synergy between him, Willem Alberts and Francois Louw will make up a world-class loose trio, but again his match fitness will be tested going straight back into Test match rugby. I am also delighted to see Gunthro Steenkamp back especially in terms of the scrum - he is one fine scrummager."
Time to deliver
As always expectation in South Africa is high for their beloved Springboks and while the public were prepared to give Meyer some time to bed into the role, Delport says that the pressure is now on him to deliver.
"It is now Heyneke Meyers second year in charge," he said. "He's had his first season which he didn't really have a lot of time to prepare for but now this is his second year and this is where he's really going to be tested.
"I'm really looking forward to seeing what he does with the likes of Willie le Roux, JJ Engelbrecht and Bjorn Basson - I'm expecting big things from these players.
"We saw in the June internationals how the confidence levels of everyone in the back line grew with le Roux at fullback - even Morne Steyn looked a lot more confident giving the ball a bit of width to the outside as Le Roux came into the line at pace.
"He looks like he wants to create stuff and wants to be involved, something is always happening around him and if you throw JJ Engelbrecht on his outside as well as Jean de Villiers and Brian Habana, well these are guys that can suddenly make a massive impact when there is space around them.
"Habana is such a proven finisher and experienced player, if you give Le Roux an opportunity to create a bit of space for him then sparks might start to fly.
"Of course we want to see us winning the Rugby Championship but the All Blacks are an established side going into this. The Wallabies, again are a bit of an unknown with Ewen Mckenzie and quite a few changes in personnel changes so it will be interesting to keep an eye on them and see how they develop.
"Last year the Argentinian side was a bit of an unknown to everyone, no one really knew what they were going to bring to the table especially with their guys scattered all across the globe but they came out and they pretty much surprised everyone and gave a real challenge.
"For the Boks, well if we can win all our home games, beat Australia and Argentina away that will be definitely a very big step forward from last year's performance."