Rugby Championship: Experts praise Argentina's effort against South Africa
Argentina blew a brilliant chance to beat South Africa for the first time ever, says Mariano Sambucetti.
Last Updated: 25/08/13 5:33pm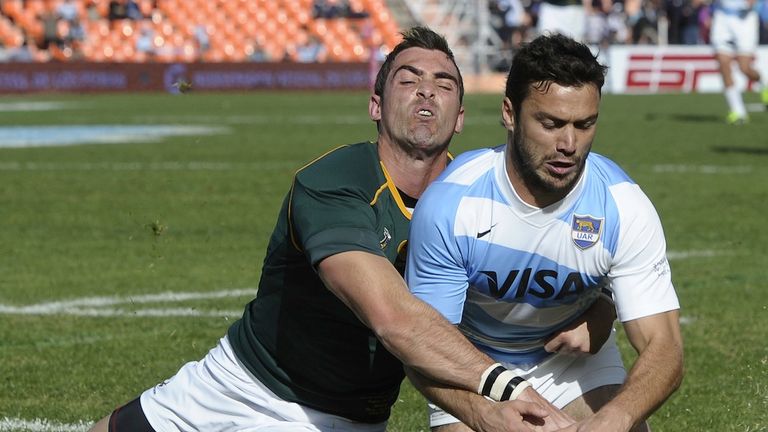 Sambucetti was delighted with the way the Pumas bounced back from their 73-13 hammering by the Springboks in Johannesburg last weekend as they pushed South Africa to the brink of defeat in Mendoza.
But they ultimately failed to secure what would have been an historic first victory in 17 attempts as two second-half penalties from Morne Steyn denied the Pumas. Read the full report.
And Sambucetti, who won 11 caps for his country between 2001 and 2009, admitted the pride of Argentina's performance was dwarfed by the disappointment at ultimate defeat.
"Anyone who saw the game last week and saw the game today would think Argentina would be delighted with what happened and the change. How they bounced back," he told Sky Sports.
"They executed the plan correctly, they controlled the breakdown and they controlled the driving maul - which they hadn't in the last game - but having said that I am absolutely confident that in that changing room there is a lot of frustration and a lot of disappointment.
"That was a game to take. Argentina have never beaten South Africa and today they have lost a chance.
"Still I think they've shown a lot of character to comeback from 73 points and dominate a game against the Springboks. So lots of compliments to Argentina but it is really unfortunate and unlucky that they could not take the win."
He added: "Great teams win playing badly and there is a great team in the Springboks. It is really frustrating that Argentina weren't able to take that chance."
No shock
Former Springboks international Thinus Delport insisted that Argentina's spirited display was not a shock, despite their heavy defeat in South Africa in the opening fixture of their Rugby Championship campaign last week.
"I don't think it was a big surprise," he said. "We all knew, and we said from the start, 'this will be a different team'. It is all about a serious attitude readjustment and these Pumas came out with that passion, that fire.
"They have always frustrated teams. Last week it wasn't seen, it wasn't on the park, it was totally blown off. But (this week) it was epitomised by (Juan Manuel) Leguizamon. These guys got in the faces of the Springboks. They took away any opportunity, any space and really frustrated South Africa."
Old cracks
Delport was relieved his country came through the stiff test, especially as they face consecutive games away from home when they take on Australia and New Zealand on September 7 and 14.
"We can't judge the Rugby Championship campaign after one win and suddenly when they were put under pressure away from home, some of the same old cracks started showing," he said.
"It was a great, great test especially before we have to head off to Australia and New Zealand in a couple of weeks' time. So great effort from Argentina and I'm very, very relieved that we could pull it out and actually get the win."