Paul Doran-Jones is hoping a good showing for Harlequins will boost his England chances
Prop Paul Doran-Jones is hoping a good showing for Harlequins will boost his England chances.
Last Updated: 02/09/13 4:41pm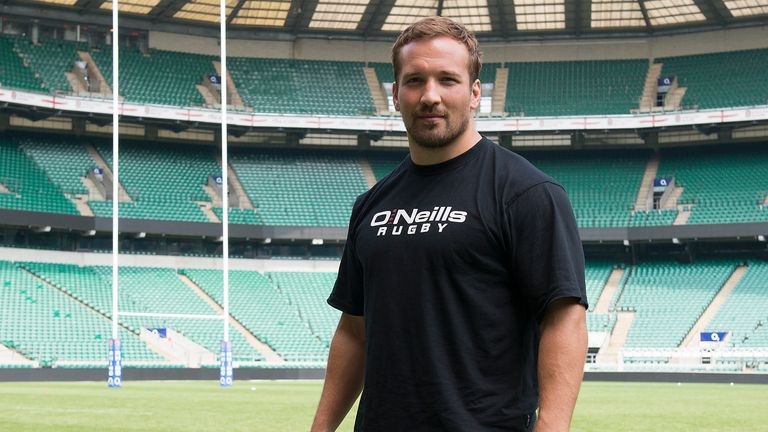 "Harlequins have given me a fantastic opportunity; a chance to come into a great set-up and be part of a fantastic club," enthused the 28 year old.
"It's a great club and I am loving it. They have that balance just right between youth and experience and I am really looking forward to getting stuck in. Although I'm still trying to catch up a bit to be honest - they have all been together for some time so the calls and pays are all second nature to them - I'll be up to scratch come match day though."
Part of those new calls and plays will centre around the scrum - and Doran-Jones is still not sure if the new scrum laws will be a help or a hindrance. While he is happy that the scrum-halves must feed the ball in straight, he is less sure about the new engagements that have taken away the hit.
"They are interesting and we are really trying to get to grips with them," added Doran-Jones who can play on either side of the scrum.
"It will be a case of who works out the angles the best - ultimately it is who can find the advantage. On your own ball you really get attacked, especially as a tighthead prop. Hookers are not used to striking for the ball; most hookers these days are converted backrowers and that technical element of the scrum has gone out of it. Now they are really going to have to worry about striking and keeping their right shoulder down.
"What we have found is that when they are going to strike the ball, not only are they lifting their foot and not pushing - which means it is immediately eight against seven - but they are turning in, their right shoulder comes up and they are leaving the tighthead on his own. So the tighthead really has to get his technique right and the hooker must keep his shoulder down on the inside.
"I don't like the way that there is no hit in the scrum anymore because I feel that is one of the things that union is about but in terms of how it is with putting the ball in straight and having to strike for the ball I think it is a good thing. The scrum has to be a contest. Some teams have been extremely successful on setting themselves as scrimmaging teams so we can't get rid of that - I won't have a job!
"I know it was frustrating with the different ref interpretations in the game but the answer to that is to invest in the refs. Some referees know what they are talking about when it comes to scrum time but some of them don't. If you could bring their understanding and knowledge up then that is half the battle."
England calling?
Doran-Jones is hoping that a good showing for Harlequins will get him noticed by England and is eager to add to his six caps.
"People ask about England aspirations - we all have aspirations to play for our country. I have been in and around the squad for a few years but have never really broken in properly. I need to get three or four games in the shirt. All of my caps I have just come on for a miniscule time - you can't really put a case forward to oust someone else on those times.
"However my first aim is to do the job for Harlequins - If I can do well at Quins, well then the rest will take care of itself."
Paul Doran-Jones was speaking on behalf of Maximuscle, the sports nutrition product of choice for elite and amateur rugby players. Maximuscle have launched a Reward Scheme to help amateur rugby clubs raise their game, for more information visit www.maximuscle.com/grassroots