Andy Robinson relishing Championship challenge and has high hopes for Bristol
Andy Robinson is relishing the challenge of the Championship and has high hopes for Bristol.
Last Updated: 05/09/13 9:41am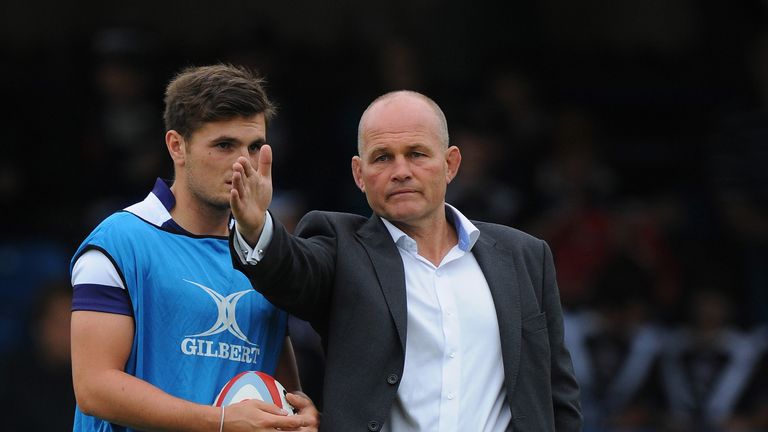 The former England and Scotland coach is enjoying his role of Director of Rugby at Bristol and is looking to take them to the Premiership.
"We want to aspire for better things and have a really good go at promotion this season," Robinson told skysports.com
"I would like to think that all the Championship clubs are aspiring to get into the play-offs and get into the Premiership though. However, I think we are in very good shape this year.
"The gap between the Premiership and the Championship is getting closer and closer and there is no standout team this year so it is going to be a tough season."
Develop
Robinson has taken a keen interest in the way Exeter have stayed in the Premiership after they were promoted for the 2011 season and he believes he can use some of their lessons to help Bristol.
"For us it is firstly about getting to those play-offs," he said. "Our focus will be about getting enough points as early as possible to get to there and then focus on those four matches.
"The other important aspect for me is that I want Bristol to be a side that can develop the way we play. I have enjoyed watching Exeter and how they have tackled the Premiership and done so well; the quality of their attack is very good and I think that is something we can develop as a side. It's about attacking and bringing in new defensive systems - we need to keep on reassessing and improving."
Robinson, who played flanker for England, has been impressed with the set-up of the clubs in the Championship and says it is a good place for young players to learn their skills.
"There are some great clubs in this tournament - Leeds, Rotherham, Bedford then down in the West Country we have Cornish Pirates and Plymouth who have both got great set-ups," he said.
"For any young player it is about taking the opportunities that are on offer. Yes they will make mistakes but as long as they learn from them then they will develop as a player; that is the beauty of the Championship - these players can really hone their skills."
Watch the Championship double-header as Plymouth Albion take on Jersey and Cornish Pirates host Bristol, Sat, 15 September, Sky Sports 2 HD from 1.15pm