Sean Fitzpatrick says scrum will be key for France v New Zealand clash
Sean Fitzpatrick says the battle of the scrum will be the key area when France and New Zealand clash.
Last Updated: 08/11/13 3:58pm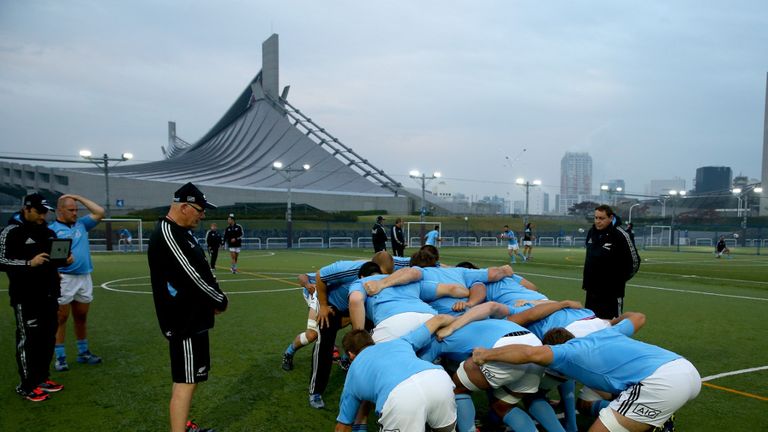 Last season France beat Australia 33-6 and looked to have turned the corner under new coach Philippe Saint-Andre, however they had a dire Six Nations where they finished bottom and were then whitewashed on their tour to New Zealand. However Fitzpatrick says they are still a very dangerous side and the All Blacks will not take them lightly.
"New Zealand know exactly what to expect and what threat France pose," he told skysports.com.
"The reflection of that is obviously in the team the All Blacks have selected. They have picked a very strong and mature team that has got plenty of experience. Cory Jane is back which is good. I think he was always going to play. Jane was the incumbent of the jersey before his injury - he is just an outstanding talent and really gives the All Blacks something special.
Charles Piutau has really taken the bit between his teeth and has played very well - he has taken every opportunity whenever he has come on. He looked very good against Japan but also in the Rugby Championship. He is very comfortable at wing, centre or at fullback."
With all their talent and resources, France should be competing as one of the best teams in the world but have lost their shape and direction. Many feel the amount of foreigners who ply their trade in the Top 14 are the cause, but Fitzpatrick is not so sure.
"There has been a lot of talk about the amount of foreigners playing in the France has affected their national side but I think there is enough talent in France for them to do well," added the All Black legend.
"The problem I think is one that affects all northern hemisphere teams. The work load that is put on the international players is just too much; they play in a lot of club competitions which is their main priority. In New Zealand the first priority is always the All Blacks."
A key part of the game - and one that as a hooker Fitzpatrick relished - is the scrum and he believes with the strong tradition of scrummaging in France, it should be an epic encounter.
"France will definitely take the All Blacks on, it should be a real physical test. New Zealand and France like to scrum and that should make for a good game. You need two teams who want to scrummage - we saw that in the All Blacks v South Africa game.
"The quality of scrummaging in the England v Australia game at Twickenham was not great. I think that is really the difference between the north and the south at the moment - most teams in the south want to scrummage while most teams in the north are looking for a penalty.
"France pride themselves on their scrum though so I really expect them to be up for this game and to bring it to New Zealand.
"The All Blacks are very aware of England coming up a week on Saturday and will want to make amends for last year's loss but I was with the team on Monday and they are very much focussed on France.
"I am confident of an All Blacks win but I said that 12 months ago before they played England! I am pretty confident where the All Blacks are at though, and it would be an upset if they did lose on Saturday."