Anton Oliver: England loss made New Zealand even better
Anton Oliver gives a rare insight into the All Blacks' psyche and why he thinks they're better than ever.
Last Updated: 15/11/13 3:52pm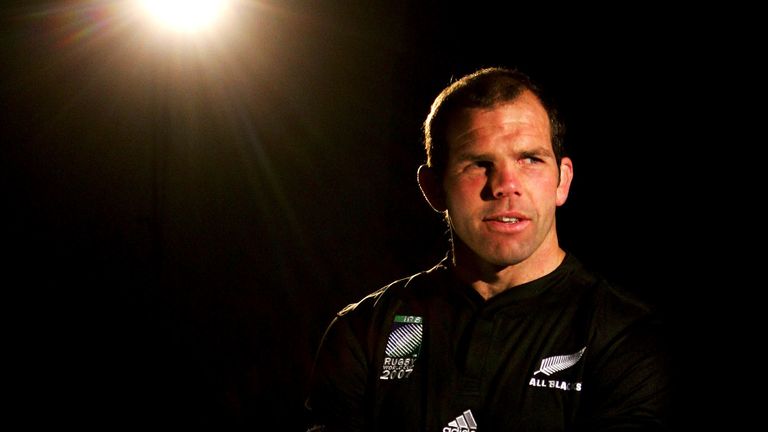 New Zealand's 38-21 defeat at Twickenham has been probed and prodded; every breakdown and collision point analysed and examined as to how England managed to break them down.
The real research however, should be into why England have not been able to maintain that intensity while New Zealand have gone on to be even better.
Former All Black skipper Anton Oliver says that it is not what you learn from winning that counts the most, but rather what you learn from your mistakes and failures.
"It's all about what you do with that knowledge from your losses," explained Oliver.
"Losing and making mistakes is perfectly acceptable as long as you learn from them and don't do them again. When you have a loss like we had last year, then pick the bones from it but then flush the rest of it down the toilet and move on.
"That is what New Zealand have done - they have made some big changes. The big lesson New Zealand have learnt from that game is all about succession."
Succession rate
Succession is why Oliver believes no team has been able to successfully defend a World Cup but thinks that the England defeat has put New Zealand well on the road to getting that right.
"It is a really difficult thing to get right because you have a bunch of senior players who have helped you win a World Cup but then you have to tell them that they are not required to defend that title even though they are still playing very well," explained the hooker who won 59 caps for New Zealand.
"I think if anything came out of last year's loss it is that Steve Hansen had to look at this carefully. He had to say that if we go on with all the same cattle then we are probably not going to defend our title.
"You have to constantly keep on thinking about your next moves and bring in your future players. It is important that the correct standards, the history and the lore is passed down properly to the next bunch of players.
"That has to be done slowly and incrementally - if you get six or seven of your senior players leaving around the same time then you are basically starting from scratch which puts you back three or four years.
"Hansen has gone and brought in a lot of young players who have really shone but has made sure the senior players are there to pass down the traditions - plus they have been kept on their toes by the new guys. New Zealand have tried new things, have pushed their boundaries and that is what is important."
Pushing boundaries
Pushing the boundaries and stepping out of your comfort zone are traits that Oliver still lives by and the man who has toured all over the world, says his latest tour was by far the scariest.
He said: "I have just finished touring with the New Zealand Symphony Orchestra narrating Prokofiev's Peter and the Wolf. I felt very privileged, it came from left field but I had to give it a go.
"It was so far out of my comfort zone but that is where all growth comes from - those experiences that take you out from what you know and make you apprehensive, that is where you have to take yourself to push your own boundaries to experience life."
Attacking mindset
Oliver is expecting an almighty clash on Saturday and is hoping that England go into this game with the same ambitions they had last year.
He added: "The All Blacks will go into this game with the intention of playing attacking rugby. If England go into this game with the same mind-set as they did last year, well then it should be a fantastic game.
"England should take a lot of credit for the way they played last year - I think they would have beaten anyone in the world that day, they did phenomenally well. The All Blacks came back in the second half and scored two tries to make it 14-15.
"A lot of teams would have crumbled under that momentum swing, but England hit straight back and scored two or three more tries. That takes some doing to do that to the world champions. England have already done it once and have to believe that they can do it again - there is no reason why they cannot.
"However New Zealand will not be too happy with their performances Japan and France. It was good that France turned up to play and New Zealand will be happy with the way they responded to the French intensity. But the win was not quite in the style they would have liked and I think all the guys have had a game now and I think they will really turn up and put a good performance on the track. I am not sure how much they will win by, but I do think New Zealand will win on Saturday."
Watch England take on the All Blacks live on Sky Sports 1 and Sky 3D, coverage starts at 1.30pm
Anton Oliver was speaking at London's Rugby Business Network event at law firm Baker & McKenzie. The evening provided a networking opportunity for industry leaders to share their business expertise and passion for rugby in a relaxed environment. For more information on The Rugby Business Network and upcoming events go to: http://www.therugbybusinessnetwork.com