What happened to the 2003 heroes that lifted the Webb Ellis trophy for England?
What happened to the England team who beat the best teams in the world to win the World Cup in 2003?
Last Updated: 22/11/13 1:54pm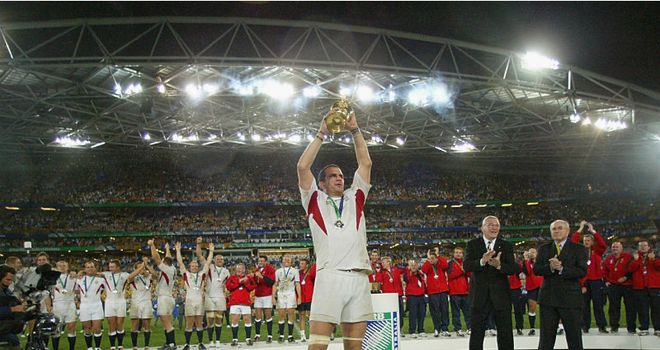 It was a tense battle in Sydney with neither side able to pull away - Lote Tuquiri opened up the scoring for Australia but England hit back through the boot of Jonny Wilkinson and a try from Jason Robinson to give them a 14-5 lead at half-time.
The second half was a nervy affair with neither side able to finish off their try scoring chances. Elton Flatley kicked two penalties to make it 11-14 as England became more and more frustrated with referee Andre Watson's interpretation of the scrum. Flatley sent the game into extra-time with a penalty in the 79th minute that levelled the scores. Wilkinson and Flatley exchanged penalties to make it 17-17 before THAT drop goal from Jonny Wilkinson made heroes of the class of 2003.
15 Josh Lewsey
Age 36 Caps 55
Last England match: England 14-9 France, 13 Oct 2007
Lewsey went on to win another 40 caps for England before hanging up his boots in 2009. After a failed attempt to summit Mount Everest, Lewsey answered a SOS from his old club London Wasps and came out of retirement for a short time in 2011. After stints as a management consultant and an equities trader, Lewsey took over as acting CEO of Cornish Pirates before heading to Cardiff as Head of Rugby at the Welsh Rugby Union in September 2013.
14 Jason Robinson
Age 39 Caps 51
Last England match: England 6-15 to South Africa, 20 Oct 2007 (World Cup final)
Robinson announced his retirement from international rugby in 2005 but was committed to his club Sale and helped them to their first ever Premiership title in the 2005/06 season. Coaxed back into England duty by head coach Brian Ashton for the 2007 World Cup it looked like his was a short comeback after he hobbled off the field to a standing ovation during England's 36-0 humiliation to South Africa in the pool stages. However he bounced back from that hamstring injury to help England reach an unexpected final where they lost to South Africa again. Arguably the greatest cross-code player, Robinson used his influence as an ambassador for both league and union. He went on to coach Sale Sharks after hanging up his boots but ran out for national League Two side Fylde in 2010.
13 Mike Tindall
Age 35 Caps 75
Last England match: England 16-12 Scotland, 1 Oct 2011
A broken leg ruled him out of England's 2007 World Cup campaign but he was back in the mix four years later for the 2011 World Cup in New Zealand. However Tindall was in the middle of the scandal that hit the England team after a drunken night out following their unconvincing win over Argentina. He was fined and dropped from the Elite Players Squad on England's return from New Zealand but reinstated after appealing. However, he never figured in new England coach Stuart Lancaster's plans. Married to Zara Phillips, Tindall continues to play for Gloucester where he also works as their back's coach
12 Will Greenwood
Age 41 Caps 55
Last England match: England 19-21 Australia, 27 Nov 2004
Greenwood, who finished the 2003 tournament as England's joint top try scorer with Josh Lewsey, continued to play for Harlequins after his international career had come to an end. He stuck with the west London club when they were relegated to national League One and helped them regain promotion before retiring from the game in 2006. Greenwood has carved a successful career in the media as an analyst for Sky Sports and presents the award winning School of Hard Knocks with Scott Quinnell. Occasionally he still runs out for his local club Maidenhead.
11 Ben Cohen
Age 35
Caps 57
Last England match: England 14-25 South Africa, 25 Nov 2006
After the World Cup win Cohen admitted to losing his passion for the game but his form for Northampton saw him back in England ranks for the 2005 autumn series. In 2007 he headed to Brive and returned to Sale Sharks to try and regain a place in the England squad; however a knee injury saw him retire in 2011. Cohen set up an anti-bullying foundation and is currently taking part in Strictly Come Dancing.
10 Jonny Wilkinson
Age 34
Caps 91
Last England match: England 12-19 France, 8 Oct 2011
Injury plagued Wilkinson after the World Cup and severely impacted his England career. However he was back to represent England in the 2007 and 2011 World Cups. Wilkinson retired from International rugby in 2013 and turned down a chance to tour with the British and Irish lions in 2013. Wilkinson signed for Toloun in 2009 where he helped them to Heineken Cup glory in the 2012/13 season and is spearheading their quest this season for the Heineken Cup and Top 14 double.
9 Matt Dawson
Age 40
Caps 77
Last England match: England 24 - 28 Ireland, 18 Mar 2006
In 2004 Dawson moved from Northampton to Wasps and helped them win the Premiership title in his first season. He stayed with the London club for another four years, playing his last game in the 2006 Premiership final loss to Jason Robinson's Sale. Like Greenwood, Dawson has also built a career in the media. He is team captain on a Question of Sport and won Celebrity Masterchef in 2006 and was runner up on Strictly Come Dancing in the same year!
1 Trevor Woodman
Age 37
Caps 22
Last match for England: New Zealand 36-12 England, 19 Jun 2004
Woodman moved from Gloucester to Sale in 2004 but was forced to retire due to a back injury in 2005. He moved to Australia where he became the scrum coach for Sydney University before heading back to the UK to do the same role for London Wasps. He currently runs scrum clinics explaining the new laws.
2 Steve Thompson
Age 35
Caps 73
Last match for England: England 12-19 France, 8 Oct 2011
Forced to retire in 2007 due to a neck injury, Thompson headed to Brive to become their technique adviser. However a second opinion regarding his neck saw him return to the fray for the club. He returned to the Premiership in 2010 after signing with Leeds and found his way back into the England reckoning where he was part of the 2011 World Cup squad. A recurrence of his neck injury whilst playing for Wasps saw him retire again in 2011. Recently seen scoring a length of the pitch wonder try for England Legends against their Aussie counterparts.
3 Phil Vickery
Age 37
Caps 73
Last match for England: England 26-12 Scotland, 21 Mar 2009
Back and neck injuries continued to blight his rugby career but Vickery continued to be a key man in the England team. He moved from Gloucester to Wasps in 2006 where he helped them win the Heineken Cup and captained England to the World Cup final in 2007. In 2010 his back and neck injuries caught up with him and he announced his retirement. Vickery won Celebrity Masterchef in 2011, has worked as a scrum coach for various clubs and is a national member with the RFU council. Vickery is also an ambassador for Wooden Spoon, the children's charity of rugby.
4 Martin Johnson
Age 43
Caps 84
Last match for England: England 20-17 Australia, 22 Nov 2003
Johnson retired from international rugby in January 2004 but continued to play for Leicester until 2005. With his captaincy (lasting 1997 to 2003) the Leicester Tigers won four Zurich Premiership titles and two Heineken Cups.
The World Cup winning captain retired from international rugby before the 2004 Six Nations but continued to play for Leicester until 2006. His love for NFL saw him work as an analyst for ITV's coverage of the Super Bowl. In 2008 he was the surprise choice to replace Andy Robinson as England coach despite having no previous coaching experience. Under Johnson, England won only 21 out of 38 games and he stepped down after the ill-fated 2011 World Cup where England failed to impress on and off the field. Johnson has yet to take up another coaching role but has coached some younger players.
5 Ben Kay
Age 37
Caps 62
Last match for England: Argentina 24 - 22 England, 13 Jun 2009
Kay was one of only four players to have started both the 2003 and 2007 Rugby World Cup Finals alongside Jonny Wilkinson, Jason Robinson and Phil Vickery. Loyal to Leicester for 11 years, Kay called time on rugby in 2009 after helping the Tigers win back to-back Premiership titles. Kay went into rugby commentating and is currently a commentator for BT Sport.
6 Richard Hill
Age 40
Caps 71
Last match for England: Australia 51-15 England, 26 Jun 2004
Despite a failing knee, Hill continued to perform at the highest level for England and Saracens before his knee injury ended his career prematurely at the age of just 29. One of the stalwarts of England, he was never once dropped by Sir Clive Woodward and Hill took up a role at his club Saracens as development manager where he mentored academy players.
7 Neil Back
Age 44
Caps 66
Last match for England: Australia 17-20 England, 22 Nov 2003
Back once vowed never to retire from rugby, but called time on his international career after being dropped for the 2004 Six Nations. He continued to play for Leicester and was selected for the 2005 Lions tour to New Zealand. After retiring from all rugby, Back became Leicester's defensive coach and also the coach of academy team. In 2008 Back took the reins at Leeds where stayed for three years. After a stint as head coach with Rugby Lions, back became forwards coach at Edinburgh in June 2012 but left the post in early 2013.
8 Lawrence Dallaglio
Age 41
Caps 85
Last match for England: England 6-15 South Africa, 20 Oct 2007( 2007 World Cup final)
Initially Dallaglio retired from international rugby in 2004 but he toured with the British and Irish Lions in 2005 which saw him back in the England fold on his return. He called it quits for a second time after the 2007 World Cup final and retired from club rugby at the top in 2008 after he led London Wasps to Premiership glory. His charity work included captaining a Help for Heroes XV against an International XV at Twickenham and cycling 933 km across the Pyrenees. Dallaglio has also set up the Dallaglio foundation where one of their visions is to reach and engage young people through the power of rugby and sport. Dallaglio is also part of BT Sport's rugby team and a England RWC 2015 ambassador.
16 Dorian West
Age 46
Caps 21
Last match for England: England 24-7 France, 16 Nov 2003
West retired from international rugby following the World Cup final in 2003 and from club rugby a year later. He went into coaching where he joined forces with Jim Mallinder in shaping the England U21 forwards. He was then forwards coach for the England Saxons before joining up with Mallinder once again at Northampton.
17 Jason Leonard
Age 45
Caps 114
Last match for England: Italy 9-50 England, 15 Feb 2004
Said farewell to international duty after a disappointing 2004 Six Nations for England where they finished third. In 2005 he also ended his 14-year career with Harlequins. As well as running a successful construction business, Leonard is also involved in several charities including being an ambassador for the Wooden Spoon Society, and President of Sparks.
18 Martin Corry
Age 40
Caps 64
Last match for England: England 6-15 South Africa, 20 Oct 2007 (2007 World Cup final)
Corry played in the 2007 World Cup before announcing his retirement from international rugby in 2008 and from club rugby with Leicester in 2009. Corry is currently a sales director for Oracle, an information technology and services industry company, as well as doing motivational and professional speaking.
19 Lewis Moody
Age 35
Caps 71
Last match for England: England 12-19 France, 8 Oct 2011
Moody never stopped putting his body on the line and despite captaining England in the 2010-11 season, the toll of his uncompromising style finally caught up with him and he was forced to retire from all rugby in 2012. Involved in numerous charities including Crohn's and Colitis UK and Hope HIV, Moody is also a brand ambassador and involved in media work too.
20 Kyran Bracken
Age 41
Caps 51
Last match for England: England 24-7 France, 16 Nov 2003
On retiring from all rugby in 2006, Bracken did not return to life as a solicitor but chose to develop other avenues. He won Dancing on Ice in 2007 and runs a public speaking and even management company. He is involved in the Wooden Spoon charity and an ambassador of the Royal National Children's Foundation.
21 Mike Catt
Age 42
Caps 75
Last match for England 6-15 South Africa, 20 Oct 2007 (2007 World Cup final)
Catt retired from rugby in 2009 and focussed on his coaching. Currently helping Stuart Lancaster and England as skills coach.
22 Iain Balshaw
Age 34
Caps 35
Last match for England: England 33-10 Ireland, 15 Mar 2008
Balshaw left Bath in 2004 to join Leeds and then moved to Gloucester in 2006 after Leeds were relegated. Injury blighted his international career but he was first choice fullback in the 2008 Six Nations. But was omitted from England's EPS squads in July 2008 and was dropped from all squads. He moved to Top 14 giants Biarritz in 2009 where he is still full of running.