Richard Hill talks about his relief after making it to the 2003 World Cup final
Richard Hill remembers the World Cup final in 2003 and shares his hopes for the class of 2015.
Last Updated: 22/11/13 1:55pm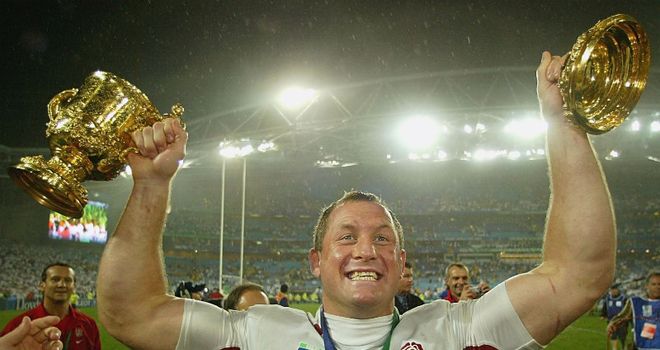 Matt Dawson once said that Hill was without question the best player England has ever had while French flanker Serge Betsen described him as a player who came from the shadows, from the darkness - no wonder his nickname was the silent assassin.
So important was he to the team, that the flanker, who won 71 caps for England, was never dropped by Clive Woodward. However Hill's abiding memory of the 2003 World Cup is not the winning drop goal, but rather one of relief!
"Obviously the memory of winning is there for me and is a great feeling, but for me there was also that massive relief that I was actually part of it," explained Hill. "At one stage I thought I would not be able to join in."
Hills fears were well-founded - a hamstring injury on the eve of the tournament ruled him out of all the pool games, and things took a turn for the worse when a scan showed he would not be ready for England's quarter-final clash with Wales either.
"After I picked up the hamstring injury there were periods when I questioned whether I would be continuing with the squad or flying home," he reflected.
"That was off the back of being reassured by Clive [Woodward] that I still had a part to play even though I was not fit or available for a huge quarter-final match. While that was hugely reassuring, you still have that doubt and fear that you will be sent home.
"My family and loved ones were coming out and I had visions of passing them mid-air!
"To finally get the all clear for the semi-final was such a relief and I could not wait to get on!
Hill came through that semi-final against France unscathed and England were set for the biggest game ever - a final against co-hosts Australia.
"It was a huge game and Lote Tuqiri scoring so early on was a bit of a worry, but we managed to really dig in and limit their possession. I was at the bottom of a ruck, I think, when Jason Robinson went over for his try and felt that we were in control.
"It was frustrating that they came back into the game through the penalties - especially at the scrum. We really had to sort ourselves out and find out exactly what the ref wanted and stick to our discipline. It was disappointing that they got that last penalty which took the game to extra time but we were the fittest we had ever been and knew we could handle it physically.
"I was subbed after about 15 minutes of extra-time so watched Jonny's drop goal from the bench - it was a great moment, but I still felt that the job was not done. We really had to concentrate on securing the ball from the kick-off and not giving them any chance. It was unbelievable when that final whistle went, joy and relief that I had got to where I wanted too."
The right direction
Ten years after that day, Hill is looking forward to 2015 and believes that the current England coach, Stuart Lancaster, is taking the team in the right direction.
"I'm happy with the direction we are going in, they have come on significantly in the last two years and I am very happy with the culture that Stuart Lancaster is developing," added Hill.
"There still is a lot of learning to be done before 2015, and a few tweaks here and there, but they are on their way. I was very impressed with the forwards and think that they are becoming a formidable pack with plenty of depth - that is key for a World Cup.
"Defensively England are looking pretty good too, they need to get a more cutting edge in attack though, but I think that will definitely come. It's all about setting their stall down and working towards that goal."