England Women ready for 2014 World Cup title rivals, says Danielle Waterman
Danielle Waterman says England Women are primed to power their way through World Cup year.
By Oli Burley - @SkySportsOli
Last Updated: 29/11/13 4:45pm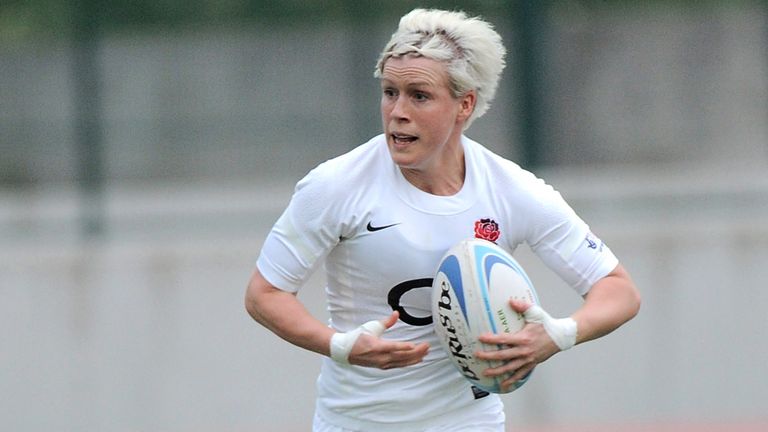 Bristol full-back Waterman sat out England's Autumn international victories over France and Canada as she continues her recovery from a knee injury.
But she plans to hit the ground running in 2014 and - like England under head coach Gary Street - hopes to make a statement in the 6 Nations, starting with the opening match, against Rugby World Cup hosts France in Grenoble on February 1.
"The Autumn internationals showed how strong and physical the forward pack are and the quality of their set piece, in particular Tamara Taylor in the lineout and Rochelle Clark leading from the front at loosehead," said Waterman, who has won 54 international caps.
"Gary has changed around the back line, playing different people in the No 15 shirt, but I hope to win it back and help England really take it to the other teams.
"France away is a massive game, particularly as the next time we go over to France it will be for the World Cup. It's a big opportunity to stamp our mark on women's rugby against a strong French team and for Gary to expose the players to playing in front of a French crowd.
"We've got some fantastic momentum from the Autumn internationals, which was important as the 2012/13 season wasn't a great one for England in fifteens and sevens. It was also a great opportunity to play Canada who are in our pool in the World Cup, along with Samoa and Spain.
"It is a good draw but it is a challenging draw; Spain and Samoa played some great rugby to qualify for the World Cup and Canada always pose a physical challenge, so it will be tough but that's what you expect at this level."
Springboard
Waterman - on the wing when England lost the 2006 final to New Zealand - went into the 2010 World Cup with barely 18 month's experience of playing at full-back under her belt, the memory of an anterior cruciate ligament injury still fresh in her mind.
For the second time in her career she had to settle for silver as New Zealand beat England for the third World Cup in a row, the Black Ferns edging to a 13-10 victory at the Twickenham Stoop. Despite the result, Waterman believes the tournament was tremendous for the women's game.
"Of course it was hugely disappointing to lose, particularly as it was a home World Cup," she said. "It had built so much momentum, not only in the media but within the public. The Stoop was full of England fans for the final, which was fantastic for the women's game.
"Unfortunately we didn't get the win but the women's game won because the tournament was a springboard to promoting how successful England Women are and how great the sport of women's rugby is.
"I've been fortunate to play for England for the past 10 years and the game has never been healthier; these days we play in front of big crowds at the top stadiums and we're really starting to get our own fan-base, which is fantastic.
"We want the momentum to keep building, especially leading into another World Cup. We learnt a lot from that 2010 World Cup, both as individuals and a team, and the squad continues to grow together."
Pinnacle
England's quarter-final defeat to Australia in the Dubai Sevens on Friday is a blip in that process but with the 2016 Olympic Games to build towards, Waterman says the immediate future of the format in England looks healthy at international and club level.
"Sevens definitely attracts different supporters and players to the game of rugby because of the fast, dynamic nature of each of the games," she said. "The London Sevens is a really great example of that.
"It's a great way to introduce athletes to the game - athletes who otherwise might not have thought of it as an option; I'm talking about sprinters, judo players, even netball players like England's Megan Ellery and Kayla McAlister for New Zealand.
"My dream is to get a World Cup gold medal - I have two silvers in the fifteens game - but going to an Olympic games is the pinnacle for any athlete. I've got my fingers crossed that my body will last to 2016 and that I get selected, because the prospect is really exciting."
Coverage of day two of the Emirates Dubai Rugby Sevens, the second round of the IRB Sevens World Series, continues at 6am on Sky Sports 2.