England Sevens captain Tom Powell looks at what the team need to do to improve in South Africa
England Sevens captain Tom Powell looks at what the team need to do to improve in South Africa.
By Tom Powell
Last Updated: 05/12/13 8:31am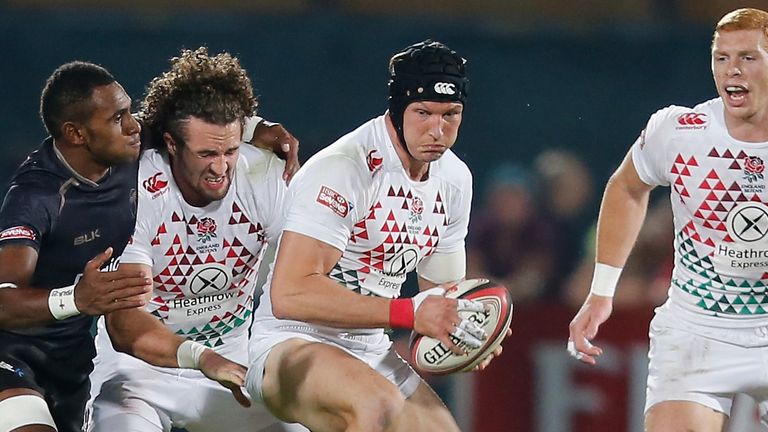 That's the exciting part for us - we can rectify those mistakes in South Africa and build on what were essentially a good foundation. Hopefully we can push on from that.
Against Wales in the quarter finals in Dubai we showed a good deal of maturity. The patience that was showed throughout the game, no-one panicked at any point. We stuck to our structures, trusted each other, what we were doing and the scores came towards the end of the game in our 33-12 win. Credit to the boys for sticking to what we said we were going to do and it was a very clinical performance.
We ended up going out to South Africa in the semi-final but despite that disappointment there was plenty to be encouraged about with the likes of Marcus Watson and Mike Ellery getting a lot of attention.
Marcus has come back into the squad after missing the Gold Coast and he's certainly proved what he can do. He's got electric feet, great strength and great vision. He's a great asset to the team and hopefully next weekend he can continue that form.
Mike was around last season but had quite a frustrating year with injury. This year he's come back stronger, fitter, he's playing in the backs a lot and you can see how quick and how powerful he is and how dynamic he is. He gives us go-forward, he can make breaks and break tackles and it gives us that physicality in the backs that provides a great balance for us.
Phil Burgess is in his first season having made his debut in the Gold Coast Sevens. He does a lot of unseen work around the sevens pitch, picking up the lines, scrapping for the ball when we need to and being the link between the forwards and the backs.
He's really flourished in that role in Dubai and he's got lots of natural ability. He's learned a lot in pre-season from the likes of Rob Vickerman, who's been chatting to him a lot, and we can see now he's becoming one heck of a player.
The main thing we have to improve on in South Africa is composure - when to hold on to the ball and when to throw the pass. We get caught up in playing a great brand of rugby and the boys are enjoying it so much that sometimes we get a bit too enthusiastic. We let the ball go for one more pass when we should be taking the contact and playing the breakdown. It's just learning what to do at those decision-making times - when we need to crash it and hold onto it.
The attitude from all our boys was fantastic last weekend and the most important thing now is that composure. If we can get that right we'll be challenging.
We're fourth in the table, seven points behind New Zealand, after the first two legs of the HSBC Sevens World Series. There are no illusions here. We want to be at the top, we're pushing ourselves hard in training and the margins are fine at this level.
We need to make sure what we're doing in training is transferring itself onto the pitch and those scores are going our way and we're winning those games. If we do that we'll start eating into that lead and at the end of the season it should be interesting.
See how England get on in the South African leg of the IRB World Sevens series, 9am, Sat & Sun, Sky Sports 2 HD