Heineken Cup: Highlights from round three of the greatest club competition in Europe
Check out our Round three Heineken Cup highlights, featuring Leinster's humbling of Northampton.
Last Updated: 10/12/13 9:35am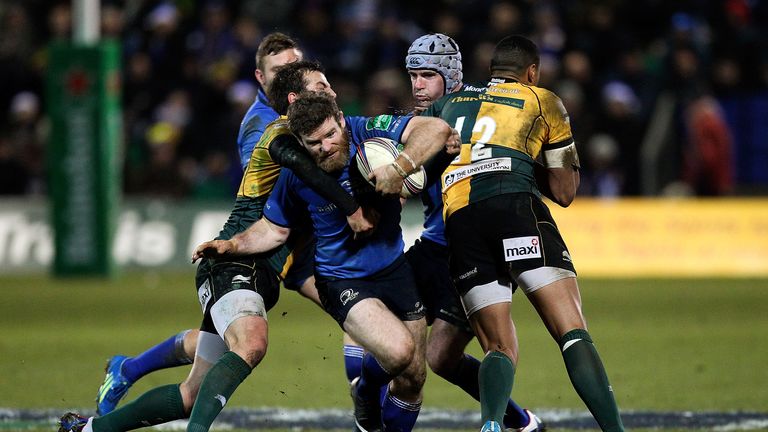 POOL 1
Northampton 7-40 Leinster
Pat Sanderson: What I expected was two incredibly intense and physical sides to go at each other head on at the expense of skill and execution. We did not see that at all, certainly not from Leinster. What really impressed me about Leinster was not only the pace and their intensity but their execution was perfect too. It was simple rugby, but when you play rugby like that, at that pace and with that physicality they are impossible to live with. Northampton are clearly embarrassed but they shouldn't be, they just met Leinster at their very best - in particular Brian O'Driscoll.
Castres 15-9 Ospreys
Pat Sanderson:This is a tough pool, but Castres are very tough and resilient. They are still in this pool and should not be under estimated. Ospreys really wanted this win but Castres just have this knack of winning the tight ones.
POOL 2
Exeter 9-14 Toulon
Scott Quinnell: Toulon flattered to deceive again; they have massive power and pace but could not get control of the game. Toulon have world class all over the park but you have to say Exeter, who were blown away last year by Clermont Auvergne, stayed in this game and could and should have scored a couple of tries in that first half.
Cardiff Blues 29-20 Glasgow
Scott Quinnell: You think back to the game in Exeter where Cardiff they got absolutely blown away but came back and beat Toulon at home. They had to back that win up and they did that in this game. They had so many players injured that I was nervous for them but the young kids like Lloyd William and Rhys Patchell at 9 and 10 really controlled the game. It was a good performance from the Blues and keeps them in this pool.
POOL 3
Zebre 10-39 Saracens
Pat Sanderson: Saracens will look at this game and say they got a good result, but Zebre are no mugs and Sarries will need to be on the ball for next week before they even start thinking of Toulouse.
Scott Quinnell: This is exactly what Sarries needed - they will be delighted that they got the five points and will expect another five points next week.
Toulouse 14-16 Connacht
Scott Quinnell: It was brilliant, absolutely fantastic. This is what the Heineken Cup is all about. No one gave Connacht a hope, and they came away from one of the toughest places in the world with a two-point victory. A performance like that can change their season.
POOL 4
Racing Metro 8-32 Harlequins
Pat Sanderson: This result sees Quins go from last to second in this pool and they are back in the Heineken Cup. There is a strong correlation with the way Nick Evans plays and the way Harlequins perform, it is an unbelievable result away from home - you won't see it very often.
Scott Quinnell: Upfront Quins were superb, their scrum was good, their lineout was good and their control at the contact area was very good. They played at a tempo that suited them- they took that big Racing Metro pack and moved them around. A superb result.
Clermont Auvergne 32-11 Scarlets
Pat Sanderson: Clermont are still the team to beat in Europe, I think - them and Leinster. I think they will end up winning this group. They are just impossible to deal with; at home, with winning 67 on the bounce, it would have been a real shock if someone had gone there and got a result. It was as expected against a good Scarlets side who probably pose the best opportunity for the Welsh clubs.
POOL 5
Leicester 41-32 Montpellier
Pat Sanderson: Leicester are at their best when they have game breakers outwide - the likes of Miles Benjamin coming back to form after a really serious injury; Vereniki Goneva in the centre was impressive too - can you imagine a centre partnership of him and Manu Tuilagi with Benjamin outside them? I think the Tigers may just have got what it takes to go to Montpellier next week and get a result to put pressure on Ulster.
Ulster 48-0 Treviso
Tyrone Howe: Treviso turned up with very little to offer and although this was hardly a classic. Treviso did get back into it when Luke Marshall got yellow carded but that just sparked up Ulster even more.
POOL 6
Munster 36-8 Perpignan
Scott Quinnell: Everyone talks about Munster's tries and the fact they got their bonus points but their defence was absolutely incredible. Every time Perpignan came into the Munster half, they turned them over. It was not only the forwards, the backs got involved as well - they were superb and their victory was built on that defence.
Edinburgh 12-23 Gloucester
Pat Sanderson: It was a good win for Gloucester - it did not start off well for them and it looked like the same thing from them where they have just not hit their straps. I know they have worked hard on their set piece and as the game wore on we saw them benefit from the foundation laid down by their pack. It's an important win for them and drags back into contention.