Heineken Cup: Highlights from round four of the greatest club competition in Europe
Check out our Round four Heineken Cup highlights, featuring Northampton's superb win over Leinster.
Last Updated: 16/12/13 11:39am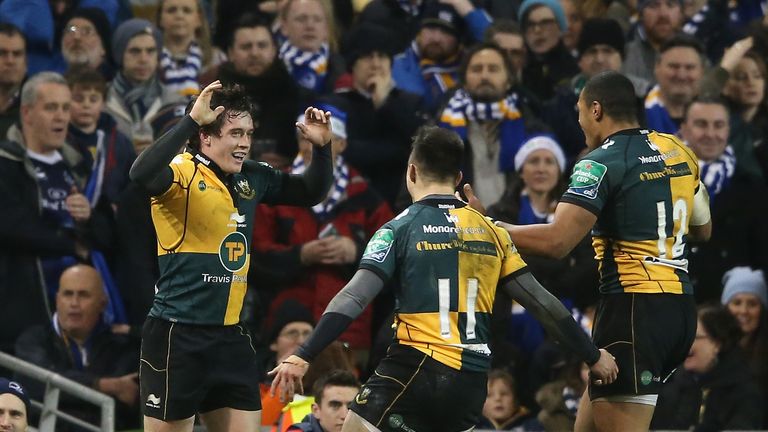 POOL 1
Leinster 9-20 Northampton
Shane Horgan: "Damaged pride can be a great motivator and I think we saw that from Northampton. There was no comparison between the pride levels, the ambition, the desire and the work-rate that Saints had in spades this week and what they did not have last week. It was no more than that. It was a truly remarkable turnaround. I still think it will be tough for Saints to come out of this group. Leinster will expect to win their next two games and that would mean they would win this group and I think it will be difficult for a second team to come out, but they could have an influence on this group yet."
Shaun Edwards: "To hold Leinster try-less at home was excellent. What really helped them was the work at the tackle area - they really worked hard to counter drive and really made that area as difficult as possible to get any quick ball."
Ospreys 21-12 Castres
Fly-half Dan Biggar kicked Ospreys to a 21-12 victory over Castres - their first Heineken Cup win of the season - with seven penalties out of seven at the Liberty Stadium.
POOL 2
Toulon 32-20 Exeter
Shaun Edwards: "I thought that Toulon would flex their muscles this week. You always start a bit slow when you have been champions the year before but they really upped the ante."
Shane Horgan: "I think Matt Giteau was key. He has all the skills, all the creativity and innovation. He is one of the key reasons as to why Toulon are the best French team this year - maybe even better than Clermont. They have that massive power game with players who can carry the ball so strongly, but Giteau has all the skills."
Glasgow 7-9 Cardiff
Shane Horgan: "Cardiff did not play great in that game and their league form has been really poor, but they are right up there in the group now - they do have to go to Toulon but they will gather great strength from the fact that they are competing in Europe. It looked like it was all over for them in the first half of that first game against Exeter, but they have some belief now."
POOL 3
Saracens 64-3 Zebre
Shaun Edwards: "On the astro turf it is going to be a fast track and this result was almost expected really. It was like a training run for Sarries. Saracens will have to go to Toulouse and they can beat them if they can match their power- it is a simple as that. Toulouse are the biggest side I have probably ever seen in my life. The only other team that come close to them are South Africa."
Shane Horgan: "Against an Italian side you have the opportunity to get plenty of touches and to have opportunities to break. Wingers get a lot of ambition from that and it is a perfect game for a confidence builder. It bodes well for Chris Ashton for the rest of the season."
Connacht 9-37 Toulouse
Shane Horgan: "I think it just showed that Connacht's squad is a little bit light. They had flu throughout the camp and the result was a very physical and strong Toulouse outmuscled them. The French side did not do anything exceptional; it was that power in the first channel outside the ruck and the maul that really ground the Connacht players down."
POOL 4
Harlequins 17-3 Racing Metro
Shane Horgan: "After two games Quins were out but through establishing some pride they have done exceptionally well. They certainly have an opportunity - they have two tough games ahead and they have to win them both and probably get a bonus point somewhere along the way. It is difficult but certainly not impossible; miracles do happen, it is Christmas time after all!"
Scarlets 13-31 Clermont Auvergne
Shane Horgan: "What you don't want to do with Clermont is give them a try after 17 seconds! They compounded that a little later on by having a kick blocked down and give them effectively another seven points. The Scarlets certainly make it easy for themselves. In fairness they did not roll over and fought hard but when you give them opportunities like that to a team like Clermont it is always going to be hard."
POOL 5
Montpellier 14-15 Leicester
Shaun Edwards: "If you are going to go on and win the Heineken Cup, then at some stage you have to go and deliver in France - Leicester left it very late but they did that. I thought Ben Youngs was outstanding in that last ten minutes, his fitness levels and speed to the breakdown to keep the momentum going was excellent."
Shane Horgan: "It sets up a big game in round 6 when Ulster visit Leicester. It may be a bigger match for Leicester though as Ulster may be through at that stage."
Treviso 3-35 Ulster
Shane Horgan: "Ulster have been almost flawless this season - even better than they were last year. They could have slipped up in this match but they didn't. It looked like they played very well but we could not tell - there was so much fog."
POOL 6
Perpignan 17-18 Munster
Shane Horgan: "It's a matter of belief. Munster have this reputation of never being beaten and it's well deserved. They prove it year in and year out and they proved it again with that performance against Perpignan. Even though they shipped that late try, to a man they all recognised that they could get back into the game and they kept the ball alive and got the try. If it happens once or twice you can say it is luck but if it consistently happens over a period of years then there is a reason behind it."
Shaun Edwards: "I look at it from a more realistic angle - they must be in great shape. I'm not saying Munster are the fittest team in the world but they are certainly doing something right on the conditioning side of things."
Gloucester 10-16 Edinburgh
Shaun Edwards: "This was a game for playing with the forwards and kicking the ball in the right areas. Gloucester tried to play too much rugby in these conditions which may have come from the fact that they scored so many exciting tries the week before."
Shane Horgan: "I think Gloucester really missed a trick here - they could have put themselves in a position where Munster would have to come to Kingsholm and get a result which would have been difficult. Know it is very hard to see Munster slipping up twice."