Women's Six Nations 2014: England ready for France away - one of the toughest games there is
'Depth of squad gives us a real shot at regaining Six Nations crown'
By Oli Burley - @SkySportsOli
Last Updated: 31/01/14 11:34am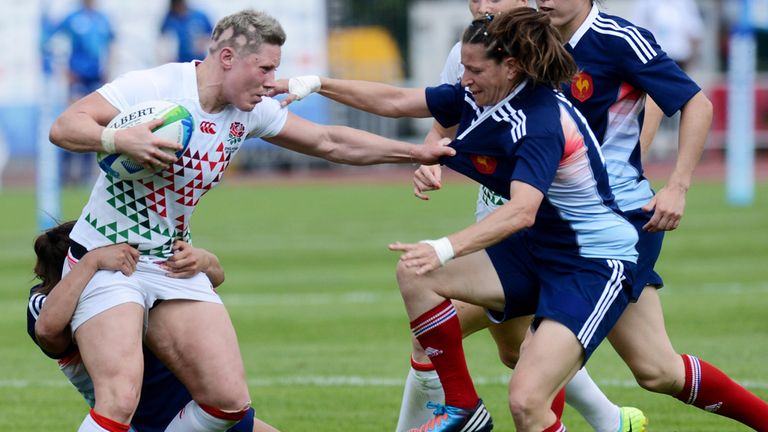 Hi Heather! It looks like you've had a busy start to 2014! How are your Sky Sports Living for Sport visits going?
Heather Fisher: Really well! I've been to over 10 schools running Living for Sport projects already this month. I love doing it - it's a big part of who I am. To have the chance to go out and help to inspire young people to achieve more in any walk of life is about as good as it gets. You always take something positive out of each project visit and feel ready to take on the world and your own challenges afterwards.
Your England team-mate Maggie Alphonsi is also an athlete mentor; she returned for England in the Autumn after almost two years out with a knee injury. How big an inspiration is she?
HF: Maggie and I go back a long way - we've known each other since we were six or seven years old - and we still get on really well off the pitch and that helps us when we play for England. It was a big lift when she came back but injury is part of the sport. It was never in doubt that she would come back stronger - it was just a matter of when, not if.
Talking of which, I notice you aren't in the team to play France in Grenoble on Saturday...
HF: I had quite bad tendonitis in my knee last year but I returned from injury six weeks ago and feel fantastic now. I haven't played much rugby so it's all about getting miles into my legs and I should be back for England very soon.
England beat France 40-20 at home in November with Maggie scoring one of the tries. How tough will they be to beat on their own patch?
HF: France away is one of the toughest games there is, even if they have got a few players out injured this time. Hopefully that's something we can take advantage of. But, to be honest, we've got a great squad with good depth and I'm sure the team will do a good job and do all they can to bring the points back home.
England then travel to Scotland before playing Ireland at Twickenham. What does playing at the 'Home of England Rugby' mean to you?
HF: Nothing beats it because it is our home from home. You are almost mesmerised when you walk out onto the pitch because it's such a fantastic place to play; you've got your best mates alongside you and do your utmost to do the best job you can.
England finished third in the Six Nations last season. Was that because the squad was primarily focused on Sevens rugby?
HF: I think it would be unfair on Ireland and France to say that. They both finished above us on merit. We can't blame how we did on players being out or away because we have got good strength in depth. As a team we always go out there to put in a performance and make sure we put in a good stint. At times we maybe didn't pull together as we ought; at that point it was down to us to ask 'right, what's not going as well as it should?'
England head coach Gary Street has assembled a young, dynamic squad. Which new players should we be looking out for?
HF: Mercedes Foy is definitely one to follow as the tournament progresses; she's new on the scene and adds something new to the squad because she can play at either prop or hooker. Our backs are as skilful as any in the world and are a major threat if they click together. The forwards work really hard - we're a tight unit - and captain Katy McLean will make sure we get plenty of impetus from fly-half.
I see you've been training hard and doing some work on your sprinting. How was it and do you feel in good shape?
HF: Putting the England shirt on is the easy bit - it's the training and rehabilitation that takes it out of you! I had a lot of muscle wastage around my knee so I've really had to build my strength up and have plenty of physio. Everyone has been really helpful and supportive. Coming back from injury is one of the most challenging things you can do because you have to believe that you can go out there and do what you were doing six months ago. It can really knock your confidence so you have to dig deep. A few times I've thought 'I can't do this' and then realised that I have to be better than that as I'm going into schools telling kids how to overcome their barriers - and that always spurs me on.
So is it fair to say that Sky Sports Living for Sport's Six Keys To Success are as relevant to top level sportsmen and women as they are to young people?
HF: The two are definitely linked because you can't be on top of your game without those Keys. The same applies whether you want to be a musician, an artist, or an entrepreneur. You have to build a foundation that allows you to grow and be successful in the future.
The RFU says that nearly 14,000 women and girls are currently registered as playing rugby each week - which is more than ever. What makes playing rugby so great?
HF: You get to go out on a pitch with your best mates and express yourself and use the skills that you've developed. There are so many different aspects to rugby that it's always keeps you on your toes. When I was a bobsleigher I sometimes got a bit bored, thinking 'all I've got to do is run, push and jump in'. Now I have to work on my tackling, my passing, my feet, body awareness and management, tactics - there are so many different elements that you are always trying to improve and push yourself forward. It's a great way to let off energy and get fit too.
You competed for Great Britain in bobsleigh for two years. Do you miss it much?
HF: Knowing that our rugby World Cup isn't until later this year, a small part of me was tempted to wonder if I could make the Winter Olympics. But then I got injured and you have to play with the cards that you're dealt. But my aim remains to compete in the Summer and Winter Olympics, in Sevens Rugby and Bobsleigh respectively.
Watch England Women take on France Women in the Six Nations from 7.50pm on Sky Sports 3 this Saturday. To find out more about Sky Sports Living for Sport - and how to get involved - simply click here.