Serge Betsen is confident France can kick off 2014 with a win over England
Serge Betsen is expecting France to find some redemption in 2014 - starting by beating England!
Last Updated: 31/01/14 1:27pm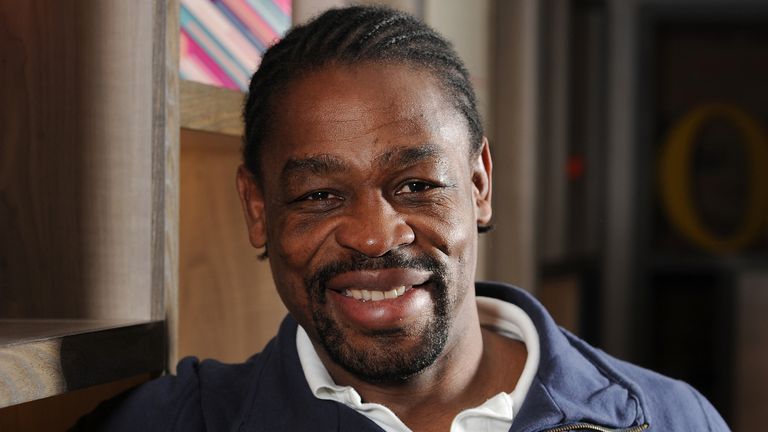 So as 2014's tournament get underway, the pressure is on coach Philippe Saint-Andre to get them back to winning ways.
Saint-Andre has been accused of not playing to France's strength and focussing too much on the narrow, power game. He has also battled to find a half-back pairing and Saturday's combination of Jean-Marc Doussain at nine and debutant Jules Plisson at 10, will be his 10th pairing in two years.
However Serge Betsen, who won 63 caps for France, believes that they have got the right combination to do well in 2014.
"I am excited about the direction Philippe Saint-Andre wants to take this team," Betsen told skysports.com.
"He has made some big calls in starting with young Jules Plisson but I am confident he can steer the pack and the backs around the field.
"I am sure he will be ready, not only physically but emotionally and mentally too because the Six Nations is a really tough tournament and while it is good for the passion and emotion to be there, you have to know how to control it and - use it in the right way."
Experience
Betsen has no concerns over throwing young talent into the deep end, provided they have some experience around them and his concern for the likes of Plisson is the absence of injured skipper Thierry Dusautoir.
"I would have liked Dusatoir to have been involved," he said.
"Not only is he a great player but he has that experience that would really help the younger players. He is a player who knows how to cope with that pressure and how to absorb it and keep those around him focussed."
Betsen, the former Wasps player who is an ambassador for the 2014 Legends Rugby Festival, believes that England will be very wary of the power of the French scrum.
But he also says they have some superb attacking skills to re-ignite that flair that has been sorely missing.
"Against England I expect it to be a huge battle upfront and it looks like England have picked a team who will try and run the ball more too," he said.
"France will aim to do that as well; we have some exceptional backs and I am expecting the likes of Wesley Fofana to make some good runs.
Performance
"The centre field is going to be a big battle where making some hard yards to set up some options wide will be crucial for France. I am looking forward to seeing the battle there where Luther Burrell and Mathieu Bastareaud will collide.
"England will really want to attack the French scrum, we saw in the last game in Cardiff this was not great for them and I think this is one of the areas that they will really be looking at improving. I think this Six Nations England really want to show another side to their game.
"People often talk about the result or the performance but I think the result is the performance. Every time you play you have to face the challenge and be the best you can be for your country.
"To beat England you have to put in a performance. It is going to be tough but I think the performance and the result will go the way of France."
Ambassador Serge Betsen was talking at the launch of the Legends Rugby Festival - held on 12 July at Wimbledon RFC. For tickets www.legendsrugby.co.uk
From the Super Bowl to the Showdown on MNF, it's a great weekend on Sky Sports. Click here to upgrade