Six Nations: Phil Edwards says England are quietly confident ahead of their clash with France
Phil Edwards reports from the England camp ahead of their Six Nations opener against France.
Last Updated: 02/02/14 11:05am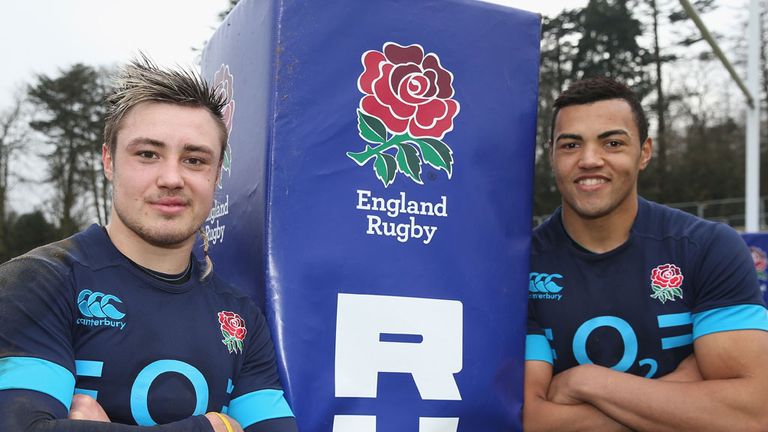 Not least in their debutants Jack Nowell and Luther Burrell. On Friday afternoon we spoke to England's attacking skills coach Mike Catt, who emphasised how well they have been performing and how full of confidence and desire they are. The message was: they are fearless.
Nowell, the Exeter wing, was rejected from an 18-certificate film during the week when he failed to show his ID - leading to teasing from his team-mate who asked whether it was really a 15-rate film. The 20-year-old doesn't look old enough to get into a film but he is old enough to be lining up on the right wing to win his first cap for his country in a foreign city, with all the responsibility that that entails.
It is interesting to note that Catt made his England debut ten years ago when he came off the bench to replace Rob Andrew in a game England were leading at Twickenham. It is a far cry to what the England coaches are asking of Nowell, Burrell and Jonny May, who has just one cap to his name. But Catt insists the young back deserve their place and will not be asked to do anything that they aren't for their clubs - they are ready.
May, who made his debut against Argentina on last summer's tour, has been earmarked for a particular tactical role by the England coaches. They are hoping his pace will put pressure on France's kicking game. Again he is a player who deserves his chance. And he is electric. He scored a scintillating try against the Northern Barbarians on England's summer tour to South Africa in 2012.
But France too will put their faith in the potential of youth on Saturday. They will field their 10th half-back partnership in two years - that's quite a stat. Catt admitted that they don't know too much about them but what they do know is that they will be top players, otherwise they would not be in the French side.
France are missing a talisman in Thierry Dusautoir - he has been a really impressive leader for them. Their recent record, though, against England is not good. Stuart Lancaster has beaten France home and away since he took over so England will be reasonably confident.
Pivotal game
The England management are keen aware that this is a pivotal game. Sides can comeback from losing their first game and win the championship, as Wales proved last season, but they really were the exception that proves the rule. It is so difficult to have any sort of momentum if you lose your first game. That is why it is such a key battle in Paris. The side that wins this knows it will be able to go forward with designs on the Championship itself, and maybe more, may be a Grand Slam.
There is a slight concern about the state of the pitch at the Stade de France. It cut up really badly in the autumn, in fact sections of turf were rolling off it like a roller blind when New Zealand were playing there. Both sides will be hoping it holds up well because the forecast in not good. They are predicting rain.
Power play
Such conditions could shift the focus from tyros in the backline to the two packs. There have been very few questions in the lead up to the game about England's pack, and the reason for that is this pack virtually picks itself. Alex Corbisiero is probably the only person who would be in it if he were fit, but it is the same pack virtually that came through the autumn internationals so well.
They are expected to front-up against a very robust-looking French pack. France have a six-two split in the replacements, loading their bench with big forwards. So England know what is lying in wait for them. It is going to be full on at the coal-face.
But within the England camp there is a confidence that they will front up to the French pack and set the platform for their young backs to shine.