Six Nations: George Ford ready and waiting for England chance after fine start to life at Bath
George Ford tells Sky Sports about being in England's squad and working with his dad.
By Rob Lancaster
Last Updated: 07/02/14 12:40pm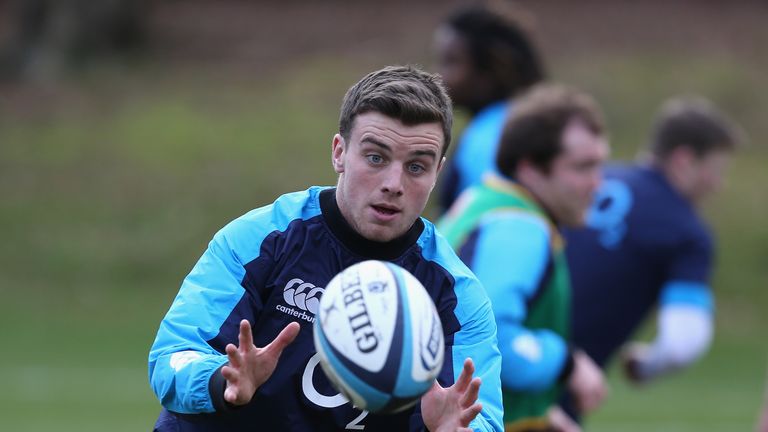 The young Bath fly-half was one of the few sat in the Stade de France who wasn't celebrating when France substitute Gael Fickou went over for a last-gasp try that broke English hearts in Paris last Saturday.
The bitter pill of defeat was even tougher to swallow for Stuart Lancaster's side considering they had battled back from an early 16-3 deficit to open up a five-point cushion over their hosts in the second half.
While he enjoyed the opportunity to be part of the travelling party, Ford was a frustrated spectator as victory slipped from England's grasp, just as they seemed to have done enough. He promises now, though, that the players are looking onwards - and upwards - ahead of facing Scotland this weekend.
"It was a great experience to go over there and to be there for the first game," he told Sky Sports. "The atmosphere, the stadium, everything that goes with it was brilliant.
"Obviously it would be better if you were on the field. But it was great to see the performance from the boys.
"There was naturally some disappointment to lose the game. We put ourselves in a position to win it and the players put in a massive shift.
"We looked pretty comfortable, I thought, in the second half but it's always quite hard when you're only five points ahead. You want to be up by more than a try so they have to score more than once.
"But we had a good meeting on Monday and we are ready for the weekend now."
Familiar Farrell
Lancaster must have wished he had Ford to call upon from the bench against Les Bleus; starting fly-half Owen Farrell was not at full health for the final quarter of a see-saw contest that sapped the players, mentally and physically.
The two have actually followed a familiar path to the top. Both were born in the north west. Both have famous fathers who made their names in rugby league. Both opted to take a career in union. Both have since worked under dad in the 15-man code at their current clubs.
Ford was full of praise for the current incumbent at no. 10 in the national side, someone he knows all about having played in the same England sides as juniors. In fact, in the under-20s he was the one at fly-half, with his mate Farrell selected at inside centre.
"I thought Owen played a great game at the weekend," he said. "He was a threat in attack and he managed the game well. He got our backs going. He was just a little tired at the end.
"The pitch was quite heavy and the ball was in play for quite a long time, so it's no wonder really.
"I've known Owen for a while. We went to the school together for a year and I've known him through rugby league as well. He's a good friend and we got on really well in camp.
"We both grew up in rugby league, so we've got those traits that go with that code. Because of that similar style, we can get on very well and chat about the game."
Things could have been so different had the younger Ford followed in the footsteps of Mike, his father and a former Great Britain international, and opted to ply his trade in rugby league.
"It was close. It was very close," he admitted. "At the age of 16 I had to make a decision over which code to play. It was a really tough decision, too.
"I thought about it for a while, but in the end I decided to opt for rugby union. Obviously it's worked out all right up to now."
Bath life
Leicester was his first home in union - he helped the Tigers win the most recent Aviva Premiership final. However, first-team chances were at something of a premium with the presence of Toby Flood at Welford Road. Ironically, Ford was recently promoted to replace his former club colleague in the England squad.
A move was needed to further his career last summer, and now the two Fords are the driving force behind a resurgence at Bath. So, did family ties play a part in his move to the Rec last year?
"He fully let me make the decision," he said in response to that line of questioning. "Obviously I spoke to him about it because he was already at Bath at the time, but I spoke to other clubs as well.
"He made me have a balanced view on all the clubs. He asked me what I wanted to do and said at the end of it all it was my decision.
"It was an opportunity to go and try and get as much game time as possible. It was at a time in my career when I needed to go to a place where I was going to play as much as possible.
"I thought Bath was the best place, and it's worked out up to date."
The younger Ford is also adamant that their working relationship has not changed the father-son ties, adding: "There have been no problems at all. Obviously we work together each day at the club and he's my coach, then I see him out of the rugby environment and he's my dad. Nothing has changed there.
"It's helped this year that we've been doing all right and hopefully that can continue."
Ford has certainly been doing all right this season. While the wait goes on to make his England debut having been left out of the squad to play in the Calcutta Cup at Murrayfield, the 20-year-old knows he has time on his side.
Get the latest behind-the-scenes news from George Ford and his England teammates with the upcoming fifth season of O2 Inside Line, the weekly show from O2 - proud partner of England Rugby - and the RFU www.O2InsideLine.com