Paul Wallace: Ireland will win the Triple Crown
Paul Wallace thinks that Ireland will beat England this weekend and claim the Triple Crown
By Paul Wallace
Last Updated: 19/02/14 3:57pm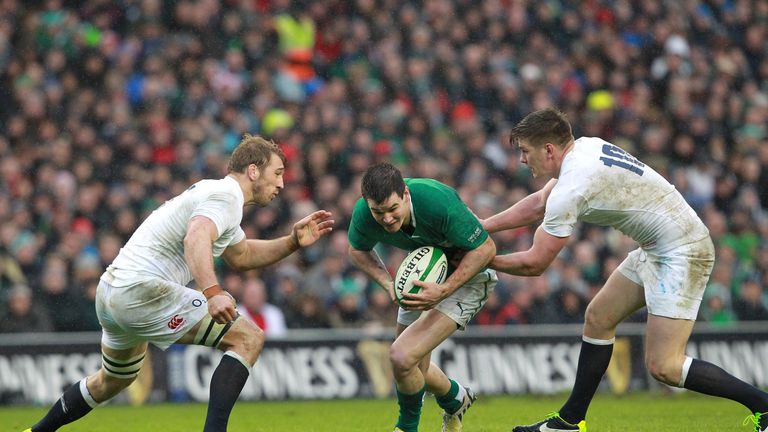 When you talk about playing England, you talk about competing in the tight phases and I think that is one area where Ireland may dominate.
I would give Ireland the edge in the lineout and scrum but it is the breakdown that will decide matters.
Where Ireland generally beat Wales was upfront and you are just not going to do that against England. This is going to be totally different.
Narrow margins
Whoever wins the collisions will win the game.
Peter O'Mahony's work at the breakdown has been outstanding. Against England I am not sure he will be able to dominate that range as much. England compete in that area so well with Chris Robshaw and Tom Wood.
For me, O'Mahony has been exceptional in this Six Nations campaign - he has been able to break tackles and get across the gain-line with his ball carrying.
The breakdown will feature a big physical back-row. Defensively, Joe Schmidt will be looking at stopping power runners such as Billy Vunipola and Courtney Lawes.
In and around the fringes is a key area for Ireland to monitor so that England can't get any momentum.
Ireland will need great line speed to stop England's attack behind the gain-line. They will be looking for Danny Care's tap-and-go and making sure he does not snipe around the sides.
That line speed will pressurise Owen Farrell who is playing a lot flatter - I still don't think it is his natural game. He is more of a game management player. He has improved in that area but that shallow, hitting the gain-line based approach is much more Jonny Sexton's strengths. You can play that game as long as your forwards give you that front foot ball and are winning the breakdown and the collisions.
Irish advantage?
England's defence will be a concern for Ireland - even when England are not playing well they are still really hard to break down. I can't see Ireland having the day they had against Wales in this area at Twickenham.
I have been a bit critical of Ireland's attack which I don't think has been that threatening to date. I was surprised that Simon Zebo is not in the squad because I think he would thrive on a dry Twickenham pitch. I am not taking away anything from Dave Kearney and Andrew Trimble who have played very well.
Ireland will adopt more of a kicking game though - you have two of the best chasers in the game and a very good lineout so they will not mind if the ball goes dead. The Irish maul will not be as effective as it was against Wales because Wiggy Roundtree will have drilled his England players to stop it.
Ireland are so dedicated for the kick chase but I think they are missing that little bit of running ability and line break ability that a Zebo or a Luke Fitzgerald could bring.
An area where Ireland have really improved is the lineout - I remember going down to watch them as a schoolboy when we had locks like Mick Galwey and Brian Rigney up against the likes of Wade Dooley and Martin Bayfield. 6'3" locks against 6'7" and 6'10" locks - there was no way we could compete!
I now think that Ireland have their best lineout ever with plenty of options in Devin Toner, Paul O'Connell and Peter O'Mahony.
Ireland have the experience, the hunger and the confidence and I think the loss of Dan Cole is huge for England. Cole missing certainly swings the pendulum slightly in Ireland's favour but it is still such a 50-50 battle and tough to call.
We have not even talked about the Brian O'Driscoll factor and what that success would mean to him.
Ireland have to break down England's defence and they do have the potential to be more creative. The line-breakers are an issue but if the forwards can lay a solid platform then Sexton and Conor Murray will star and, on the back of that, Ireland will win by a whisker.
It is so close to call but I am going for an Ireland Triple Crown.