Six Nations: Alex Payne has bets on the Round four games and is backing England to beat Wales
England have not beaten Wales in their last three games but that will change on Sunday, says Alex Payne.
Last Updated: 07/03/14 6:22pm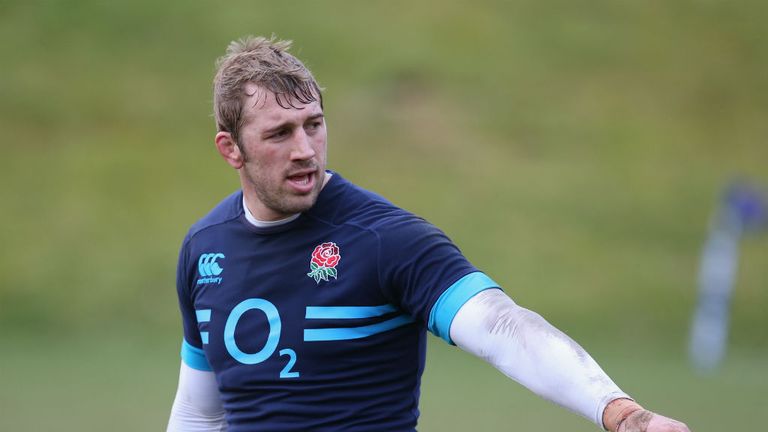 Can England revenge their humiliating loss to Wales in Cardiff last year and will it be a fairy tale end for Brian O'Driscoll's in his swansong on home soil?
England v Wales
There are so many talking points coming into Twickenham you could build up to this one for a month.Last year's mauling in Cardiff is obvious, who learnt what from whom on the Lions tour, Chris Robshaw against Sam Warburton, Andy Farrell against Shaun Edwards. Throw in the fact that both are still in the hunt for the Championship and that England are going for the Triple Crown, and the motivational team talks won't take long. This is a huge melting pot.
The fact the bookies have the home side as favourites (England 1/2, Wales 13/8 with Sky Bet) says a huge amount about how far this England side have come in a short space of time. The win over Ireland was labelled by Stuart Lancaster as his most significant, and after fighting back but failing to win against New Zealand in the autumn and France in Paris, having come from behind and won against Ireland will feel a big lesson learnt.
England's progression curve appears to be consistently heading upwards; Wales' form lines at the moment are erratic - with four wins and four losses in their last eight. They do have a habit of starting a campaign slowly and then picking up speed, and Warren Gatland certainly got the reaction he demanded against France. But can you remember a French performance as poor as that? Wales didn't allow Les Bleus to play, but I'm not sure the French would have done even if their hosts had been a little more generous.
I mentioned Farrell against Edwards, and the emphasis that these two bring to their defence suggests there aren't going to be a huge number of tries at Twickenham. However, both are conceding more than they would like - last season Wales didn't drop a try in four-and-a-half Six Nations games, but this season, despite the shut-out against France last time out, they've already conceded four, and 11 tries in their last seven games.
England aren't water tight either, with ten tries conceded in their last seven games, but their defence is improving. The question marks are over England's attack, with one England coach saying they felt they'd left 20 points on the field against Ireland. Every chance needs to be taken on Sunday, with England not having scored against Wales in their last three games.
I've applied a bit more science to the try scoring markets this week by looking at the last 25 tries scored by both countries. For Wales, 19 of their 25 tries have been scored by their centres and back 3, with 11 having come from North (5/2 anytime) and Cuthbert (9/4 anytime) alone. There is a heavy emphasis on where the danger lies, and who England need to shut down. If you are a confident Wales fan, and after his heroics in Cardiff last season, perhaps the 12/1 on another Cuthbert double might be tempting.
For the home side, the last 25 tries consists of a much more evenly balanced 15 tries to the backs and 10 to the forwards, spread across 17 players. The greatest threat seems to come from England's centres who have scored 7 tries between them.
So if you like playing the statistics, I'd play any of Burrell and Twelvetrees (4/1 and 5/1 anytime) in the backs, and the top try scorers in the forwards - Launchbury and Morgan (12/1 and 7/1 anytime). Morgan is another candidate with a lot to play for, having opted for England over Wales amid some controversy. If form is your game, Mike Brown is the man of the moment (12/1 first try).
Wales have actually won the last three against England, but for me that run ends this Sunday. Questions remain over the Welsh Lions ability to keep going to the well after a year of intense rugby, and I think England look mentally and physically fresher at the moment. Rarely am I confident, but I think the stars might align this weekend, and with home advantage I've gone for England by 6-10 at 4/1 with Sky Bet.
Ireland v Italy
Ireland will look to get back on track this weekend and, although the Grand Slam may have gone, they still hold by far the strongest hand in terms of winning the Championship. Expect the anger and hurt of Twickenham to pour out against the Azzuri, as well as the desire to right last season's loss in Rome. That was their first and only loss to Italy in the Six Nations, and although there has been the odd tight tussle, the average score in Dublin since 2000 is 34-11.
Italy struggle against the sharpest attacking teams with Australia putting 50 points on them in their last meeting, South Africa 44 and New Zealand 42 respectively. Ireland don't yet stand alongside those three, but under Joe Schmidt they are heading in the right direction, and he will want to cement Ireland's points difference advantage this weekend, meaning the final round is all about a win in Paris, and not winning margin.
Once again I'm going to the O'Driscoll try odds (13/8 anytime and 9/1 last try if you're a real romantic), as this weekend he stands alone as the most capped player of all time. Surely he will get a moment in the limelight to celebrate, and imagine the Aviva's reaction if he scores on what will be his last ever appearance in a green shirt on home soil. I hope the rugby Gods are listening, and he gets to add to his six tries against Italy.
Elsewhere, Jamie Heaslip was superb in the Twickenham defeat, and having scored against Scotland on the opening weekend is 11/4 to add another. Andrew Trimble (7/1 first try) will also want to catch the eye with his Ulster team mate Tommy Bowe nearing full fitness again.
Given Ireland have only conceded one try in three games this Championship, I wouldn't be putting a lot of money on Italian try scorers but Michele Campagnaro (7/1 anytime) has added a bit of edge to Italy's backline.
With Italy having dropped the Wooden Spoon decider, and without Parisse, it is difficult to see them mastering a sustained challenge and I think Ireland will come away with a comfortable win. I'm aware I've called the Ireland result wrong in the last two rounds, but I'm going for third time lucky. Ireland to beat the 24 point handicap at 11/10.
Scotland v France
And finally to Scotland against France, where to be honest sucking your finger and sticking it in the air is about as accurate a gauge as you'll find. Scotland's form line heads up after the win in round 3 while most Scotland fans are finally celebrating the back row selection of Scott Johnson. After Cardiff, France dropped off the radar (where Scotland were previously lying) and then Philippe St Andre also dropped his best player, Louis Picamoles, after his sarcastic applause of ref Alain Rolland. Three of his best players are out injured - Fofana, Nyanga and Szarzewski - and Vahaamahina is a second row on the blindside. France are there for the taking.
The one thing France can cling to is the astonishing statistic that they have beaten Scotland in 14 of the previous 15 meetings. I'm not sure it is much of a lifeboat.
And while we're using history, I'm going to offer you two long odds tips to start - firstly, Stuart Hogg for the first try, he scored after seven minutes when these two last played at Murrayfield, and 16/1 offers good value if he repeats the trick. And while Mathieu Basteraud is considered by many to be lucky to be in the team, he did score a double on his last appearance at Murrayfield and is 40/1 to do so again.
If you want to play the shorter odds then Kelly Brown is the man with the most to prove after being dropped for rounds 2 and 3, and all rugby fans would love to see him to it with a try at 16/1, while the recalled Maxime Medard has scored in his last three games against Scotland and is 15/8 to make it four.
I think this is Scotland's game - they have the confidence of a win, the point to prove to their supporters and a selection that feels right. The home side by a few, 1-5 at 6/1 with Sky Bet.
So my trio of winners this week is England, Ireland and Scotland 3/1 and the try scoring treble is Mike Brown, Maxime Medard and Brian O'Driscoll 33/1. It is going to be a cracking weekend, lets hope some winning bets add to it.