Scott Quinnell says that Clermont Auvergne will embrace the pressure when they host Leicester on Saturday
Scott Quinnell says that Clermont Auvergne will embrace the pressure when they host Leicester.
Last Updated: 04/04/14 4:13pm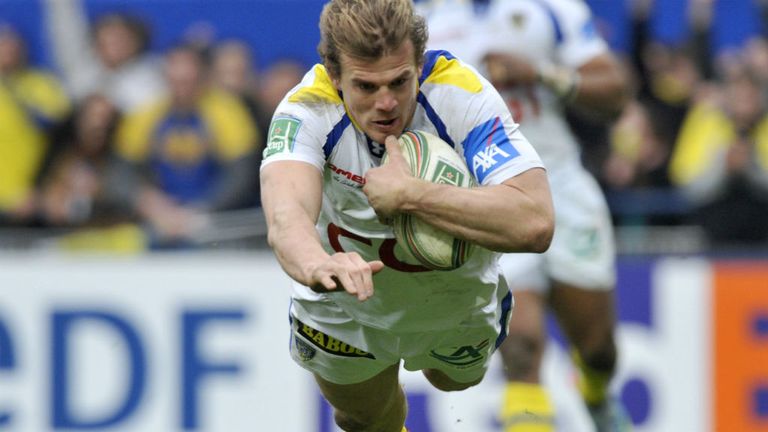 In front of them are Clermont Auvergne - a side who may not have been crowned Kings of Europe yet but have been the crown prince for some years now. Is this the year when they finally ascend the throne?
"The pressure is certainly all on Clermont, who just have to win," explained Scott Quinnell.
"The Heineken Cup trophy has eluded them for so long and they are desperate to win it this time around. Despite dominating all areas in the final last year, they still lost to Toulon and I certainly think that is playing a huge part in their preparation for this game.
"All the talk is about how unbeatable they are at their home ground. Winning 74 games in a row at home is a superb record to have - they certainly enjoy the tag of favourites. You don't win 74 games without being able to handle that favourites tag and being able to cope with that.
"This is Vern Cotter's last season in charge and Clermont Auvergne will really want to give him the best send-off possible.
"Clermont are just packed full of talent. In the forwards they have some power and abrasiveness with the likes of Jamie Cudmore and Nathan Hines. Their back row of Julien Bonnaire, Damien Chouly and Fritz Lee has been very impressive and the Tigers will have to really compete against them."
The power game
Clermont are not all about power, though, and Quinnell says that their strike runners will attack from all over the park.
"They have some wonderful footballers in their backs and Brock James and Morgan Parra are going to play a key role in mixing and matching that power and that creativity. Sitiveni Sivivatu is out but the likes of Aurelien Rougerie, Wesley Fofana and Napolioni Nalaga are very dangerous."
Leicester fear no-one and have a habit of proving their critics wrong - they went and turned over Munster at Thomond Park when no one gave them a chance - and Quinnell believes that if any side could end Clermont's amazing home run, it is the Tigers.
"Leicester need to play the best way they can - they are in good form at the moment and have players like Anthony Allen and Manu Tuilagi coming back from injury," added the former Wales and Lions star.
"Leicester need to play with passion but also make sure they get their defence right. Clermont play a lot of rugby and if your defence is not well organised then you will struggle against them. I really think defence will be the key for Leicester. If they can hold off Clermont and then try and create a miss-match when they do have the ball then they may have a chance. Taking your chances is crucial in these games too. They won't come that often and so you need to make them count when the do."
Richard Cockerill has put his faith in young fly-half Owen Williams and Quinnell believes he is more than up for the job.
"It will be a big game for Owen Williams at 10 because he is really going to have to steer and control this Leicester side. He has got plenty of experience around him but it is one heck of a place to go and it will be interesting to see how he handles it. He has got a big kicking game in his arsenal and I think he will need to look at using that. He can show and go, he can bring defenders up, he can play and he likes to run he has the all round game. Plus he is abrasive as well. I think he will feel right at home!
"I am expecting a very Leicester-like performance - very abrasive and competitive at the contact area. They will want to slow that contact area down and frustrate Clermont Auvergne for long periods of time. If you are in the game come 60-70 minutes then you have a chance, you can't let them get away.
"If Leicester win, well I think it will be one of their greatest ever victories but I just think the power of Clermont will be too much for them."