Harlequins' Nick Evans speaks exclusively to Sky Sports
As the Aviva Premiership run-in intensifies, Sky Sports caught up with the former New Zealand international to discuss winning mentality and how he remains an All Black at heart.
By Ben Hampshire | @BH92
Last Updated: 18/04/14 1:08pm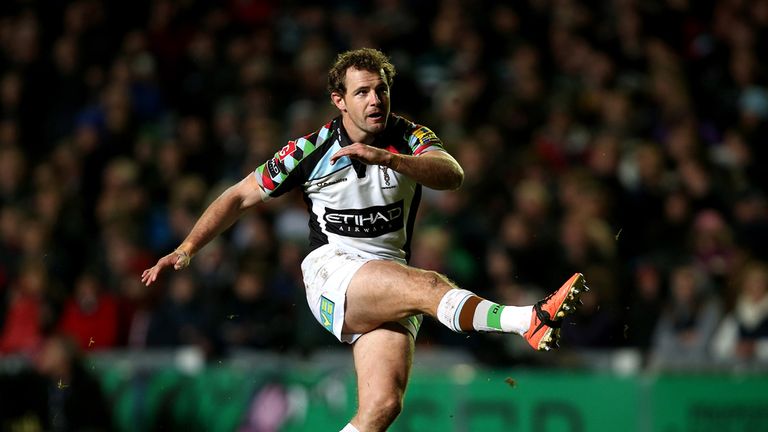 While Premier League football managers have spent their run-in perfecting the art of ruling themselves out of contention, Nick Evans insists Harlequins are adopting a far more assertive philosophy as their push for an Aviva Premiership play-off berth reaches a crucial juncture.
Three victories is their last four outings has seen Conor O'Shea's side climb up to fifth in the standings, as they aim to reach the Premiership semi-finals for the third season running.
Quins gave surrounding teams a warning salvo last Friday with an imposing 27-15 victory over Sale Sharks, as they usurped their opponents to move to the brink of a top-four finish.
A bonus point win at the AJ Bell Stadium also brought the capital side within five points of fourth-placed Bath, whom they must face on the final day of the season.
However, before attention can turn to a thrilling finale, third-placed Leicester Tigers arrive at Twickenham Stoop on Friday for a pivotal clash that could make or break Harlequins' Premiership campaign, and Evans reveals the hosts are in buoyant spirits.
"Obviously we need to get the results but we're confident, really confident," the former All Black fly-half said. "We'd be stupid not to say that we're confident.
"You listen to football managers trying to play down their chances and saying they're not in the title race.
It's up to individuals but trophies are trophies as far as we're concerned at Quins. Winning a trophy creates high momentum; it just gives a massive boost to the club and to the fans.
Nick Evans
"I don't really buy into that if I'm honest, you have to be confident and give yourself a chance.
"We know what we have to do, we have to win and it's as simple as that, there is always a chance. It'll be hard, it's going to be tough but we'll give it a good go."
Ebbs and flow
Over the last decade Harlequins endured both the heartache of relegation and the elation of Premiership glory.
Evans joined the club from the Auckland Blues Super Rugby franchise following their return to the top flight in 2008 and has been impressed by the club's longing for improvement.
"When I first came over the club had just come back from relegation, Dean [Richards] was involved and it was a good settled squad," he said.
"Over the years the squad hasn't changed that much and the club has moved on, Conor has come in and built on squad and values that we already had.
"I think when you've got a team of guys that want to work hard for each other and buy into what we're wanting to achieve, that's the most important thing.
"What we're trying to do on and off the field, everyone has bought into it, everyone is going to give it 110%."
A humble Evans, who turned his back on New Zealand international honours to join Harlequins, insists individual success is a mere by-product of team progress, despite recording in excess of 1300 points in his 120 appearances for the club.
"I'm just a little cog in that, the success that we've had as a built has been built on a number of things," he claims.
"As long as people keep buying into what we're aiming towards, the success and being real contenders in European rugby and in the league year in year out, we have a great group of young guys coming through too."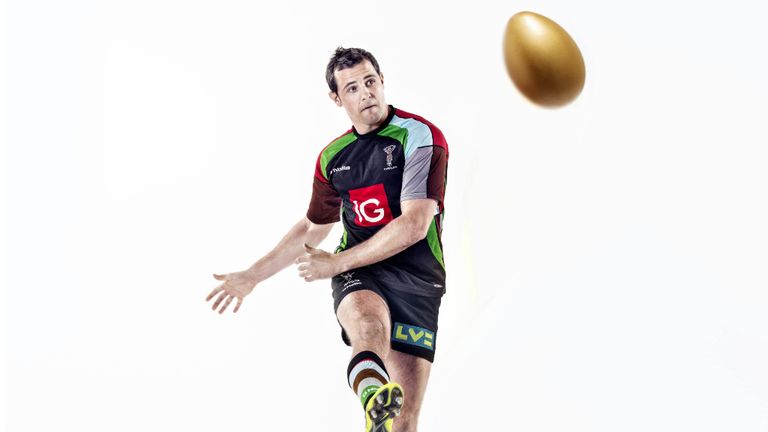 Harlequins can ill-afford any gaffes in their final four fixtures if they are to reach the Premiership's last four and 33-year-old Evans believes they are already in knockout mode.
"It's cup finals for us now," he insists. "It started at the Irish game, we needed to win that, we managed to do that and then the trip to Paris was a quarter-final so we really got that final mentality.
"That gave us a little more winning momentum and now we have to take that into the following weekends. These are all finals for us, let's not make any bones about, we know what we have to do.
"There's no point talking about performances now, it's all about getting the results. It's a huge challenge, it's something that if we do it we can look back and be proud of but it's a real learning curve.
"We've been in the top four for the last two or three years and this year we really have to fight for our position and we're really looking forward to that."
After beating Tigers in the 2012 Premiership final, Harlequins went on to concede three second half tries at the semi-final stage last term as they bowed out to Leicester, who Evans says are rapidly becoming their rivals.
"Whenever you play Leicester it's always a hell of a game," he said. "It brings the best out of us and it seems to bring the best out of them too.
"We've had some titanic battles both home and away and obviously the Premiership final as well.
"I think there's a little bit of a rivalry there now and it's a game we really look forward to. They have a fantastic team full of fantastic players, who are playing really well at the minute."
Parisian affair
There is also a European sub-plot on the agenda for Harlequins after they saw off Stade Francais in the Amlin Cup to set up an all-English semi-final date with Northampton Saints.
Harlequins lifted the Challenge Cup in 2011 when Evans bisected the uprights with a final minute conversion to beat Stade Francais and the fly-half again played an instrumental role, notching 17 points as the visitors dispatched the Parisian side.
"It was a nice little trip to Paris, it's always a bit of fun for us, we seem to play pretty well over there, I think they're probably sick of the sight of me," he joked.
While admitting many clubs see the Amlin Cup as the Heineken's "little brother", Evans claims there is no such divide in Harlequins' plans.
"It's up to individuals but trophies are trophies as far as we're concerned at Quins," he said. "Winning a trophy creates high momentum; it just gives a massive boost to the club and to the fans. 
"For us any opportunity to win something that's why we play the game, that's why we do all the hard yards on the training field and we're not going to give up in the Amlin Cup. 
"We're all competitive at heart, we want to win trophies and trophies bring success and everybody wants one." 
When the dust settles on what Quins hope will have been a silverware-yielding end to the season, Evans plans to return to his native New Zealand, where England tour for a three-match Test series.
And despite being a fervent supporter of his teammate in the Harlequins dressing room, Evans admits his All Blacks roots lead him to wish for an English drubbing in the southern hemisphere.
"I'll be taking the family back in the off-season so I'm looking forward to seeing them and catching up, hopefully they'll give it a good crack against the world champions," he added.
"Hopefully they don't go too well, I hope they get smashed to be honest, I'm still a kiwi at heart but I'm hoping to take them out fishing and enjoy a few beers together."         
IG, a global leader in online trading, as part of its 'Brighter Together' campaign with Harlequins will be offering fans the chance to win unbeatable experiences. Visit twitter.com/IGcom for your chance to win, or pick one of 15 lucky golden eggs at the Harlequins v Leicester Tigers game this Friday.