Rugby Union Expert & Columnist
Dewi Morris looks at the key men ahead of the Heineken Cup semi-finals
Last Updated: 24/04/14 10:04am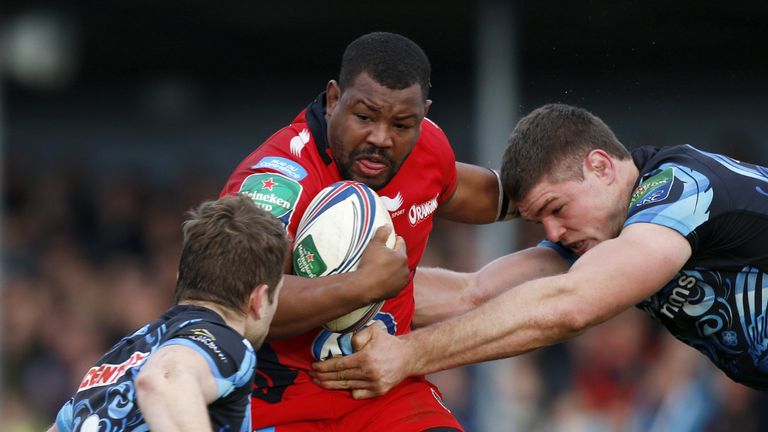 So here we are the the semi-final stages with just four teams left to battle it out to be crowned Heineken Cup champions.
These games are going to be monstrous battles with the result hinging on one moment of brilliance or someone making a mistake. Forget about the mistakes though, here are the men I think will be making those moments of brilliance come the weekend.
Saracens v Clermont Auvergne: Sat, 15.15, Sky Sports 2 HD
Saracens: Owen Farrell
Farrell will play a huge part in this game and how he handles the pressure is going to be very interesting. If all goes to plan for Saracens in the Premiership then he will be missing the tour to New Zealand so these are the games that I want him really exposed too. Games where he will come under intense pressure and will have to orchestrate his team that may not have the ascendacy. Farrell's boot is usually very reliable – we did seeit all go awry against Ulster but generally he can handle the pressure of the big kicks. But can he handle the pressure when is team are really under the cosh? Sarries have a very well-oiled machine - a good line out, a good attacking backrow who hunt as a unit and a very good defensive pattern, plus they do like to score try. But they will need Farrell to run things. He will really have to make some big decisions about when to run and when to kick and that decision making is going to have to be spot on.
Clermont: Wesley Fofana
You could go right across the board here and pick anyone but at the moment, especially with captain Aurélien Rougerie in doubt, they are going to need that player who brings that extra bit of something special, the player who can light the game up. That player is Wesley Fofana. In games like this you are lucky if you get two or three chances and you need someone who can take those chances and make the most of them. Fofana is the locksmith whom can unlock the best of defences. I have said it many times but he is the closest thing I have ever seen to Philippe Sella. He is a special talent in a team that is brimming with talent. Clermont are the team to watch and they know how important this tournament is - not only for them but for coach Vern Cotter who is leaving at the end of the season. It will be a very close game and if there is one player who I want in my side then that player is Wesley Fofana.  He has incredible pace and vision and can change a game in a moment. We have seen in the past how Brock James can fall apart.Who can forget a few years ago  when they went to Leinster and James just unravelled, it was like watching a very bad best man's speech and you just wanted to haul him off! If he does start to look fallible then he has the option of getting the ball to Fofana to take some pressure off him.
Toulon v Munster, Sun, 15.30, Sky Sports 2 HD
Toulon: Steffon Armitage
No surprises who I am going to go for here! Everyone knows that I am a huge fan of Steffon Armitage and I think he will play a huge part in this game. If Toulon's massive and extremely talented forwards go on a rampage - I'm talking about the likes of Danie Rossouw - then Armitage will feed on that and cause havoc. Quite frankly Armitage's performances speak for themselves. If you want someone to smash a hole into Munster for the likes of Matt Giteau and Bryan Habana to exploit, then Armitage is the man. If Munster can subdue him then they may have a chance. Toulon's game is built on power and territory but when they get the ball you have to stop them too. Toulon have the bit between their teeth and are full of confidence; they will be looking to get some direction and power for the likes of Armitage to take advantage off.
Munster: Paul O'Connell
In these types of game when you are up against it and everyone is writing you off, you need someone to turn to in the change room. Munster have a man who has been there and done it all before and whose very presence inspires confidence. Paul O'Connell  is going to have to have one heck of  game - he will need to scrummage his backside off, jump like a man  possessed at the lineout, and he is going to have to carry. O'Connell has the heart of two second rows and he is going to need them. If he starts off on fire then he will drag the rest of Munster with him! CJ Stander was superb against Toulouse where he came on for skipper Peter O'Mahony but while that win was superb, I really felt that  they did not have to really get out of second gear. However against Toulon in Marseille, well they are going to have to find a few gears that they don't even know they have. O'Connell has been there before  - cometh the hour, cometh the man, and cometh the man from Munster.