Paul Wallace says that Munster must resort to their traditional strengths if they want to beat Toulon
Paul Wallace says that Munster must resort to their traditional strengths if they want to beat Toulon.
By Paul Wallace
Last Updated: 24/04/14 2:25pm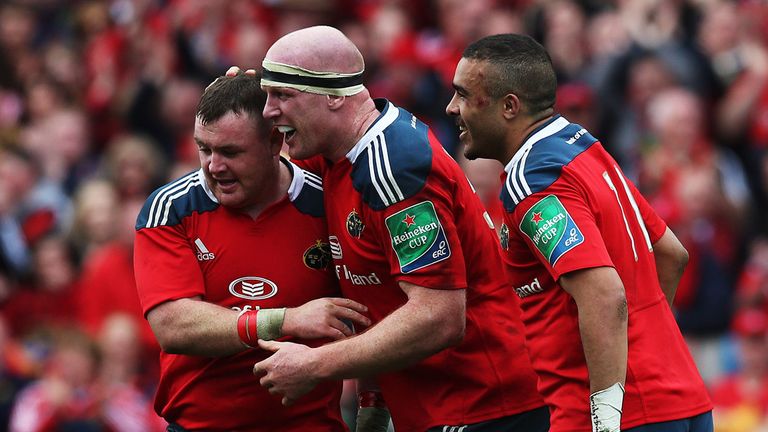 Nine of their 11 semi-finals have been away from home while seven have been against French sides. But I think that all their away trips pale in comparison when compared to Sunday's game against Toulon.
Mentally, Munster know how to beat a lot of the French sides but this Toulon side is more of an international side - only three French players started the quarter-final against Leinster. Toulon have so much depth and quality that even if things are not going well on the field, they can bring people off the bench who can change the game. Against Leinster they strolled to victory without the likes of Bryan Habana, Ali Williams, Bakkies Botha or Chris Masoe!
They say that you cannot buy a team but the ethos at Toulon seems to have worked - they have all bought into the Toulon way and are enjoying fighting for their positions on the team. It seems that a lot of them, who should be winding down their rugby careers are ramping it up for another shot at glory.
As far as Munster go, there are going to be a lot of comparisons with how Leinster got on against Toulon. If Munster are to have any chance against Toulon they need to play a bit more of their traditional game. They need to hold onto the ball for long periods of time. Leinster tried to move the ball a bit too much rather than going through the phases and I think their skill levels let them down. That was because they were so punch-drunk from the physical battle which led them to be mentally and physically tired by the time it came to make the most of their opportunities to attack.
Breakdown battle
Munster like the close-in runners where they are very good at clearing out and that should not give as many opportunities for Steffon Armitage. He was so dominant at the breakdown against Leinster that Munster will really need to subdue him. Peter O'Mahony is a huge loss for Munster - CJ Stander has done a superb job coming in for him but he does not have the same presence on the ground as O'Mahony. Tommy O'Donnell is going to have to really step up here - he is not quite up to the form that he showed last season but he really needs to boss that breakdown where he will be up against Armitage.
O'Mahony will also be sorely missed in the lineouts - not only in attack but in defence too where he has a great ability and the hunger to get up in the air and disrupt and compete for the opposition ball.
I also see Munster using Conor Murray in and around the breakdown - they must not go too wide too early but must be really be patient and go through the phases. It may be a slight step backwards for Munster to play their old traditional game but it is just so effective. It's about earning the right to go wide by attacking around the fringes times and time again.
Another key area for Munster is the maul. That part of their game has gone very well but they will be up against a bigger and more physical side so they are really going to have to work hard in that area.
Talking about physicality, the Toulon midfield is going to have to be watched very carefully as well. We saw what a handful Mathieu Bastareaud was against Leinster with those bullocking runs. In the past Leinster's Brian O'Driscoll and Gordon D'Arcy have been pretty successful in containing bigger guys in the centre but they could not do anything about Bastreaud's runs. James Downey is a much bigger and more physical player which could give Munster a bit more physicality in the midfield.
On Song
Ian Keatley will need to be on song with the boot - Munster will need to kick everything that they get. His stats for the Heineken Cup are not particularly good but in the last few games he has got back to his old rhythm where he was one of the most consistent goal-kickers around.
We have seen Munster try and run a lot of their ball from inside their own half and I think it is imperative that they do not do that. They do have some good strike runners but I don't think their skills are quite up to scratch to play that sort of game in a cauldron like Marseilles. It's a matter of fronting up physically, putting the pressure on and controlling possession. Look for territory - all low risk stuff. Then when they do get an opportunity inside the 22, then suck in players and go wide.
Beaten up
Despite urging Munster to play their old traditional game I still think that they will need to score a try or two and not just rely on Keatley's boot. That means that both wingers will have to be at their best. Simon Zebo is full of confidence while Keith Earls is not quite at his best yet. Both are still lethal runners and will need to make the most of the few chances that will come their way. But they shouldn't go wide until they have something on - if they do then they will just getting beaten up out wide.
Munster have a lot of inner-belief and a tight game will really suit them. Toulon are a tough team to break and they have that big match temperament - yes they have lost a few that they should have won but they turn up when it really matters and this game really matters. Toulon are the favourites by a long way, but that is just how Munster like it!
Watch Toulon v Munster live on Sky Sports 2 from 3pm on Sunday