England's Marcus Watson looks forward to the London Sevens at Twickenham
Marcus Watson says Twickenham crowd can help England end the World Sevens Series on a high.
Last Updated: 08/05/14 6:03pm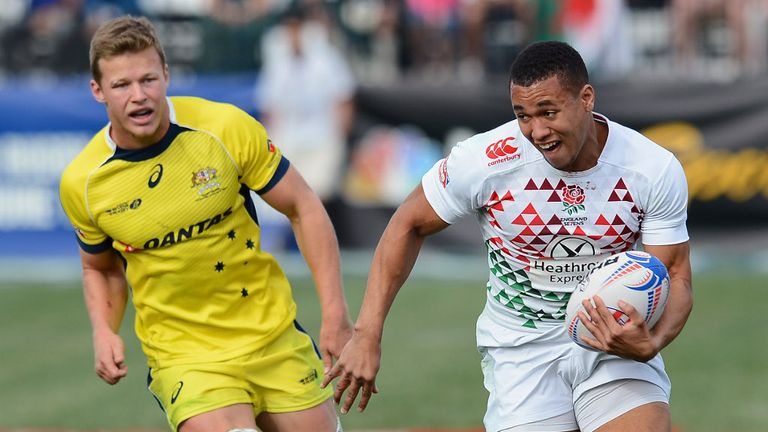 England face the reigning champions in their final pool game on Saturday as the penultimate day of this season's IRB World Sevens series reaches its climax.
The Kiwis have already wrapped up their 12th series title after amassing an unassailable lead in the standings, with England back in fourth behind South Africa and Fiji.
But for Watson, and his England team-mates, there would be nothing sweeter than beating the world's best in front home support and going on to win final tournament of the season.
Asked about the unique appeal of playing at the London Sevens, he told Sky Sports: "The atmosphere is awesome.
"I'm told that the Saturday is sold out so when we run out on to the pitch, especially for the last game of the day against New Zealand, everyone will be cheering for England. It gives us a push and is almost like a 13th man in the squad. So it is a huge thing for us and hopefully we can do well.
"It is always a bit of a challenge playing the number one team in the world, but there is no better place for us to be doing it than at Twickenham in the final game of the day."
The London Sevens has grown into the biggest tournament on the circuit over recent years and more than 115,000 will descend on Twickenham this weekend, with Saturday an 80,000 sell out.
England's return to HQ comes at the end of a season which started in October and has seen the teams travel to tournaments in Australia, Dubai, South Africa, USA, New Zealand, Japan, Hong Kong and Scotland.
So for Watson, who played at the London Sevens last year, and his globe-trotting team-mates, it is a long-awaited and welcome return home for a tournament that has become a huge event in the rugby, and London, calendar.
"It is really exciting," said Watson, whose brother, Anthony, is hoping to tour New Zealand with Stuart Lancaster's England this summer.
"It is the only time we get to play at home throughout the year so it is nice to have your friends and family there to watch you. It is going to be a big crowd all supporting England, so it will be a great occasion.
Pride
"It was nice to have my mum and dad in the crowd, watching me in an England shirt and playing at Twickenham. I am pretty sure they were quite proud of me. It was a big occasion for myself as well, being in an England shirt and playing at Twickenham. So I just can't wait to do it again.
"So it is definitely my favourite one out of the tournaments and it is now the biggest one in terms of crowd numbers and one of the best ones. I think it has to do with the themes involved and people have really caught on to that. And I think people enjoy the all-day event, the rugby and having a good time."
The popularity of the London Sevens is symbolic of the wider growth of the game in recent years as the IRB series goes from strength to strength and the sport's involvement in the Commonwealth Games in July and then the Rio Olympics in 2016 glitters on the horizon.
"It is growing each year and it is quite noticeable for us as players to see that, and I think with the Commonwealths in July it is a good thing and the sport will move forwards," Watson said.
"We will definitely go to the Commonwealths targeting the gold medal. The Commonwealths is the biggest thing on everyone's minds' in terms of Sevens so we will look to do well at that and then push on from there."
Experience
However, for now England's primary focus is Saturday's pool games against Wales, Argentina and New Zealand at Twickenham.
They have recalled experienced trio Chris Cracknell, Mat Turner and Christian Lewis-Pratt for this weekend and Watson believes their experience can help England ride the surge of home support to victory.
"Experience is going to be important with a big crowd and those two will definitely bring some of that. Chris Cracknell will bring a little bit of edge to our team at the breakdown and contact, and Mat Turner was nominated as world player of the year a couple of years ago so he is vastly experienced and is a quality player. They should help our cause.
"I am very confident and, I speak for everyone in the team, when I say that. We are going to go out there and give our best performance and hopefully the crowd can get behind us and push us through."
Three to watch
Tom Mitchell (England) - He has just been announced in the top four for world player of the year so he is one to definitely look out for.
Samisoni Viriviri (Fiji) - He has scored a lot of tries this year and he is very quick so he will be a huge threat.
Gillies Kaka (New Zealand) - He is a really good play maker with some great footwork. He is a pretty exciting player.
See the final action and experience the family fun on Sunday with tickets available on rfu.com/marriottlondonsevens until 12 noon on Friday or from Twickenham ticket office on the day