Paul Wallace: Saracens need to play the tight game if they want to beat Toulon
By Paul Wallace
Last Updated: 21/05/14 3:04pm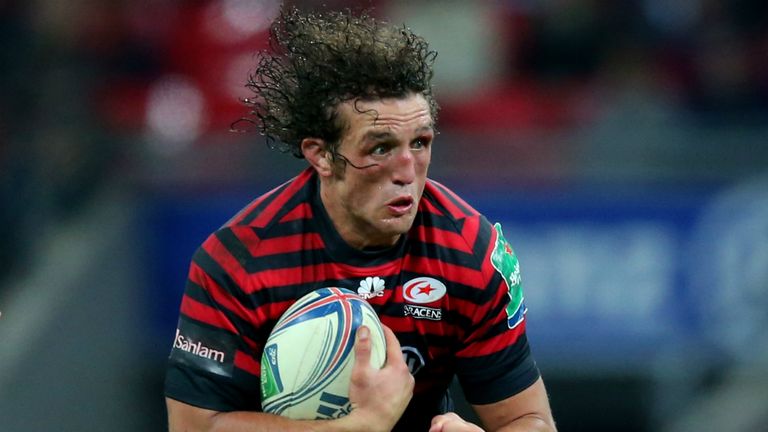 If you look at these two sides on paper you would have to say Toulon are the firm favourites and rightly so. If you speak to the general rugby public the majority would be backing Toulon to defend their title, however I think Saracens have all the makings to cause an upset.
There is a reason that very few sides win back-to-back titles and it takes a special side to keep that hunger, commitment and passion going for that long. Are Toulon a special side? Well they are fighting for silverware on two fronts – just as Saracens are and if either go on to win the Heineken Cup and their respective domestic leagues, then I think they can be definitely classed as special teams.
While I think Toulon fully deserve their favourites tag there are some weaknesses. Their lineout in the quarter-finals and particularly in the semi-final against Munster did not go well at all. Bakkies Botha and Ali Williams are both back for Toulon though so that could well strengthen that area up – however I still think Sarries can attack them here. The Toulon throwing in is not as smooth and accurate as you would expect and the communication is not as good as it could be either. I am sure that Sarries will take a leaf out of Munster's book when they used the driving maul and tight runners to make some good territory.
The scrum is another area where I think Toulon are vulnerable. I thought they got away with murder in the semi-final against Munster – there were about four collapsed scrums from Carl Hayman and the ref penalised Dave Kilcoyne! Hayman often gets the decisions on his reputation as once being the best tight head in the world but I really think Saracens can get at him on Saturday. Mako Vunipola is more of a loose player than a scrummager but he is a powerful lad and I think he can really get at Hayman.
Sarries have shown that when they get going they have a super attacking ability but I don't think that is the right game to play against Toulon. There is a lot to be said for playing a more conservative and territorial game. Kicking for the corners and trying to use the lineout to launch something. I hope that they stay away from the outer channels until it is really on. Throwing the ball outwide in their own half is just asking for trouble and they could end up leaking scores on the back of it . If Saracens do go wide then they have to be careful – Mathieu Bastareaud and Steffon Armitage are just so good at turning the ball over at the tackle. I really think that in the quarter-final and the semi-final the game swung on Toulon's ability to turn that ball over. Armitage and Bastareaud are just so big and have such a low centre of gravity that it is really difficult to shift them off the ball.
Collision course
We all know how well organised Sarries' defence is but another side to the defence is the collisions, especially in the midfield. They will need a lot of line speed to get up and knock Bastareaud back – the problem with that is that if you don't get your run-up just right, then Matt Giteau will make you pay. The concentration and decision making when defending those wide channels has to be spot on - Toulon's back three is impressive and will punish any Sarries mistakes.
Leinster showed that if you just go around the corner and take one-up runners and get the cleaners to come in quickly and ruck past the ball, and then you can wear Toulon down. Sarries have to get into those rucks as quickly as possible to stop the likes of Armitage having it all his way.
Mind you Jacques Burger is definitely going to have something to say about that! His battle with Armitage is going to be titanic - Armitage is probably going to be wearing the No.8 jersey and Burger No.7 but the physicality these two are going to bring at the breakdown is going to be huge. Burger was superb in that game against Clermont – I don't think he can step it up more from that performance but if he matches his aggression and tackling stats from that game, then he is going to have a huge impact on this game. He is one of those players who is more effective when the opposition have the ball. Schalk Brits and the Vunipola  brothers will also be key because the amount of work they do in the loose is crucial for Saracens.
Goal kicking is going to be a key factor in this game. Owen Farrell has had a couple of off days and he really cannot afford that in a Heineken Cup final. It is imperative that he gets things right because you can't see Jonny Wilkinson having a day-off in his final Heineken Cup appearance.
This is a tough one to call – every instinct says to go for Toulon but the semi-finals changed my mind. I just have a sneaky suspicion that Saracens have that extra hunger and I think they have the ability to sneak this game. 
Catch the Heineken Cup Final between Toulon and Saracens from 4pm, Sat, Sky Sports 2HD